Are you looking for beautiful places in the Philippines? There are so many options to choose from with so many places to visit here in the Philippines. It's really just a personal preference as there are so many great places to visit around the seven thousand islands here that make up the country. If you are not quite sure where to start then here are some ideas for you.

This country has kept me busy for 18 years and I have never had a dull moment. Fun and adventure are so easy to find here. Activities you can try here are water activities, land activities, and many more, let me take you for a little tour around and show you some of the beautiful places in the Philippines.
Things To Do In The Philippines
Let's start down in Davao. Davao is a fantastic city, you'll find beautiful water-filled caves, scuba diving spots, lots of white water rafting, and one of the 3 best wakeboarding parks in the Philippines.
Further north, at Cagayan De Oro, there is a lot more scuba diving. Further, into Cebu, you've got sailing, scuba diving, free diving (a rapidly growing sport), and water skiing.
As you continue you'll end up in Manila, the main city of the Philippines. If you like living in the city and don't want to leave, there's also a lot of things you can enjoy there.
For example, in the Mall of Asia the biggest mall in the Philippines, you can go ice skating, shopping, and ride an enormous Ferris wheel with a beautiful view of Manila Bay.
Do you like bargain shopping? Try Chinatown, its crowded hustle and bustle are always interesting, then a slow stroll through the quiet calm of historic Fort Santiago and Intramuros afterward to relax makes for a perfect day.
If you want more excitement, continue north to Subic Bay and beyond. Along the coast, you'll find numerous spots for great diving (especially wreck diving). There is also plenty of sports fishing (huge fish!).
As you come around the top of Luzon, you'll find loads of awesome surfing spots. Near Samar, you'll discover the world's number 1 left-hand surfing break at Surigao. The waves are so great that plenty of people go there just to watch the waves.
But if you want a really fantastic place that has all the fun and excitement that you need, one of the most beautiful places in the Philippines and the perfect spot for you is Puerto Galera.

Puerto Galera
Forget the office, the morning commute, and the cheap workplace coffee.
Put yourself in a tropical paradise. Imagine standing on a white sandy beach. You dig your toes into the warm sand. Reaching to the sky with your hands, you have a nice long stretch. The pristine blue water quietly laps the shore. You stare out across the sea, bursting with excitement inside. That's how you gonna feel once you stay in Puerto Galera.
Puerto Galera is one of the 7,641 islands here in the Philippines. There is awesome scenery everywhere you look, beautiful beaches, and the world-class Puerto Galera Bay. All of this can be found in one place.
Puerto Galera is overflowing with activities, whether on land or in the ocean, there is something around every corner so let me talk more about these activities. Let's start with the most popular one here, the water activities.
Water Fun Activities
Water activities are by far the most popular activities here in Puerto Galera because of scuba diving. There are at least 40 Puerto Galera dive sites you can choose from, though there are about 23 dive sites that are the best to visit. Ancient shipwrecks, stunning coral, and beautiful fish are some of the things you'll see while diving here.

You can see different kinds of species of fish, sea turtles, and many more.
If you want something that can give you a little exercise while enjoying, then some options are swimming, kayaking, windsurfing, or kiteboarding.

You can also go jet ski, parasailing, waterskiing, or fall off a banana boat. These will surely give you the thrill and excitement you are looking for when on holiday in Puerto Galera.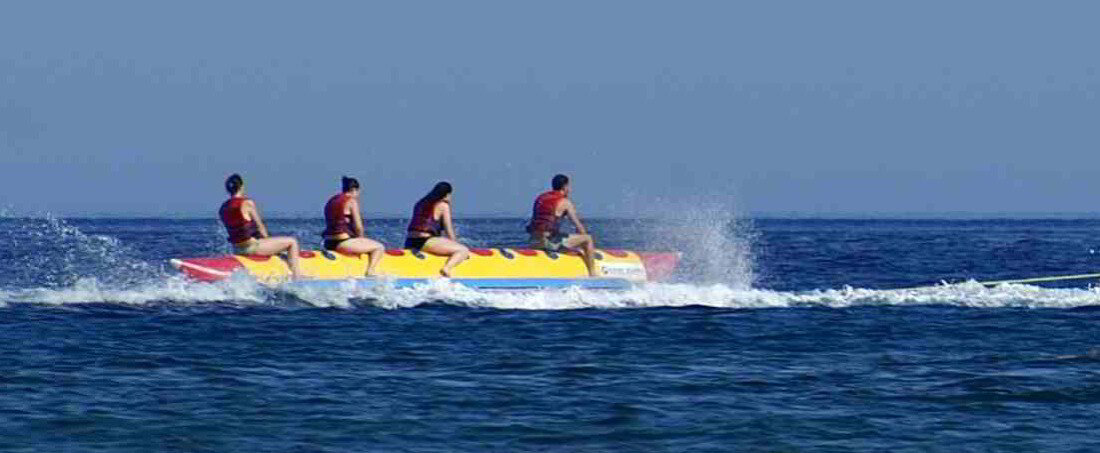 These are just a few of the great activities you can enjoy in some of the beautiful places in the Philippines:
Swimming
Scuba Diving
Banana Boat Ride
Wind Surfing
Kayaking
KiteBoarding
Jetski
Parasailing
Snorkeling
Water Skiing
Speed Boats
Island Hopping
Don't like the ocean? No worries, the land activities will not disappoint you.
Land Activities
This place is a tropical paradise with jungle roads, coastal roads, mountains, and plains with native village scenes. So there are so many land activities you can do.

You can rent a motorbike and drive around the curvy roads of Puerto Galera and enjoy satisfying scenery to the sunset.
Explore the Ponderosa Golf Course, a magnificent golf course 2000 feet above sea level. From here, you'll be able to see all over the northwest part of Mindoro Island. It is a great place to get photos. The golf course is good enough for you to have a great game, but don't expect anything equivalent to a professional golf course.
You can also play paintball, drive go-karts, hike through the jungle and visit the local indigenous people.
There are great waterfall tours & jungle treks where you can relax and swim in crystal clear mountain streams.
These are by far the best land activities in Puerto Galera and there's more:
Mountain Climbing
Waterfall tours
Jungle treks
Go-karts
Mud-karts
Mangyan Village Tours
Zip Line
Cliff Diving
Paintball Shooting
Firing Range
Golf
Ice Skating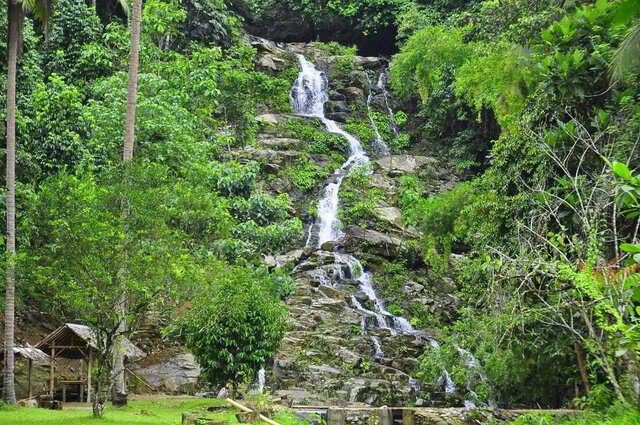 As you can see, there are a whole bunch of awesome things to do in the Philippines, and to kick off your adventure, come to Puerto Galera!
The crew at BADLADZ can point you in the right direction and show you where to have the best time possible. We will be glad to give advice on Puerto Galera activities. Also if you would like to book a room with us at one of the best Puerto Galera resorts here on the island just contact us here and we will be more than happy to help accommodate you and your group for a fun-filled vacation in paradise surely will not forget.
See you soon on this wonderful island paradise so we can show you why Puerto Galera is known for being one of the most beautiful places in the Philippines.
Cheers,
Sean