When it comes to Puerto Galera nightlife, there are many exciting options to choose from.
Staying up till the early hours of the morning is a simple task as there are ample opportunities for entertainment late into the night and a few until the break of dawn.
In terms of bars, Big Apple stays open 24 hours a day with a restaurant, pool tables, and sporting events showing on the televisions every night. If you're looking for late-night bars and pubs in Sabang Puerto Galera, this place should definitely be on your list.
It doesn't have to break the bank either, as the Philippines is very cheap. If you're just hanging out in regular bars, the drinks aren't as expensive as they are in the indoor aircon bars.
Puerto Galera Philippines Nightlife
Some of the best bars and nightlife options are focused around the two main tourist areas – Sabang and White Beach. Activities you will find to do during the evening and into the night are as follows:
Tattoo Shops
Restaurants
Pizzarias
Delhi's
Souvenir Shops
Clothing Shops
Massage Parlors and Spas
Restobars
Beachfront Bars
Floating Bars
Sports Bars
Open Air Bars
Girly Bars
Nightclub
Below we'll talk about Sabang, White Beach and touch on Puerto Galera Town.
Puerto Galera Nightlife in Sabang
Sabang is one of the numerous barangays (small town) in the area of Puerto Galera. It's packed with nightlife and bar options and only 20 minutes on a motorbike or trike from any of our BADLADZ accommodations.
If you're in Sabang during the day, many of the restaurants are open, as well as open-air bars and boutique stalls. During the evening, Sabang is busy with activity.
Whether you're looking for a romantic evening in a steak house restaurant, cheap drinks in an open-air bar, a girly bar or a wild night in one of the dance bars on the island, Sabang has you covered.
If you're searching for a place to drink, you don't have to go far. The most popular bars are along the Sabang Beach Walk.
Sabang Beach Walk is made up of narrow walkways that allow easy passage to and from each venue. Sabang is a great place for bar hopping with each bar being within a minute's walk of the others.
Bars and Restaurants in Sabang
The main street is lined with bars and restaurants, supermarkets, and hot dog stalls. Drinks are generally inexpensive and widely available. Options include ice-cold beers, spirits, milkshakes, juice, soda, and water.
You can find a few steakhouses with great imported steak. These are open-air restaurants and serve a variety of dishes. Two popular venues are Capt'n Gregg's and Fred's Steakhouse.
You will also find Italian food available at several of the restaurants. One of the more popular venues is Ristorante Italiano.
As far as Puerto Galera nightlife goes, Sabang focuses mostly on the girly bar scene. While the bars come and go regularly, there are usually 7 or so bars to choose from where you can watch hot Filipina girls strut their stuff. The drinks are cheaper than the main cities, though more expensive than the ordinary bars, and the nightlife in Sabang is always great fun any day of the week.
Here are some of the bars and pubs to choose from…
Midnight
Philippine Village Disco
Quantum (Dance Bar)
Broadway
Pubs, Sports Bars and Regular Bars in Sabang
If girly bars aren't your thing, there are still plenty of places to hang out with your friends and enjoy a few pints in Sabang Puerto Galera. This isn't a complete list, but here are a few places you will run across while in Sabang.
While you're enjoying the nightlife and bars in Sabang Puerto Galera, make sure you try the Mindoro Sling! It's a deadly concoction typically made with vodka or rum and should be consumed slowly 😀
During the high season, there are also floating bars in the bay which make for an exciting experience in a tropical paradise. Catch the ferry or swim right up to it. A few seasons ago there were 2 floating bars and hopefully, they will still be there for the 2019 season as well.
The floating bars are a very different experience if you've usually spent most of your time in typical bars. The bar literally floats upon the bay and comes complete with tables, drinks, food, and videoke. It's a big hit with many tourists, especially people who come here for the Puerto Galera diving.
Besides the bars, you can also enjoy some shopping at one of the many little shops along the walkway. You will find everything from souvenirs, diving gear, Korean grocery stores to a Thailand Fashion stores with light and sexy clothes imported from Thailand.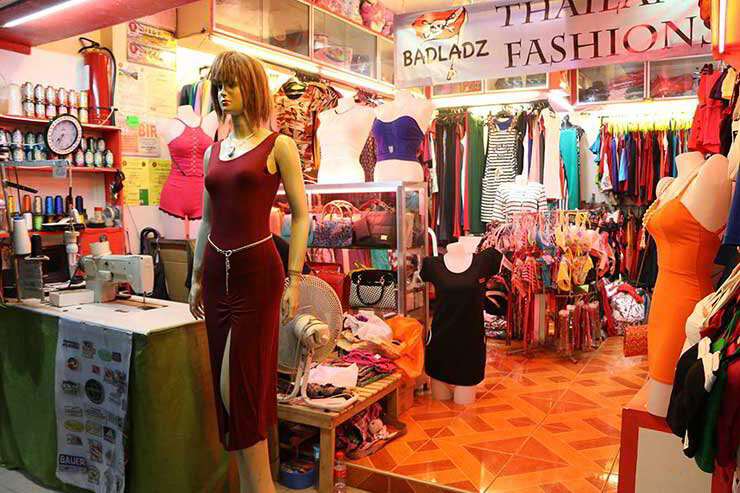 Puerto Galera Spa in Sabang
You can also find a couple of spas where you can enjoy spa treatments and massage. Our favorite is Pampered Spa. You can find this spa easily by turning left when you come off the main street if you were walking towards the water. It is a 1-minute walk away and opposite of Thailand Fashions.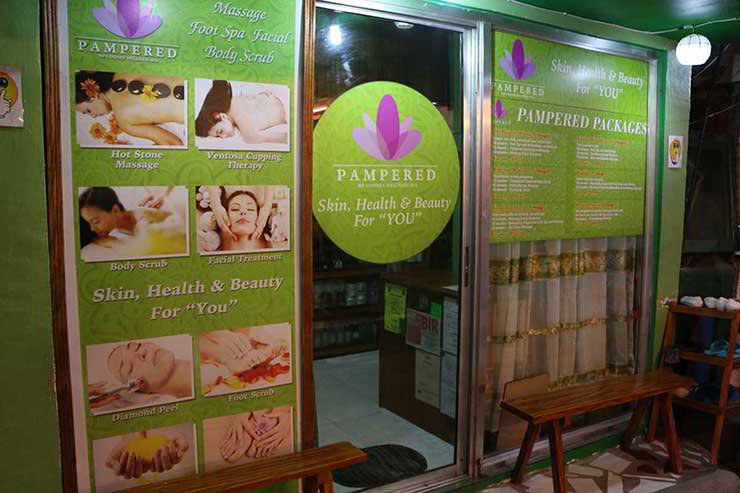 If you're looking for something a little more permanent, then why not get a tattoo? There are many tattoo shops on the island, but here are two in Sabang you can check out. These are also on the same side as Pampered Spa, which is left into the walkway off of the main road when walking towards the water.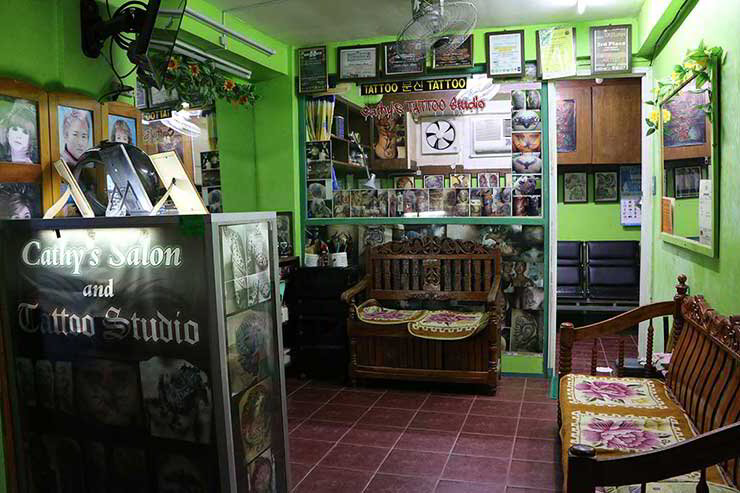 Puerto Galera Nightlife in White Beach
White Beach is one of the most popular beaches in Puerto Galera, particularly with Filipino tourists. From March through May, hundreds populate the beach and when Holy Week arrives, that number increases to the thousands.
For Puerto Galera nightlife and bars, White Beach is the more family-oriented option, especially when compared with Sabang. Like Sabang, it's 20 minutes away on a motorbike from any of the BADLADZ properties (apartments, a beach resort, or dive resort).
During the day, people convene on the beach for volleyball, massages, sunbathing, swimming, and jet-skis. You want to be there by the late afternoon as you can enjoy a nice cocktail and watch the sunset from this side of the island.
At night, the bars and restaurants fill up with party-goers. Again, it's a great place for bar hopping and you can dance away the night.
Many of the Puerto Galera bars in White Beach also serve the infamous Mindoro Sling. There are also a number of tattoo parlors and souvenir stores that you can check out while you're there.
Fortunately, the Puerto Galera weather doesn't change a thing. The party goes on; rain, hail, or shine.
Nightlife in Puerto Galera Town (Poblacion)
Here you won't find a lot of tourist nightlife. You can go enjoy some Italian food at Grillo's Restaurant where they sometimes have a band who plays in the evening until they close around 11 pm.

Recently the old Jaeger bar has now changed to a sports bar and is called Sports Illustrated. It is mid-town on the main road about half a block from the stoplight and has an orange exterior. Here you can find major sporting events playing at the bar and they have even set up a watching room in the 2nd level.

There are also local type hangouts for drinking, music, and pool on the main road. These are typically frequented by the local Puerto Galera Filipinos.
Puerto Galera Nightlife in Sabang
If you're staying down near Muelle pier then the below options are easily available to you within walking distance:
Badladz Dive Resort Restaurant is right on the water with good views of the bay and sailboats.
Freddy's Hang Out is a bar with Filippino food. It's waterfront but you will find there are boats sitting right in front of it.
Rock and Roll Bar is often visited by yacht club members.
La Bistro French Restaurant
Robbie's Restaurant: Steak House, Pizza, and Wine are on the main road.
Puerto Galera Nightlife Tips
Transportation – If you're going to drink, for your safety and others we recommend you use the trikes or motorbikes available in the main tourist areas to get home. If you're going to be here for a while and you don't plan on going out until well after dark, it's a good idea to get a few phone numbers of drivers so you can have someone to call and pick you up to take you to where you want to go. Depending on how late you stay out, they may wait out late. Sabang and White Beach usually have trikes available until the wee hours of the morning.
Safety – As with any area, be careful when you go out. We don't experience a lot of crime here in Puerto Galera, but that doesn't mean you shouldn't be on your guard. Be respectful of those around you and they'll be respectful of you.
Accommodation in Puerto Galera