What is Sabang Beach, Puerto Galera like during September? Is it worth going there at this time of the year or is there a better time to go? This is often a question many of our guests ask when planning their vacation to this wonderful island of Mindoro.
So, you want to come to Sabang Beach, Puerto Galera? Why not?
Tropical paradise is hard to resist especially when it can be found so close to the largest Metropolitan city in the Philippines, Manila. Sabang is a barangay (town) in Puerto Galera found just outside of the city center. You can usually get here by trike or jeepney in less than 20 minutes depending on your mode of transportation. It attracts many westerners and various foreigners alike for its abundance of dive shops and nightlife, while White Beach (another Barangay) draws more of the local Filipino crowd for its bakla (male crossdresser) shows and pristine beach line.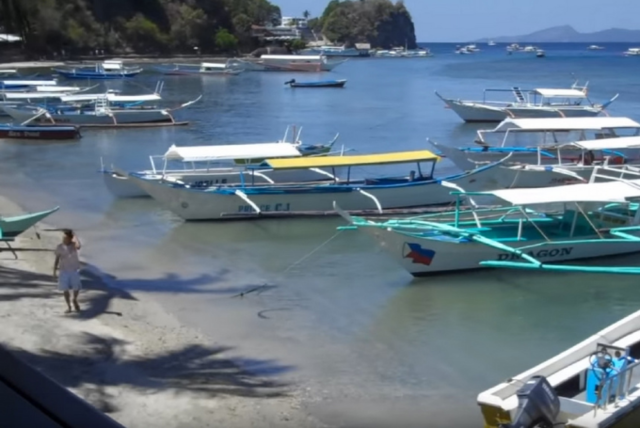 Sabang is the perfect spot for a relaxing holiday if having a large stretch of white sand beach is not something that you're very interested in having stepped away from your resort. Numerous resorts and hotels line the beach along with a handful of restaurants and girly bars that come alive in the night time making this part of the island the best option for nightlife on the island. If a night of bar hopping and drinking is what you're looking for, this is the place to do it.
Sabang Puerto Galera in September?
One of the great things about the Philippines is that you can come here at any time of the year and have an absolute blast. Throughout the year, the weather is warm and humid. While there are slight seasonal fluctuations, it is a wonderful place to be, regardless of what month it is. Watch the video below as I describe what it is like visiting Puerto Galera during the month of September and if your wondering Is it OK to go to Sabang Puerto Galera?
Of course!
Nightlife in Sabang
If the nightlife in Puerto Galera is what you seek, then it doesn't matter what time of the year you come to Sabang beach in Puerto Galera. Whether it's raining hard or clear and peaceful, you'll be able to hit the bars in Sabang every night of the week as they are open 7 days a week. Here you can find over 10 girly bars lining the beach in Sabang and within the mix a handful of restaurants, karaoke, and an expat bar that goes by the name of The big apple. This expat bar is great if you're looking for a place to drink before the nightlife in Sabang picks up as they offer happy hour from 8 am until 8 pm every night.
You can also visit the Bikini Bar in Sabang beach which is actually a floating bar out in the middle of the bay. You can access this floating bar by a small taxi boat making trips dropping and picking up customers until they close around 9 pm every day right on the beach next to the big apple expat bar. If you plan on enjoying the nightlife in Sabang and plan on staying a few days the Bikini bar is definitely worth a visit during your stay, they also have food delivery available from a few restaurants around town as well.
Diving in Sabang
For those seeking world-renowned Puerto Galera diving, it is also great any time of the year. However, it's better during September (and around that time). The water is warmer, clearer and there are fewer crowds which means you will have better opportunities to not only dive more and get some amazing footage of your dives; but also not having other divers in your shots at the same time. July, August, and September are considered typhoon months, but hey, the typhoons don't follow the calendar. But since it's typhoon season, people tend to avoid the Philippines. This means accommodation is going to be easier to find and chances are you may be able to get a discounted room compared to booking during the high season which tends to be more expensive. It will be cheaper and it's going to be better if you want to make deals during these months. For scuba diving, the water will be warmer and you'll have the ocean largely to yourself.
If you come during December, the water is around 27 or 28 degrees Celsius. During high season, it can get as cold as 23 or 24 degrees Celsius. While during summer (July, August, September), the water is 30 or 31 degrees Celsius. Along with the increase in water temperature at Sabang Beach, Puerto Galera, the water is also clearer. If you're coming for diving, then you'll see a lot more during the summer months. The ocean visibility is a lot better during the low-season months so if you're looking for the best conditions for taking macro photography and get some great video footage. The low season will actually be in your favor for these types of things compared to the high season's conditions.
Most people come during high season since that's the only time they can get holidays off. If you can arrange a trip to Sabang Beach, Puerto Galera during the summer months (low-season), there'll be fewer crowds, it'll be cheaper and the activities (like the diving!) will be better. If you would like to stay at a world-class resort and have all of the benefits of everything I just described, your own semi-private beach steps from your room, a swimming pool steps away from the beach, and an amazing international restaurant all in one place; come stay with us at BADLADZ Beach Resort!
If you would like more information on getting to Sabang Beach or some of the attractions it has to offer come stop by any of our BADLADZ Adventure resorts and we would be more than happy to help you with planning your next trip to Puerto Galera in September.
Cheers!
Sean