Are you wondering Where to Stay in Puerto Galera Mindoro?
There are three basic places to stay in Puerto Galera which is found just a few hours bus ride outside of Manila, the biggest metropolitan city in the Philippines. Most travelers will come to Puerto Galera on Mindoro island for a few different reasons. One, for the scuba diving; Puerto Galera has some of the best scuba diving sites found here in the Philippines and it's no wonder that divers come from all over the globe to witness the amazing reef structures, macro sea life, and insane wreck diving found here in Puerto Galera.
The second reason most travelers and tourists alike come to Puerto Galera is to experience the pristine beaches found all over the island of Mindoro. Whether you're looking for that secluded palm tree-lined oasis or something with a bit of nightlife and cold drinks right on the sand, Puerto Galera has something for everyone to enjoy all year long no matter the season. and Last, the island hopping found here in Puerto Galera is perfect for a quick day excursion, or an overnight trip to Verde island. Puerto Galera offers some amazing island tours and group excursions all year round making it one of the best options when looking for fun things to do in the Philippines and why so many of our guests continue to keep coming back year after year.
When looking up information on where to stay and what to do during your vacation on the island, you will usually discover three major areas that contain the highest concentration of travelers to the island. Below, I will go over the top three tourist destinations on the island of Mindoro and give you some great ideas on how you can really get the most from your next visit to this tropical paradise.
Sabang Beach
Located just 15 minutes from Muelle Pier the major port of arrival to Puerto Galera island for tourists, Sabang Beach is a short stretch of sand containing over 40 different dive shops, countless local Sari-sari stores, and over 10 girly bars all concentrated in the towns center strip. All of this concentration of establishments, however, comes with its own set of problems as well. Recently being part of a regulated clean-up project due to the encompassing businesses encroaching on the coastline, Sabang beach has seen better days.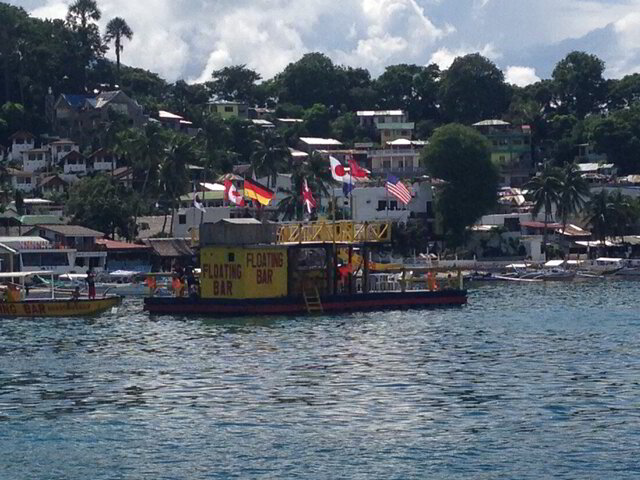 However, If some Puerto Galera nightlife and entertainment on the island is what you are looking for, you have definitely come to the right place. With a majority of bars staying open into the early morning hours, and the sheer concentration of girly bars found here; the nightlife found on Sabang beach is the best you will find on the island of Mindoro. A popular expat bar that is found here called "the big apple" is open 24 hours, and happy hour lasts from 8 am till 8 pm.
White Beach
Another popular tourist destination found here on the island is known as White Beach, which is a beautiful white sandy beach just 10 minutes from the main arrival port Muelle Pier. This is a great stretch of sand that offers your typical touristy beachfront shops selling clothes, sunglasses, and various souvenirs found at the most popular beach destinations.
White Beach is situated 12 km east of Sabang beach. It is connected by trike or jeepney to Sabang Beach where the road is under constant construction causing delays on occasion. White Beach remains popular with local travelers and Filipino families. The place features a long beach of white fine sand.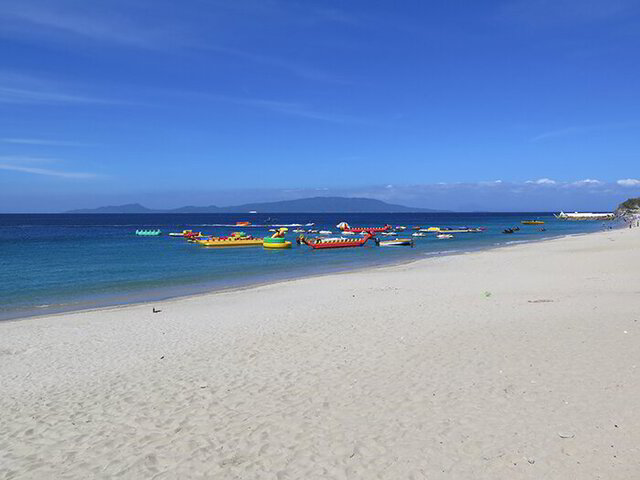 Filipinos like to come here at weekends and during the holiday season. There is a long line of restaurants and a variety of shops, the place is buzzing with life day and night. Since 2001, White Beach has seen uncontrolled development. New restaurants and places to stay are encroaching on the beach itself.
Behind the beaches are the generally unexplored mountain ranges of central Mindoro. A local attraction is the 9-hole golf course located on the hillside above White Beach which has views over Puerto Galera's natural harbor and the Verde Island Passage. Mangyan tribes are scattered over the mountainsides – some of the more remote tribes have virtually no contact with the outside world. Of the eight tribes on Mindoro, the Iraya are the largest. They are based in the Puerto Galera area.
BADLADZ Resort

The third place is where we are, Badladz, which is located actually in Puerto Galera which is the Port of Galleons, and this is basically in the center of town but still on the water. You've got all the services, you've got all the nightlife, and you've got access to both those other places where you can party all night in Sabang or you can go to White Beach.
That's why we chose to be here.
BADLADZ Beach Resort is located just a few minutes outside of downtown Puerto Galera, where you can find grocery stores, barber and salon shops, and everything in between. Not only is BADLADZ Beach resort close to the town, but our prime location is right in the middle of both White Beach and Sabang beach making it the perfect location for your holiday on Mindoro island. We are constantly meeting new guests who are tired of staying in the middle of all the chaos on White Beach constantly being hassled by hawkers and people trying to sell them something. The same goes for those who used to stay on Sabang beach, where the place is always under renovation and cluttered with debris and trash all year round.
Here at BADLADZ Adventure Resorts, you can get away from all of that nonsense, and do what you came here to do; relax and enjoy a peaceful vacation on a tropical island. Come enjoy our semi-private beach, friendly and helpful staff, and award-winning restaurant on your next holiday vacation in Puerto Galera; and you will be more than glad you did.
Don't forget, BADLADZ Adventure Resorts is not just an amazing beach resort in a prime location to all of the attractions found in Puerto Galera. We also have a Dive Resort right on Muelle pier steps away from where the boat transportation picks you up and drops you off when traveling to the island, as well as our amazing Apartments steps away from the BADLADZ beach resort. So if you're looking for your next travel destination in the Philippines and not sure where to stay in Puerto Galera, look no further than BADLADZ Adventure Resorts.
Video on Where to Stay in Puerto Galera, Mindoro
Watch the below video to get my take on why staying in a central part of Puerto Galera at one of our BADLADZ Resorts is the best option.
If you would like to come and visit us in Puerto Galera and book a room at one of our properties, contact us today to secure your room and fun.
Cheers,
Sean