Voted one of the "most beautiful bays in the world", Puerto Galera is is my favorite place in the Philippines and for good reason, as there are so many great things about this beautiful island it is often difficult to name them all.
With so many different activities available here it's no wonder so many tourists and locals alike continue to choose Puerto Galera as their number one pick for their top holiday destination of choice year after year.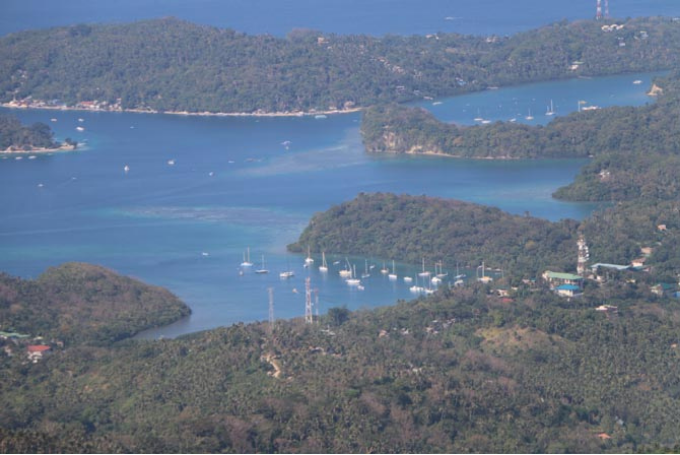 Puerto Galera is probably the best "all-around" destination place in the Philippines considering the small amount of effort needed to travel and enjoy the wonder of this island when comparing it to other islands around the Philippines.
Only three hours outside of Manila gives this amazing island the perfect location for weekend travelers and those wanting to spend less time in transit and more time enjoying their holiday vacation. You can get off the airplane, take a bus or taxi to Batangas Pier, a boat to the island and be enjoying your vacation almost immediately.
Scuba Diving in Puerto Galera?
Located on the Verde Island passage, this area has been discovered to be the "center of the center" of marine biodiversity in the world making it some of the best world-class diving you can experience. With more marine species present here than on the Great Barrier reef, you can truly see more in less travel time from one dive spot to another all in one area.
This entire area has been a Marine sanctuary for over 30 years with pristine coral reef visible just below the surface. Obviously, the snorkeling and diving are going to be awesome with clouds of fish and strange sea creatures that will have you searching Google for "what was that?".
Other Things to Do in Puerto Galera
hat else is there to do? How about parasailing, kiteboarding, windsurfing and sailing for those that like wind sports. One of the coolest little yacht clubs is right here in the bay and they offer lessons for those who want to give it a try or perhaps freshen up on their sailing skills! Hiking and trekking abound if you really want to have a good look around at all the natural wonders, waterfalls, clear mountain rivers and secluded native tribes still living in grass huts and wearing loincloths.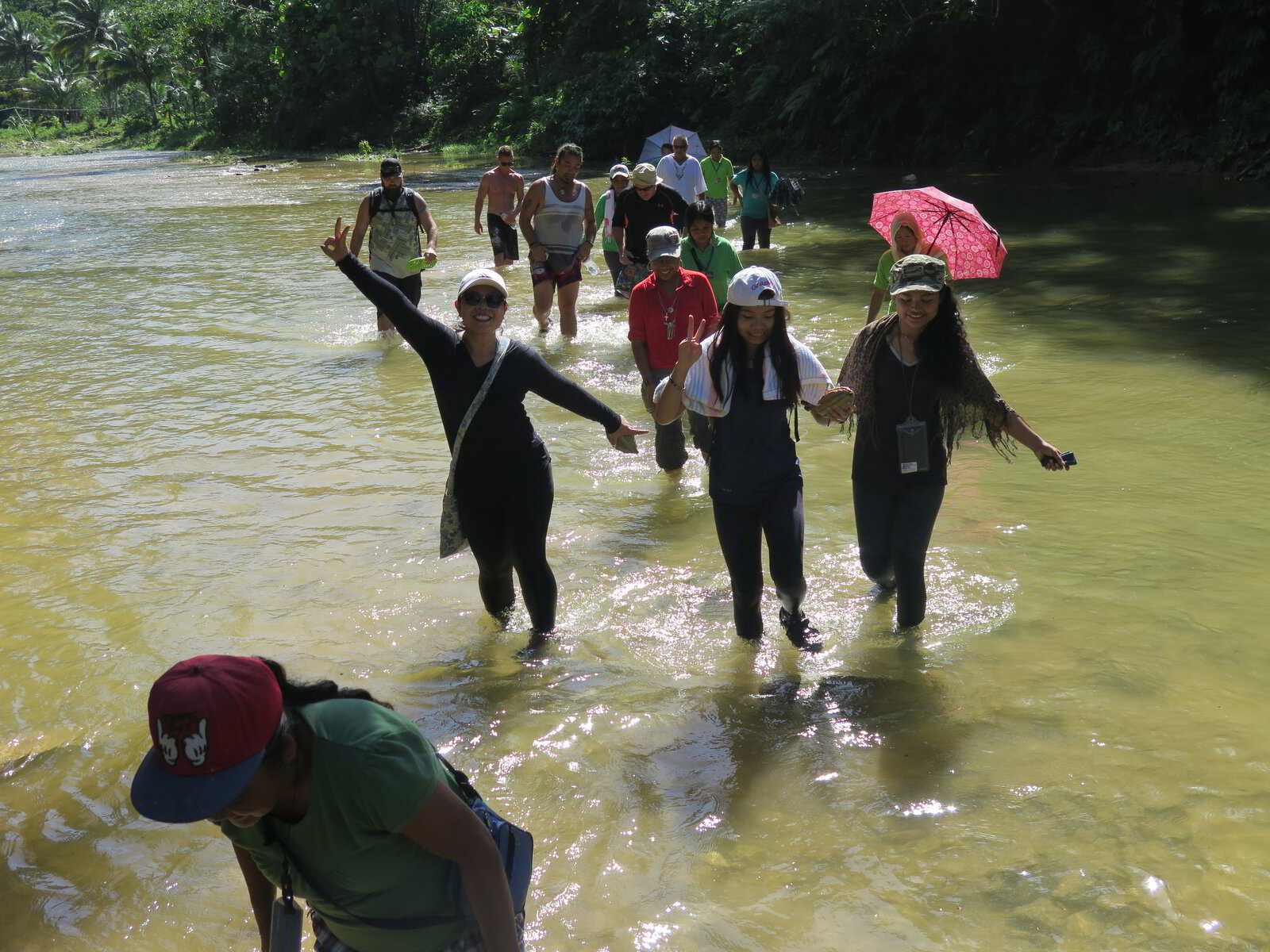 There is plenty to see and do here around the island of Mindoro and with everything available in this great location of Puerto Galera it's no wonder travelers all over the world continue coming back year after year.
Lots of fun on the water as well with jet skis, banana boats, water skiing, kayaks and even one crazy guy who will rent you your own speedboat! How's that for fun!
Beaches in Puerto Galera
So you want to get away from it all? Secluded beaches abound without the constant pushing to buy souvenirs and cheap items. Many of these white sand havens are accessible only by water so chartering a banka for the day is usually your best bet to exploring these amazing gems found all over the area. Have a local boat land you on one of these with provisions for the day and contemplate your toes and the turquoise blue water till your sunset ride arrives.
Sabang is a Fun Place in the Philippines
Maybe you crave some "action," companionship and interaction during your stay here in a tropical paradise? Well, look no further than the little seaside village of Sabang which opens up at night like a nocturnal flower with dance clubs and discos, 24-hour beachfront restaurants, and bars with girls and boys swirling about in the warm tropical night.
This is a hidden gem of a place in the Philippines that a lot of people don't know about.
Sports bars abound with satellite feeds of major events from all over the world and people hanging out almost every night of the week. Nobody wants to miss the finals!
What else? How about a golf course with a view like this?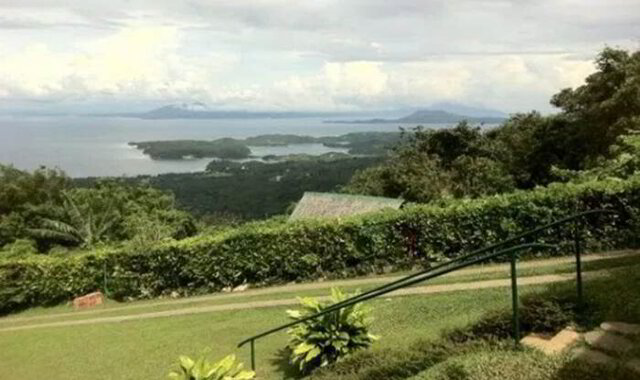 A carabao ride up a jungle stream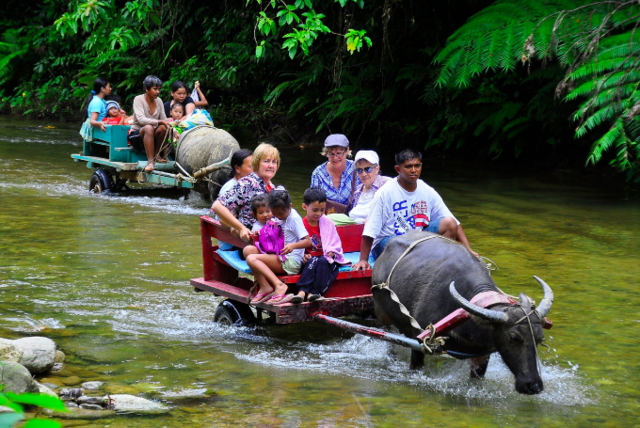 Breathtaking sunrises and sunsets every day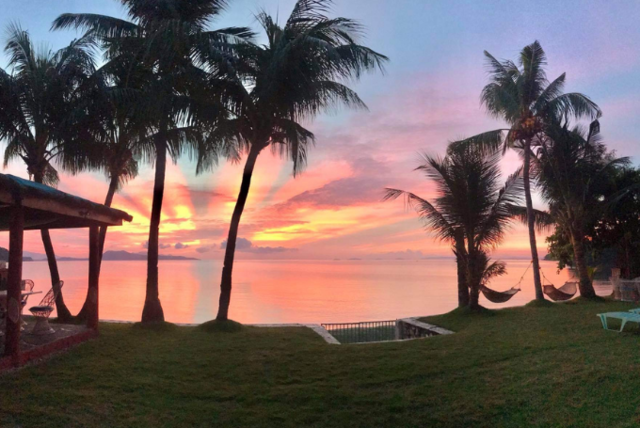 Action Activities in Puerto Galera
Do you like guns? Go into the jungle and shoot your friends! We have paintball games. Also, a little more realistic, fully automatic military machine guns for rent at the shooting range along with a wide array of handguns for training and practice.
Dig motorsports? Mud buggies and quads on a dirt track through the jungle, go-carts on a paved road course or rent your own enduro bike and explore the roads and trails on your own.
Restaurants are found all around the island with almost every taste satisfied. Japanese, Italian, Chinese, Indian, Mexican, Korean just to name a few. All of these attractions can be found on the beach with stunning views, a relaxed environment, and affordable prices. Backpacker or five-star opulence, stay where you want, everybody gets to enjoy this tropical island paradise.
Personally, this is my choice for "the best place" in the Philippines. Looking for the perfect place to vacation or to find a spot to live in the Philippines? Affordable, accessible, entertaining, Puerto Galera has everything you could want or need in a stunning, tropical setting that will blow your mind.
If you would like more information on how you can come experience this wonderful tropical paradise for yourself and would like some tips and pointers on planning the best Philippine vacation you could possibly imagine, come, say hello at any of our BADLADZ Adventure Resorts; and we would be more than happy to help assist you during your stay.
Cheers
Sean