There are a lot of activities and magnificent adventures you can enjoy when you're in Puerto Galera, and Tukuran Falls is one of our favorite spots to experience on the island. If you're into jungle adventure then come and visit one of the most beautiful "hidden paradises" located very close to our Adventure resorts.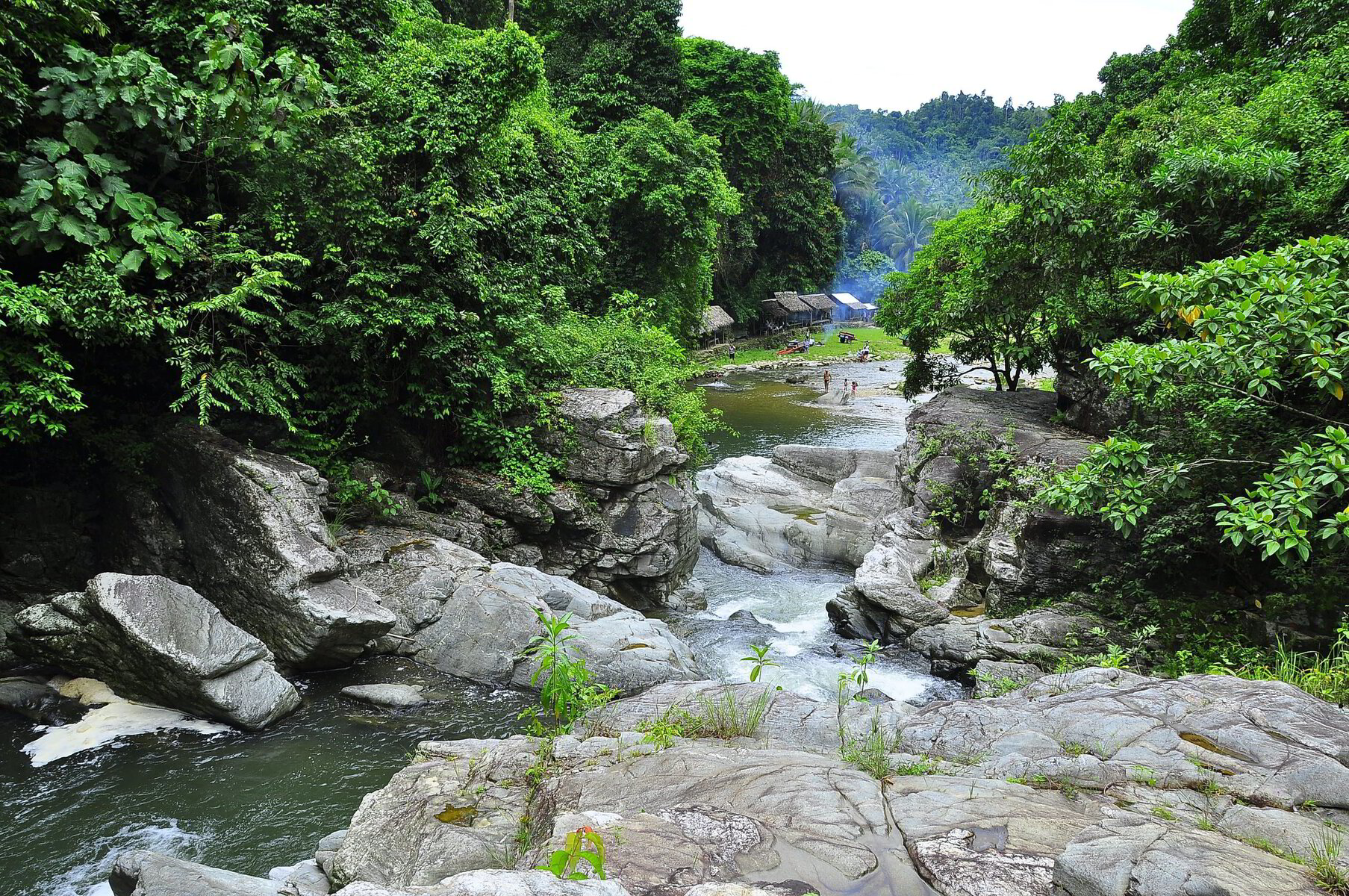 Tukuran Falls is just one hour away from any of the BADLADZ resorts making it the perfect day time activity for you and your group to get out and do some exploring around the island during your stay. These falls are one out of three that are found here in Puerto Galera and although their locations are somewhat close to one another, they each have their own unique characteristics that separate them from one another. The other two falls found on the island are the Aninuan Falls and Tamaraw Falls. Here I will guide you on how to get there and give you some ideas on things you can see and do along the way to Tukuran.
Preparing to go to Tukuran Falls
Before we leave for our journey to the falls let's make sure we have everything that we need first. Make sure to arrange your food, snacks, and beer as this area takes quite a bit of a journey off the main road and will be much more difficult to go back for these items once you have arrived. Don't ever forget the cold beers before leaving since no restaurant or store is in the area. You can also hire a tour guide that knows the whole area if you would like to adventure around and get a feel for what else is around the area and do some exploring while your out. If you are staying at one of the BADLADZ resorts we can arrange all of this for you so that you can enjoy your adventure with less worry about all the small logistics.
How to Get to Tukuran Falls
From Puerto Galera, you can either ride a jeepney or hire a van that can take you directly to the trailhead where you will start your journey up the mountain to the falls. You don't have to worry about not having anything to do because the highway takes you high above the sea and you'll experience incredible views of Puerto Galera and the surrounding islands along the journey. After reaching the trailhead there are a number of bamboo huts, as well as the local public transport, the Carabao cart. These carts will be the main form of transportation up to the falls and have been in use here on the island for many years making them a staple in the history of Puerto Galera and something you will always remember from your experience here on the island. See the picture below for what the Carabao carts look like!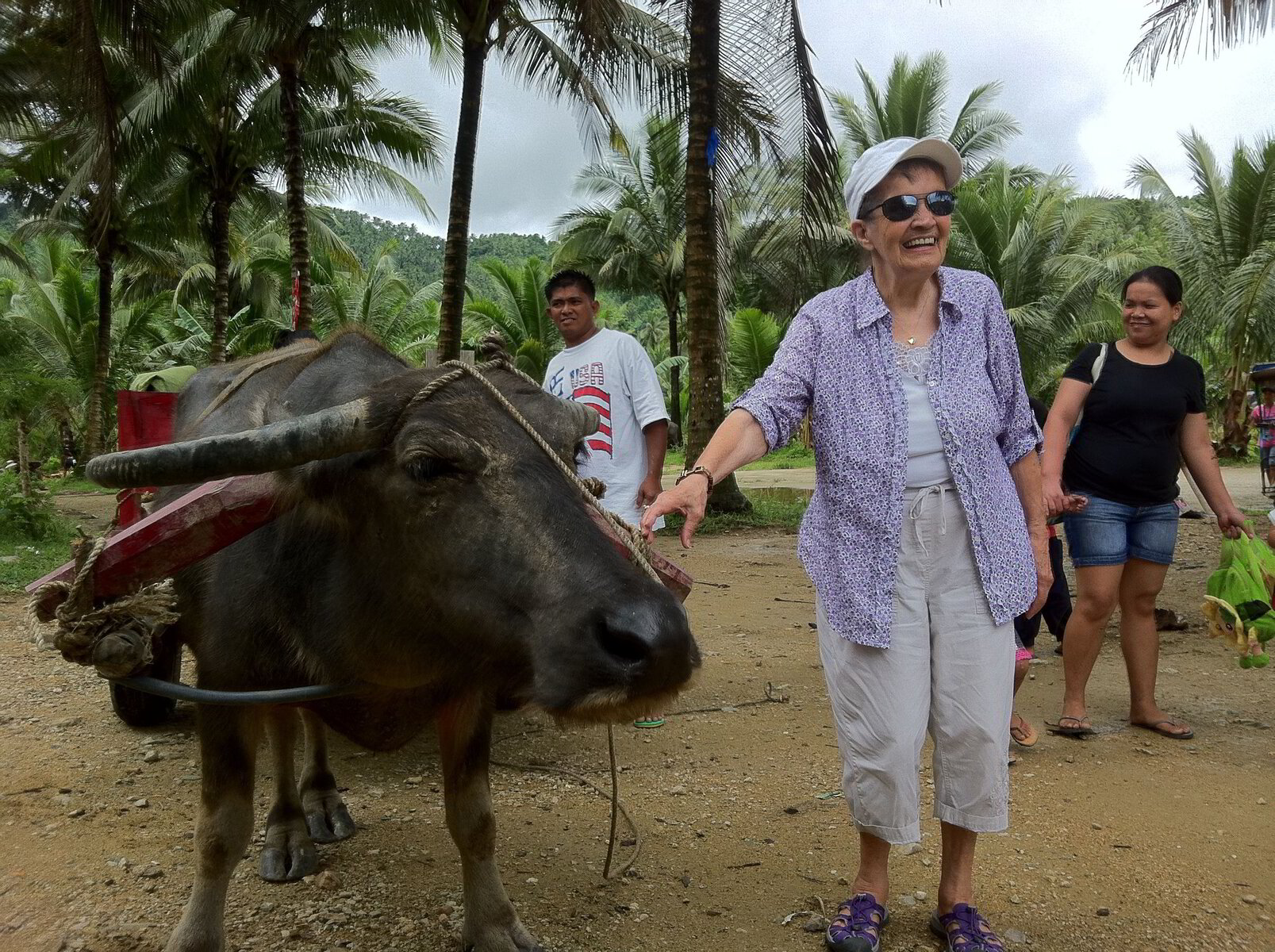 Walking Through the Jungle
From the trailhead, it will be around a 30-minute walk through the lush, dense jungle riding along the river bank inside the Carabao cart. There are lots of mosquitoes there so bring a bottle of potent insect repellent if you are known for being favorited by these mosquitos on a regular basis as is. There's also a lot of tasty tropical fruits that grow in the area, just ask the locals to grab one for you if you would like to try some for yourself.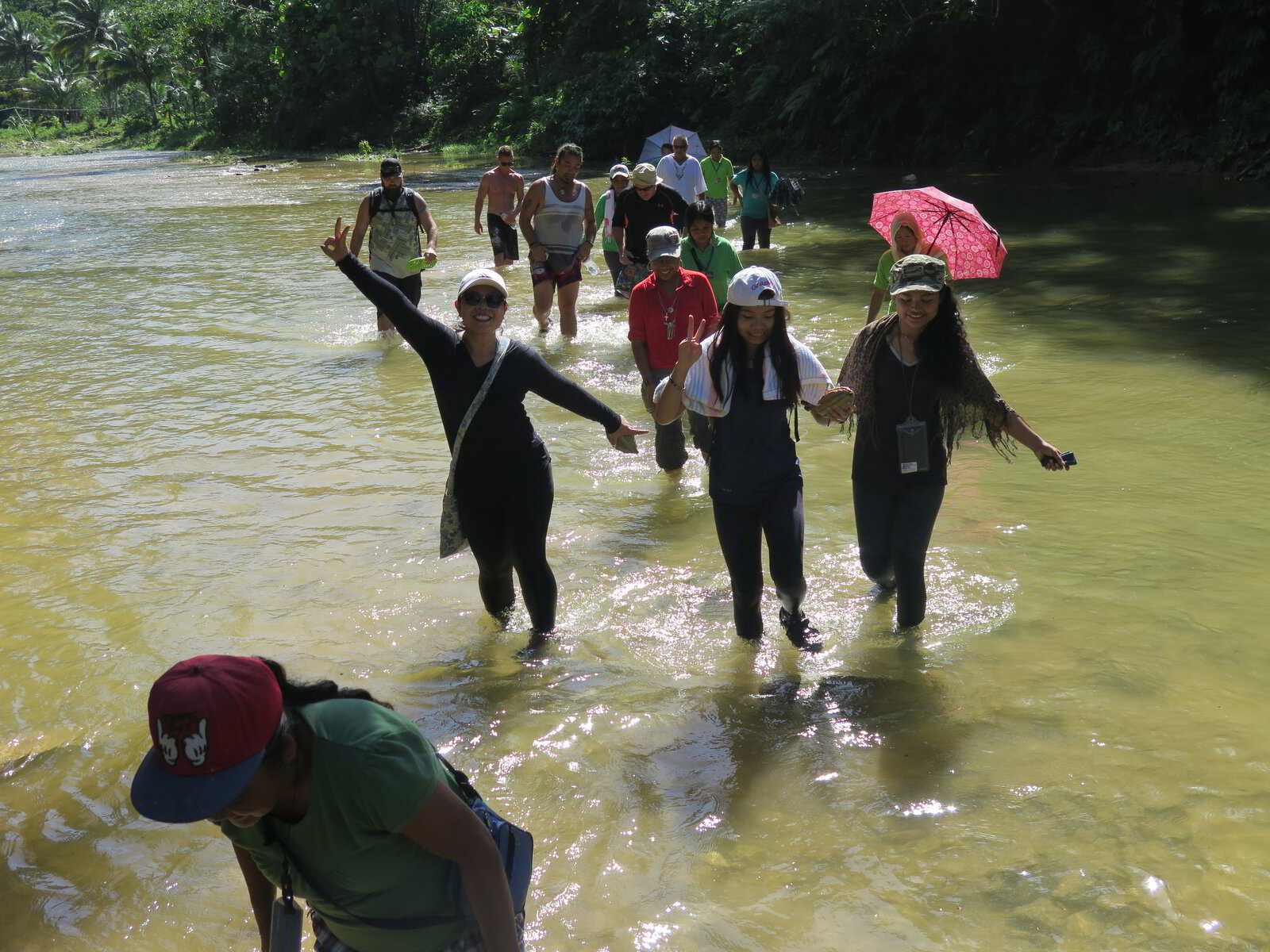 You're going to get your feet wet on this one no matter what, so make sure to bring shoes you don't mind will get wet. You'll pass through at least six freshwater creeks and rivers, as well as thousands of tall coconut trees along the path so don't forget your camera as well. If you don't want to get your feet wet you can take their local bus, the Carabao cart.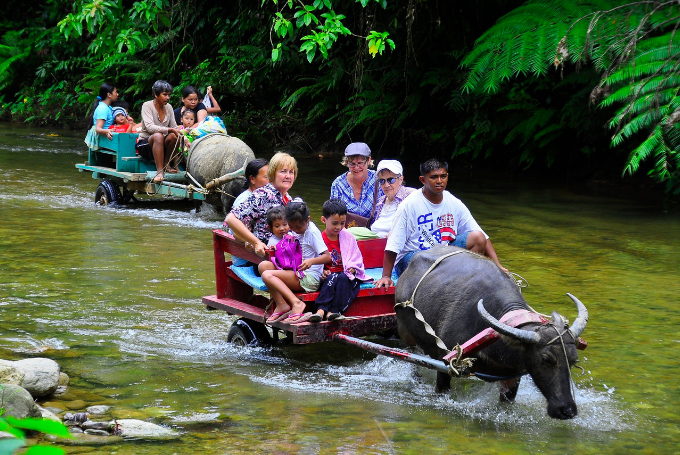 I guarantee you the scenery is awesome, breath-taking I might add. You can take pictures and videos anywhere you like and the adventure on the way to the falls is almost as epic as the falls themselves so enjoy the journey along the way!
Prepare to be blown away!
You will notice that you're already close to paradise when you hear a rushing sound of water nearby. Right after you arrive you will see a clean green-colored pool situated at the bottom of the rocks where the water is flowing freely.
The river leisurely makes its way down the valley, rolling over the rocks. Further up the fiver, you'll find rapids that are exciting to float through. You can go diving, swimming, rock sliding, and more fun.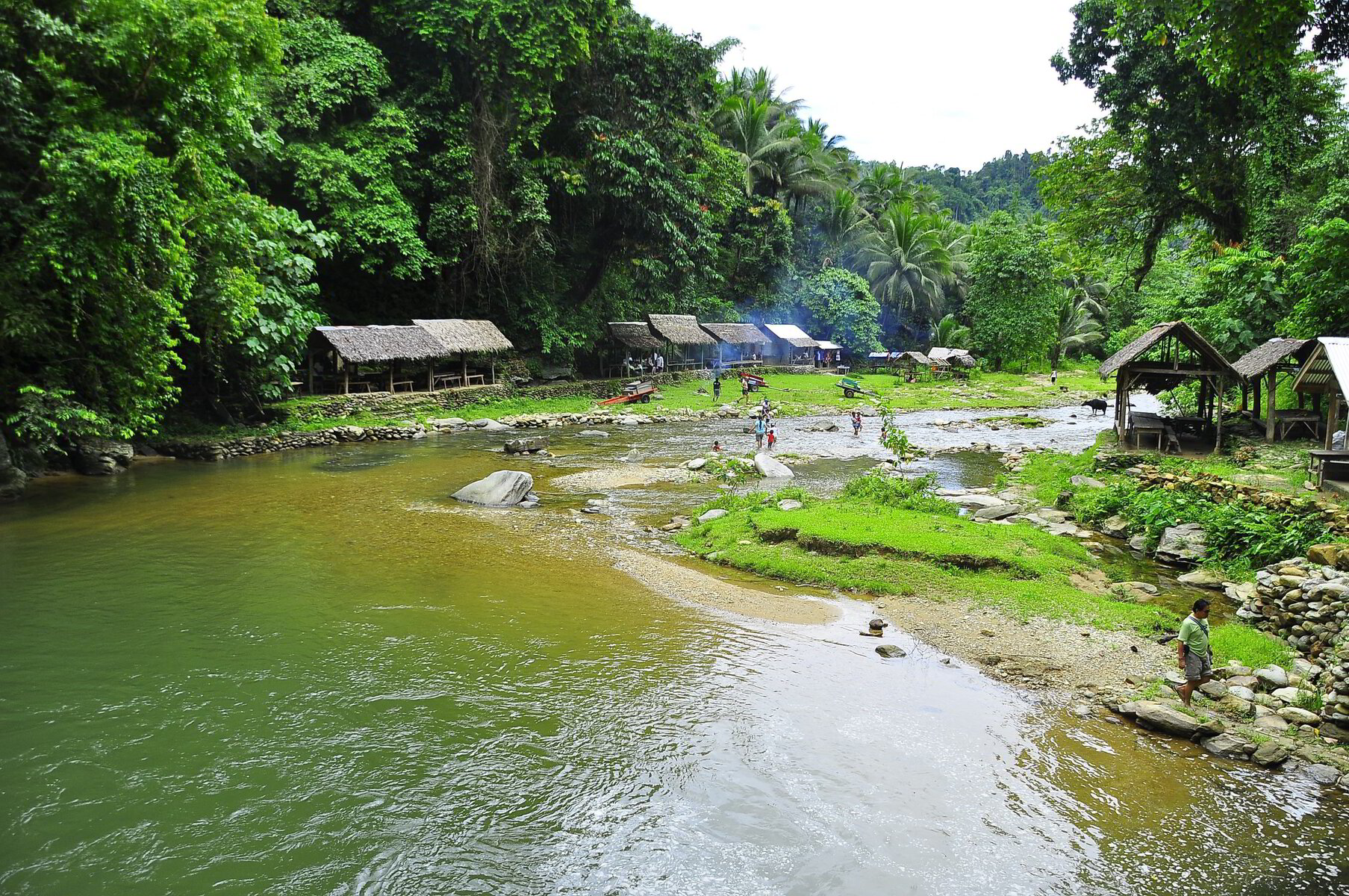 And of course, it wouldn't be complete without some great food to eat. You can set up and cook your foods at any of the bamboo picnic shelters alongside the falls.
After eating you can go back for more swimming, more exploring and more fun fun fun. It really takes the stress away.
Let's Go Home
When you're done it's time to head back to BADLADZ and hang out on the beach. Just keep in mind this important reminder. Whatever you take in, please take it out. Don't leave any trash.
Walk back out the way you came in. Take a Carabao cart if you don't feel like walking. Your transport should be waiting for you back at the trailhead ready to take you back to town for a wild night enjoying the nightlife in Puerto Galera.
Takuran Falls Video
I made a video of our recent journey to Takuran Falls Puerto Galera. This is the beauty as much as my camera can capture, check it out below
I invite you to come stay with us here at BADLADZ and we'll arrange your journey to Tukuran Falls for you and make sure you have everything needed to enjoy your Philippine adventure to this amazing falls right here in beautiful Puerto Galera.
Cheers
Sean