Have you ever visited White Beach Puerto Galera? If not read this guide I created for you to have an idea of what to expect and have fun without getting into trouble.
It is a popular beach in Puerto Galera and thousands of tourists from all over the world flock here every year.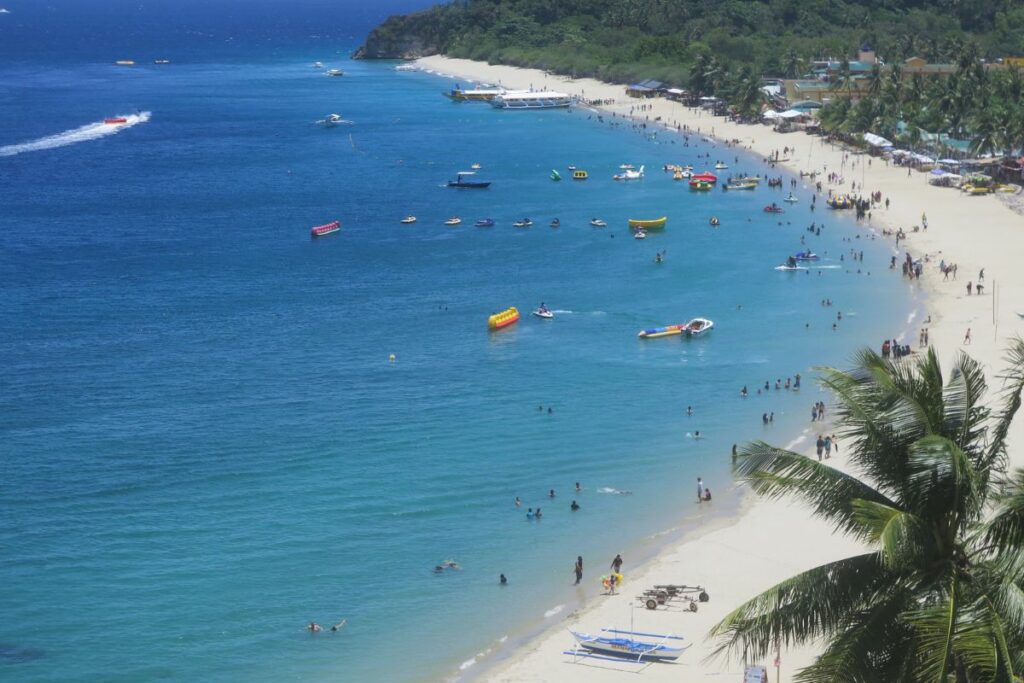 You might ask yourself, what exactly goes on here, and what makes it one of the top destinations on the island?
White Beach is a long beach with fine white sand, making it a fantastic spot to relax, unwind and enjoy a day trip.
It is one of the most popular tourist destinations in Puerto Galera, there are plenty of hotels, bars, and restaurants to see here. Because of that, the area can be quite crowded and noisy.
So if you want a quiet, relaxing stay, you're much better off booking into the BADLADZ Beach & Dive Resort and we can help you arrange your day trip to this amazing Beach.
Let's dig in and learn a little more about this awesome beach in Puerto Galera.
Puerto Galera White Beach Video
Watch this short video I created. It will give you a taste of what this Beach looks like.
How to Go To White Beach Puerto Galera
If you're wondering how to go to White Beach Philippines, it's pretty simple actually.
If you're already in Puerto Galera, then getting to White Beach is pretty easy, it's just a 10 – 15 minutes ride by a local tricycle or a motorcycle from any of the BADLADZ Puerto Galera accommodations. You can also get there directly from Batangas Pier if you are coming from Manila since White Beach also has its own pier.
For trip schedules from Batangas to Muelle or Balatero, you can check the Minolo Shipping Lines website.
If your not sure how to get to Puerto Galera you can read about it here, How to Get to Puerto Galera.
White Beach Puerto Galera
So now you are in the popular White Beach Puerto Galera, the first thing you'll notice once you arrive at the area is the gorgeous beach buzzing with activities. There's also a long line of restaurants providing whatever kind of food you're in the mood for.
Some of the best pizza spots in the Philippines are found here. Relax under an umbrella, have a massage on the beach, or enjoy an ice-cold beer, a rum, and coke, or a mango smoothie.
Normally when you go out here walking and browsing through a variety of shops like clothes shops, tattoo parlors, and numerous bars. There will always be someone that will approach you and offer you water activities.
They will have laminated pictures with them with pictures and a list of activities you can choose from.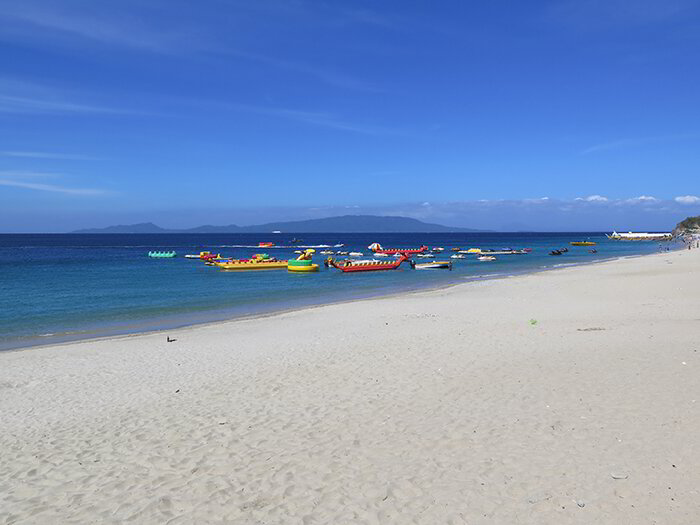 Puerto Galera White Beach Activities
Here are some activities to enjoy at the Beach in Puerto Galera on your holiday:
Island Hopping
Snorkeling
Scuba Diving
Jet Skis
Banana Boats
Windsurfing
Kayaking
Parasailing
Sailing
Relaxing on the Beach
Any of these activities will make you enjoy your day trip to this awesome beach.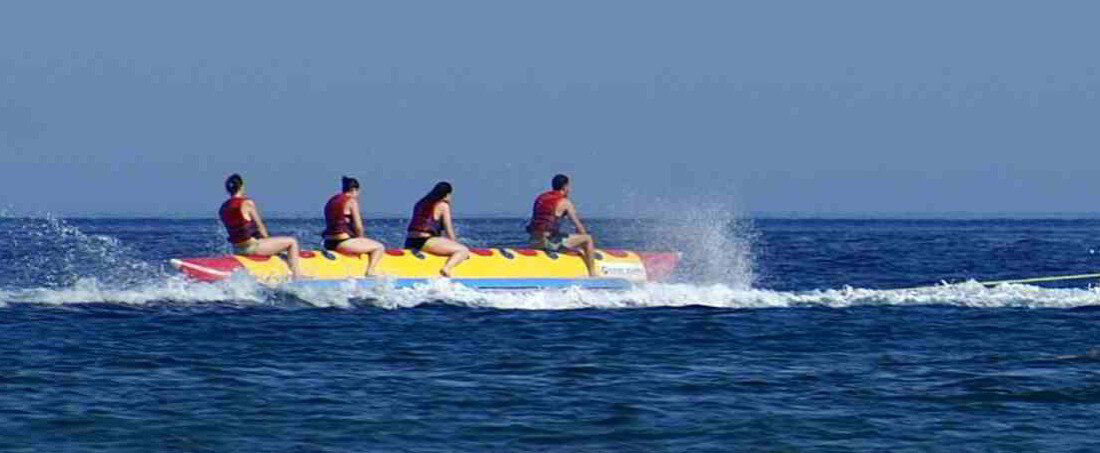 You will find White Beach has things to do during the day and during at night. Let's start with White Beach during the day.
White Beach During the Day
During the day White Beach Puerto Galera is busy with tourists enjoying the beach and the sun. Especially during summer vacation, the beach will be crowded with people coming from everywhere. There will be solo travelers, couples, and families hanging out on the beach, so you will see a variety.
Watch this short video I shot when we visited White Beach Puerto Galera for you to have an idea of what it looks like when it's busy.
You can see in this video how people enjoy the beach here, young children playing in the shallows while teenagers play volleyball. Some people are riding banana boats while others are tanning themselves under the rays of the sun.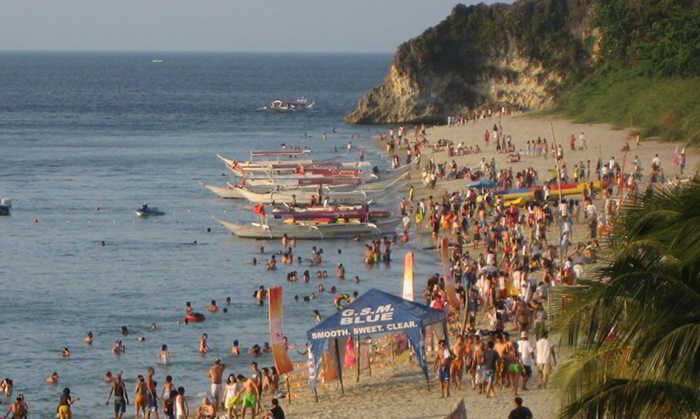 This is what it looks like when it's busy, this normally happens during summer or holidays. If you want to have an experience less crowded, you can visit during the low season and you can have the beach with a much smaller crowd like this, see the image below.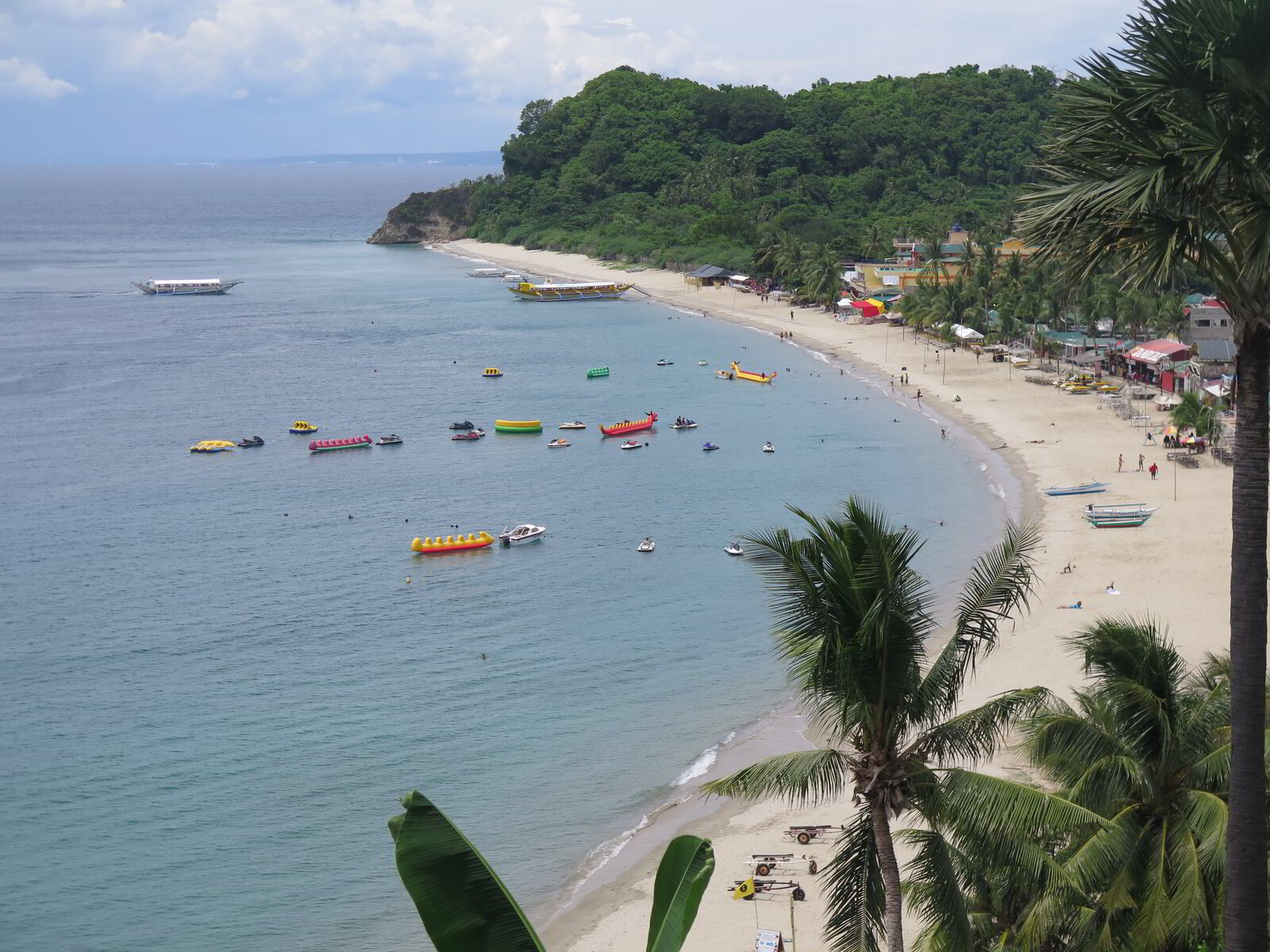 Is White Beach Safe for Tourists?
Puerto Galera is a safe place for tourists to go and have a good time. Just like anywhere with lots of travelers, you could experience petty theft if you leave valuable items like your purse, wallet, or phone lying on the table unattended. Confrontational crimes are extremely rare here.
Always remember never to leave your stuff lying out on the beach while you go about your activities.
Well, this is White Beach during the day but besides this White Beach is also a popular place for people looking to enjoy the Puerto Galera nightlife.
White Beach by Night
Nighttime is just as busy with a lot of activity a the restaurants and small bars. Allow me to paint a picture for you.
All of the bars on the beach sit in a row right on the break. Most of the seating at the bars and restaurants here is outdoors (although there are coverings for rainy days), so when you sit at the bar, you are literally on the beach with sand between your toes.
There are tons of bars and restaurants to choose from. The most popular foods available at White Beach are pizza, pasta, and burgers, but you're sure to find something for everyone.
If you're on the beach to enjoy more than a drink or two, try getting a tower of the Philippines' favorite beer, San Miguel, or a tower of the regional mixed drink, the Mindoro Sling, a fruity rum cocktail often enjoyed out of small shot glasses.
Be careful though! It may seem innocent, but the Mindoro Sling is lethal even in small doses.
Nighttime Attractions
We are getting ahead of ourselves. Before you even order a drink, you will notice quite a few sights that make White Beach one of the most unique places you've experienced.
The Dancers
Almost all of the bars on White Beach have a stage complete with dancers in elaborate costumes and makeup. These women are very beautiful, but if you look closely you'll see that they aren't actually women at all, these dancers are the famous "ladyboys" of Asia.
Some of the performances are meant to be sexy, but most of them can be considered "variety" performances and they are meant to be fun and funny. Each of the musical numbers tells a story. One number might have two women fighting over a man, while another might be making fun of the latest pop culture craze.
You can also take your drink to go and have a stroll along the beach, enjoying various shows, fire dancers, and the unique sights and sounds of White Beach.
White Beach Fire Dancers
White Beach fire dancers are a popular show to watch at night. On the canvas of the dark night and with the waves crashing on the beach in the background, the fire dancers exhibit their control over their burning rings of fire (literally!) in a way that you have to see to believe.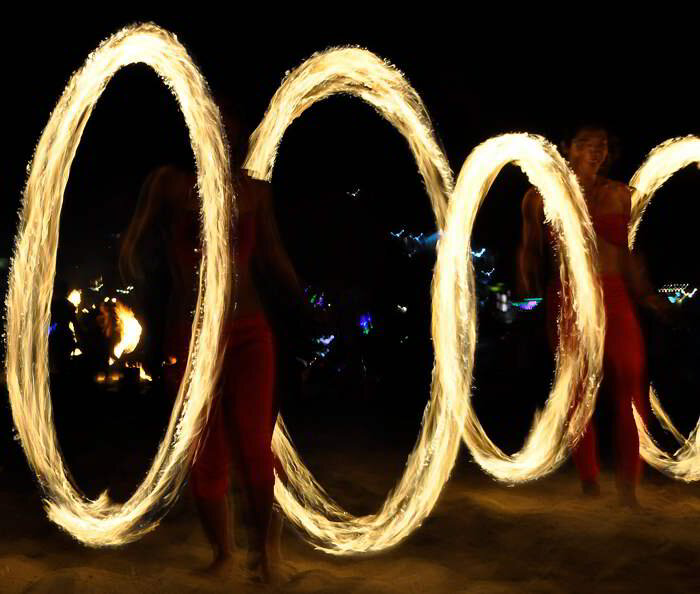 Using buckets of kerosene to fuel the flames, the dancers swing balls of fire at the end of long chains. If you ask (and pay a few pesos), they'll gladly swing their fire close enough to your face to singe your nose hairs so that you can document your near-death experience with a photo.
White Beach Fire Dancers Video
Watch this video for you to see what I'm talking about.
Prices in White Beach
Hanging out in White Beach is very affordable fun. During the day, beach activities are typically around 2000 or 3000 pesos, (or around $50-$60 USD) for group activities of up to 10 people for an hour.
At night, there is no cover or price of admission to watch the shows. Just order a beer and enjoy the entertainment for as long as you want! A beer costs around 60 pesos, less than $1.50 USD.
There's so much more to White Beach than we can cram into this article. We suggest seeing it for yourself to fully understand what makes White Beach such a popular tourist spot.
Central Puerto Galera Accommodations
If you're looking for the perfect launching pad to explore White Beach, consider staying at one of our BADLADZ accommodations? You can choose between the beach resort (pictured below), the apartments (2 min walk from the beach resort), or the dive resort (you still get free access to the beach resort pool). These are all very central to the best tourist spots in Puerto Galera giving you the quickest access to all things of interest here.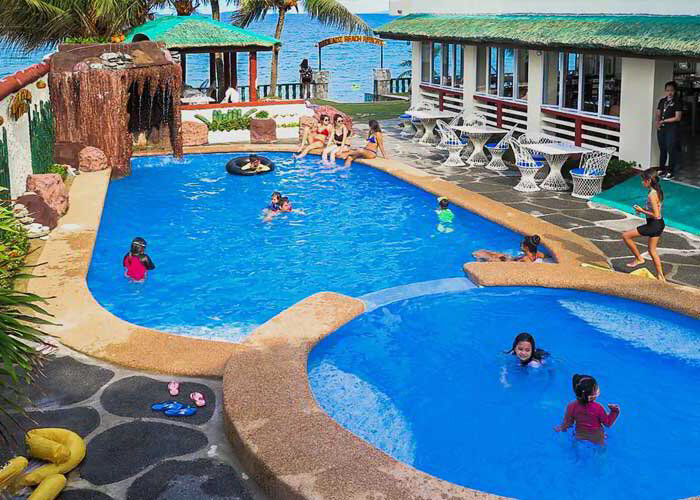 All the fun and excitement at White Beach Puerto Galera is just 20 minutes from BADLADZ. You can ride there yourself on a motorcycle, or you can enlist one of the eager locals for a ride. Your fare will probably help him feed his family that night for dinner.
BADLADZ is also close to Sabang, another famous nightlife spot in Puerto Galera.
Come stay at BADLADZ and along with a comfortable room, you'll get wonderful service, famous Mexican food and lots of great photos to show everyone at home when you return.
Doesn't that sound great?
Cheers,
Sean
Editor's Note: This post about White Beach was originally published on February 6, 2012, and has been updated adding more tips and expanding on the original information.