One of my favorite parts of traveling is being exposed to new customs, languages, and especially new foods. Every corner of the earth has its own style of preparing food that best suits them.
The opportunity to taste these foods for yourself gives you a deeper understanding of the local culture. It opens your eyes to more fully appreciate the heritage of the region and what that society is built on.
It can be delicious to try local foods everywhere you go! Here are a few foods that are specialties of the Philippines, and I encourage you to try them while you're here.
Start with the Staples
Just about any dish served here in the Philippines is accompanied with rice. This is similar to most Asian countries but most Filipino dishes combine a more bold mixture of sweet and sour with the rice which differentiates it from the more basic Asian cuisines. The tradition is also to present food aesthetic manner.
One such example is Sizzling Sisig. Sisig is a mixture of pork belly, ears and snout flavored with hot chili sauce and topped with an egg. It's presented still sizzling in the pan with the egg frying on top while it's being served. This dish is very sweet and has been a big hit among visiting foreigners.
Trying Something New
Here's one that might make you think twice. Balut is a Filipino customary egg dish. Sound pretty typical? Here's the catch, the dish is a fertilized duck egg. Typically hard-boiled with the embryo and yolk inside, it is eaten much like a hardboiled egg where you peel the shell, drinking the contents and eating the inside as you go. Sometimes you'll be able to fully see the baby duck embryo while other times you'll simply be able to tell there's 'something in there as with this picture.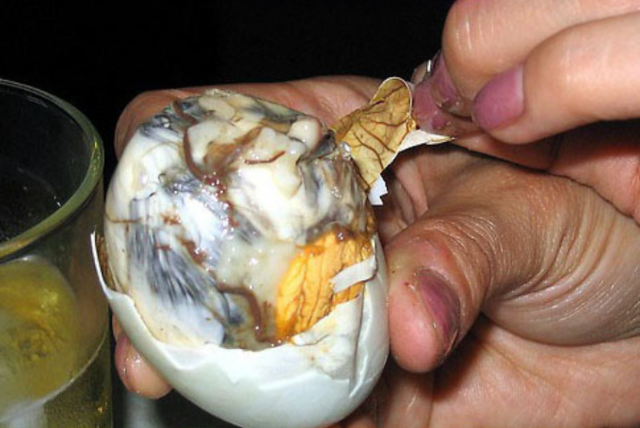 Now for Desert
On to the final course, a typical dessert dish for Filipinos is Leche Flan. This is a traditional caramel custard made with eggs and milk. Leche Flan in Spanish translates literally to "milk flan" and is a bit heavier than traditional Spanish flan made with condensed milk and more egg yolks. This is often food you'll see at a Filipino celebration of some sort.
To try out some of these delicious local foods and have a full menu of Filipino and Mexican food, check out the BADLADZ Restaurants. Both restaurants will fill your tummies and have you walking away feeling like a well-feasted king.
Come enjoy some Philippine culture with us!
Cheers!
Sean