A group from CQC of the Development Academy of the Philippines came for their annual Group Team Building activity. Their stay with us was an amazing experience and the entire team was able to take something special away from this event here at our beautiful beach resort in Puerto Galera Philippines. BADLADZ is known for being one of the best group team building venues on the island of Mindoro for any group size due to the fact that we have not just one, but two amazing resorts here in Puerto Galera that can accommodate all sorts of team building games and activities. BADLADZ Adventure Resorts can also offer assistance with your team-building program as we have a large number of excursions and on-site features not found at most other locations.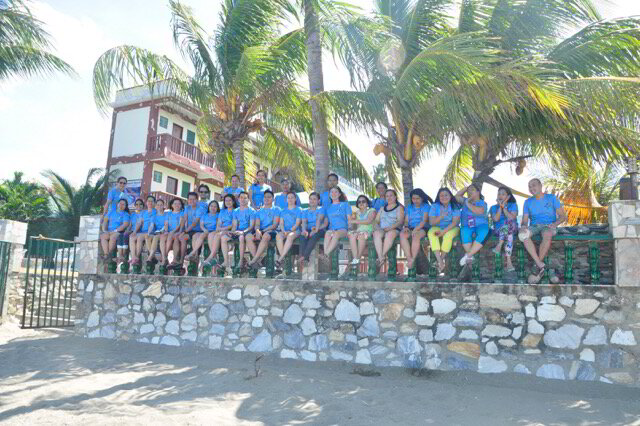 Team Building Venues In Puerto Galera
BADLADZ Beach Resort is located just five minutes from Muelle Pier, ten minutes from White Beach, and fifteen minutes from Sabang beach making it the perfect location for your stay in Puerto Galera. Our large restaurant space and lounge area make it the perfect team-building venue for those looking to have fun and enjoy indoor activities. Our beachfront lawn is only steps away from the ocean, making it perfect for all types of outdoor team-building games.
Team Building Program
When the group from CQC of the development academy of the Philippines arrived we immediately went to work to make their check-in and team building program planning fun and a fantastic experience. Our attentive staff were very hospitable as always and tended to their needs to help make it a great time. Even myself, and a couple of the guys here, Cody and Gavin helped out by being a judging panel for one of their activities! Fun, Fun, Fun!!
Team building facilitator
If you're a team-building facilitator and looking for a team-building venue that has all the necessary tools and accommodations for your program, then BADLADZ Adventure Resorts has just what you're looking for. We not only have plenty of experience with hosting these types of events, but we know exactly how to make your program run smoothly and effectively no matter what your ideas and activities may include. If your team building facilitator happens to be less experienced, or perhaps not able to make the event, have no fear as we can also help prepare a program for your group based on past events we've held at BADLADZ as well.
BADLADZ Resort features
We receive the highest remarks on our restaurant food with the ability to accommodate all types of dietary needs for our guests. If some of the members of your team happen to be vegetarian, we can prepare special meal plans for those members as well, making BADLADZ Restaurant perfect for any member of the team. Also, if you haven't heard BADLADZ also offers some of the best Mexican and traditional Filipino dishes you can find on the island, and the reason so many of our guests continue to call our resorts home during their vacation holidays.
Team building ideas
Not sure what activities or team-building ideas you want in your program during your event in Puerto Galera? We can help! BADLADZ Adventure Resorts is more than just another hotel or resort offering simple accommodation and food packages. We offer a truly unique experience and fun team-building game ideas for any group size and interest. From team building activities for youth, adults, companies, and even free team building activities around the island; we can help you find and plan exactly what it is you're wanting to do during your stay in beautiful Puerto Galera.
BADLADZ is more FUN!
Did we mention that we have an amazing pool with full access no matter which resort your group chooses to stay at? With our full-size pool and mini waterfall cave, your team can cool off after a long day of fun in the sun and continue the games even after the sun goes down. If one of your members is looking for a way of relaxing after all the fun and games, we also have an on-site spa located at the BADLADZ Beach Resort for those who want to enjoy some peaceful time at our Pampered Spa as well.
We received a lot of comments that our guests are planning to come back with their friends and family as they felt it was a great beach resort in Puerto Galera at a great price.
FUN after dark
The fun doesn't stop after dark here at BADLADZ Adventure Resorts, in fact, that's usually when the real fun here begins. From an outdoor jam session on, beachfront bbq, to karaoke nights, if you can imagine it we can make it happen here at BADLADZ.
Themed group events
If you have a themed group event or idea that you want to set up during your stay with us, we can help you with that as well. From luau nights to all-white dress-up parties, we can help prepare your themed event here at BADLADZ and plan a night that you will never forget. Here's a review that one of our guests from the CQC of the development academy of the Philippines had to say about staying with us here at our awesome resort.
Group Team Building at BADLADZ Beach Resort
Would you like to have your group event at BADLADZ Beach Resort? Would like to come out for your group team-building events in Puerto Galera?
We would love to host you and take care of your event so you don't have to worry about all the logistics of location, food prep, and support.
Feel free to contact us to inquire about dates and rates. ????
Cheers,
Sean