Scuba Diving in the Philippines is one of the amazing magical experiences this place has to offers for all those willing to leave the office behind for a while. Whether you're visiting the reefs in Puerto Galera or exploring the shipwrecks in Subic Bay. There is always something interesting to discover and enjoy here.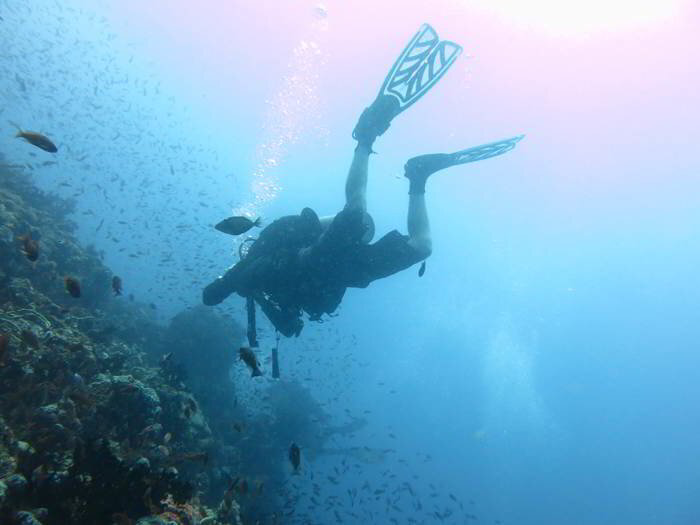 Scuba Diving in the Philippines
What's awesome about the Philippines is that there's always something to do here. Like Mountain Climbing, Island hopping, and many more. But most of the time the main reason tourist visits the Philippines is to go Scuba Diving.
One of the best destinations in the Philippines when it comes to Diving in Puerto Galera. The reason why tourist visits Puerto Galera the most when it comes to diving is that there's a world-class dive site located in this area. Scientists declared the Verde Island Passage as the Center of Marine Biodiversity in the World.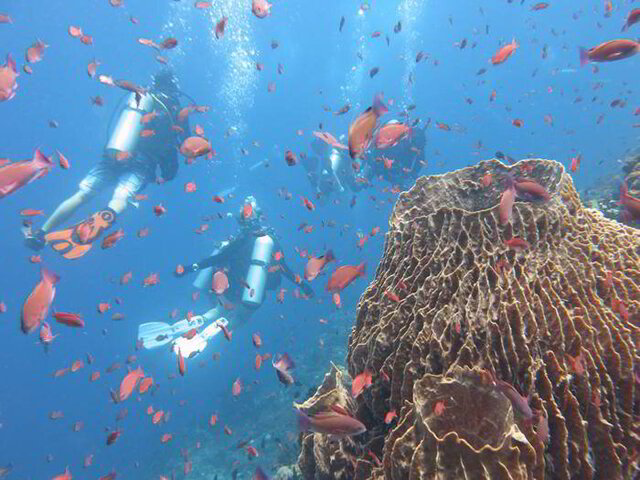 Think of the best place you have ever been snorkeling, and then multiply it by 2, 3, or even 10, that's how its gonna be when you go Scuba Diving in the Philippines at the Verde Island Passage.
Dive Philippines
The Philippines has been a destination for divers from all over the world looking to discover the wonders of the ocean. With 7,107 individual islands that surround the Philippines, there's a lot of choices for diving and to discover nature. When you go Scuba Diving in the Philippines you'll get a wide array of things to look at like coral reefs and shipwrecks. The Philippines is located in the convergence of nutrient-rich waters from the Pacific Ocean, the South China Sea, and the Celebes Sea. Making it the home to the marine biodiversity center of the world with more different species of marine life than anywhere else.
Here you'll find over 2,000 species of marine fish. More than 400 out of the 500 known coral species, and an incredibly colorful display of nature's beauty. The Philippines is divided into 3 geographical areas, these are Luzon, Visayas, and Mindanao. All these regions offer premier destinations for divers with a tropical environment and excellent underwater views. To top that all off, some of the highest-rated dive sites are located right here in Puerto Galera.
Puerto Galera Dive Sites
Puerto Galera has a total of 40 Scuba Diving sites, all located just a few minutes away from BADLADZ Beach and Dive Resort. Now, these aren't sites that are halfway down the list of preferred places, two of these Puerto Galera Scuba Dive Sites are consistently rated as one of the top 10 dive sites in the Philippines.
The Canyons and Sabang Bay are two absolutely top-notch sites rated highly by PADI and the Philippine Department of Tourism.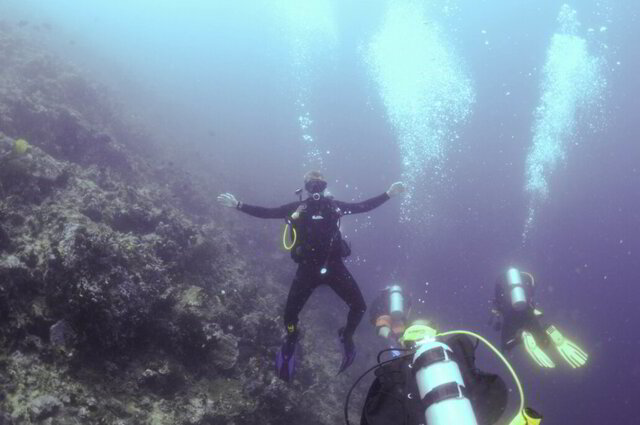 With Scuba Diving in the Philippines tourist scene, it will literally offer you an abundant marine life that should be heavily considered as your next scuba diving destination. Here you'll be able to see giant sea turtles, rare octopus species, and even stranger animals like frogfish and many more.
Is Diving Safe?
This question is often asked by beginners and first-timer on Scuba Diving. So let me try to answer this question for you. Is Diving safe? Yes, it is, even safer than sitting on the beach. Let me explain why. Let's say you were sitting on the beach, laying down on a hammock with a cold fruit shake in your hand. You were relaxed and totally unaware of the danger around you. Yes, that's right, you were reclined in the shade, cool ocean breeze on your face and suddenly a coconut has dropped on your head.

Now you are just one of the 1000's people attacked by coconuts every year and one of the 100 or so killed yearly. Coconut palms grow to about 25 meters in height and a coconut weighs about two kilograms. That two-kilogram coconut falling 25 meters would have a velocity of 80 kilometers per hour on impact and a force of as much as 1,000 kilograms. They kill more people worldwide than sharks do.
Think about that when you are sipping on your Pina Colada. Look up, it's a very real danger. As a comparison, an average of less than two Scuba Divers is killed by sharks in the entire world every year. So honestly saying, you are safer underwater with us scuba diving than sitting on the beach waiting till we return with stories of the wondrous things we have seen.
Scuba Diving Safely
Scuba Diving is as close to visiting a foreign planet as any of us will ever get and a much more pleasant experience. The water holds you in a womb-like embrace with temperatures close to 30 degrees Celsius. Self-Contained Underwater Breathing Apparatus (SCUBA) has been perfected over the 70 years since Jacques Cousteau pioneered its use during WWII, and equipment failure is almost unheard of.
Do not fear, nothing in the ocean wants to hurt you or eat you. We are not on their menu. The basic rule is to TOUCH NOTHING and nothing will touch you. Normally the most aggressive character is Nemo the clownfish as they valiantly defend their anemone host.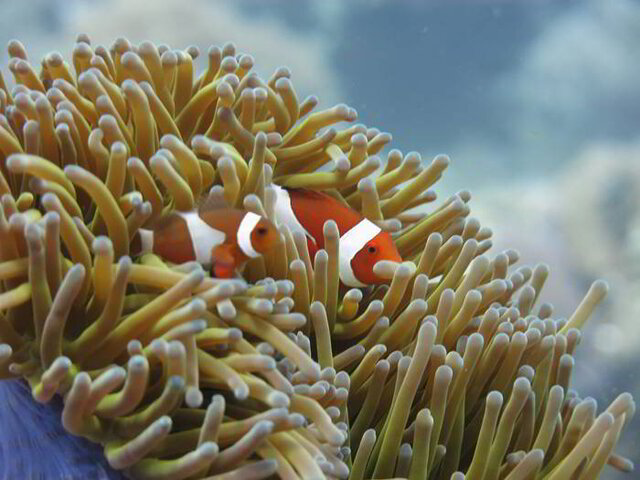 This tiny toothless villain playfully attacks divers who stray close to its home. There are potential dangers but only if you make the first move. Stones that are really poisonous fish, pretty flowery fish that are deadly. Many things with big teeth but we are totally ignored if we follow mothers advice from childhood. "Just look, don't touch".
BADLADZ Scuba Diving
Scuba diving in the Philippines is a great way to spend time with your friends and family. If you come with a group, BADLADZ Scuba Diving can arrange a special scuba diving trip for you. Our friendly team of dive instructors has all the required equipment and certificate. They'll be at your side helping you whenever you need them.
Because of the resort's great location, just a few minutes away are numbers of great dive sites to go to. The Giant Clams is a fantastic site for beginners, at an average depth of 9 or 10 meters. Despite the shallow depth, there are still lots to see including a marvelous coral that grows from the ocean floor. Under the rocks, if you look closely you'll also find reef octopus that can change color in the blink of an eye.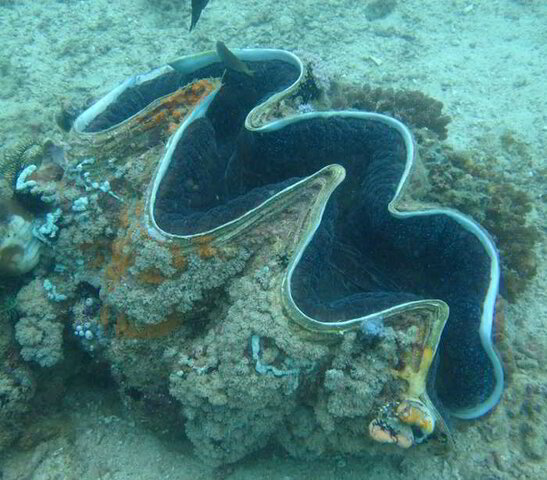 A short distance from the Giant Clams is another fantastic site, the Manila Channel. This dive site is also for beginners but slightly more advanced. On the right tide, divers can float down the channel at a steady pace, with no need to swim. With very little finning needed, the oxygen lasts longer and you get to experience more of the amazing sea life.
From countless species of tropical fish that demonstrate the variety of nature to alien-like shapes and lifeforms that hide beneath the rocks and under the sand. It surely is a wonderful place.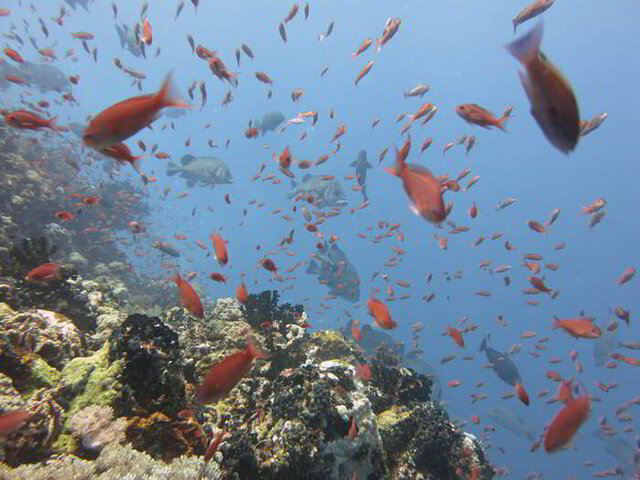 Center of Marine Bio-Diversity in the World
Verde Island Passage near Puerto Galera has been found to be the center of Marine Bio-Diversity in the World with more species to be seen there than on the Great Barrier Reef. This is a great place to learn to dive and make sure to bring your camera if you are already certified. There's so much more to see!
Everything from the tiniest, incredibly colorful nudibranch to giant gentle Whale Sharks can be seen when you go scuba diving in the Philippines. Clouds of brilliant tropical fish surround you, graceful Thresher sharks glide slowly past, as curious of you as you of them. Swim with squadron turtles totally oblivious of your presence. Diving has many adventures.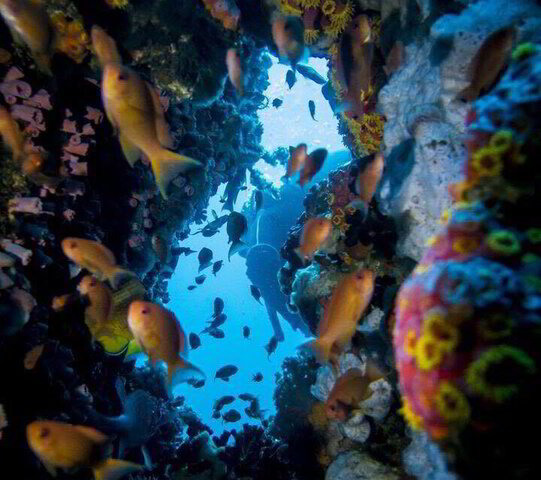 Now, this is an exhilarating thing to do. Find a spot with a fast-moving current and fly along the bottom. Controlling your altitude with your breathing, arms outstretched for lift and balance like a jet plane then tumble over a cliff face somersaulting to the bottom laughing like a child. Exhilarating is not enough to describe the freedom and joy of finally being able to fly like an eagle.
Puerto Galera Scuba Diving
Looking for something fun, safe, interesting, exhilarating, and easy to do? Go Scuba Diving in the Philippines on your next vacation and visit Puerto Galera. Hundreds of thousands of new divers are certified every year from 8 to 80. If they can do it, YOU CAN TOO! But here's what's cool. If you don't like to go scuba diving, there are still plenty of things to do in the Philippines.
Near BADLADZ, you can race through the mud, play paintball with your friends, revel in the infamous Puerto Galera nightlife, or go hiking. Puerto Galera even has its own gun range and golf course! If you're interested in a holiday that you won't forget, book your stay at BADLADZ. You'll have a relaxing getaway that will open your mind to what's possible once you leave the Western world. See you soon!
Cheers,
Sean