Have you ever been to the Sabang Wrecks Dive Site in Puerto Galera?
A lot of divers love Scuba Diving in Puerto Galera and most of them say it's like swimming in an exotic marine life aquarium.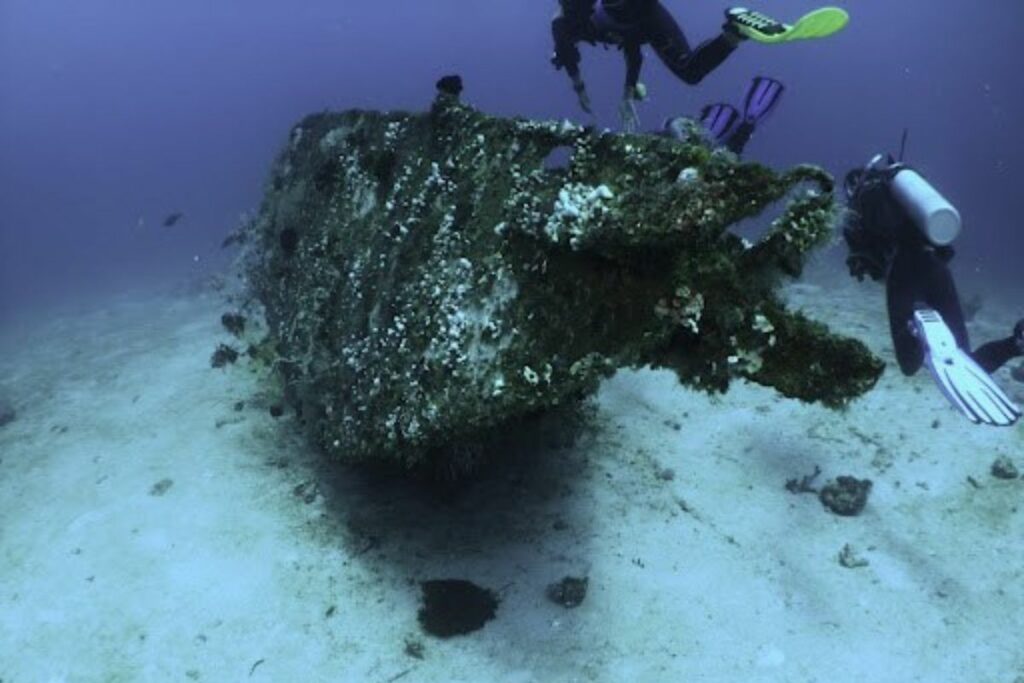 Sabang Wrecks is one of the popular Puerto Galera diving sites in the Philippines. It's easy to get to, and there is plenty to see.
Sabang Beach
Located in front of Sabang Beach Puerto Galera, the Sabang Wrecks are just a 20-minute boat ride from BADLADZ Beach & Dive Resort.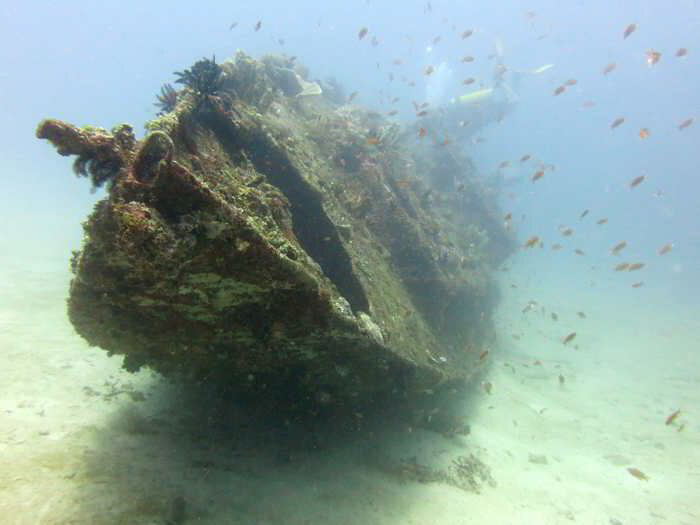 The water changes depending on the weather but normally the water temperature here ranges from 27 up to 30 degrees Celsius during the months of April up to November and 19 to 24 degrees Celsius starting December up to mid-March.
Visibility can range from 15 meters up to 30 meters. Making it ideal for fun dives and any entry-level dive courses and one of the best wreck diving sites for a macro photography lover.
Sabang Wreck Diving Site
Sabang Wrecks consists of three shipwrecks. Down to a depth of 18 meters, you'll find three shipwrecks.
Two of the wrecks are mostly just rubble on the seafloor, with numerous fish swimming in and out of the cracks and crevices. But the other one still has its hull intact. As you swim around it, you'll feel lost in time, as you glance left and right, up and down at the fish everywhere.
Here at the Sabang Wreck diving site, a good and trained eyed dive guide can spot a lot of micro-organisms. During peak seasons expect hundreds of divers from different dive shops gathered here doing fun dives and dive courses.
It's a good idea to choose alternative dive sites for the meantime and just come back when there are fewer divers. Water current is generally mild most of the time but still may vary depending on the number of tidal changes in a day.
Wooden Hull Fishing Vessel
On the Sandy bottom at 18 meters beneath the surface remains an old wooden hull fishing vessel that is now covered with marine life. Hard and Soft corals are growing densely all around them.
When you get closer to the wreck, a swarm of damselfish, batfish, surgeonfish, and other smaller marine life will greet you as you descend to the bottom.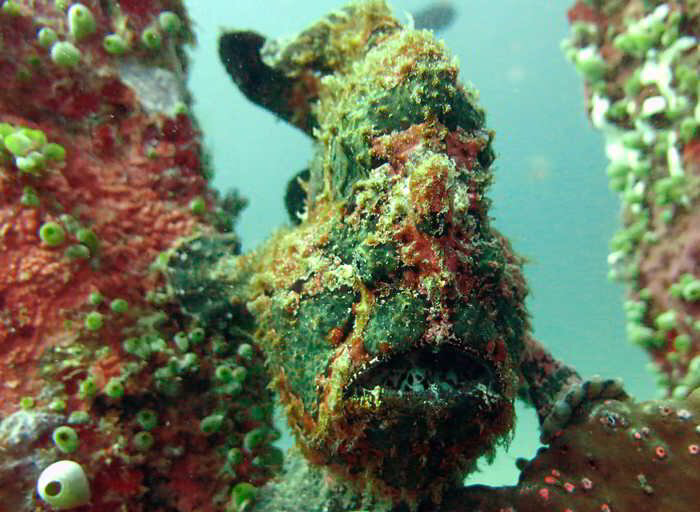 Scorpionfish can also be seen along the bottom which is perfectly camouflaged and hard to identify. You will also find:
Moray Eel
Shrimp
Lion Fish
Frog Fish
Cleaner Shrimp
Mantis Shrimp
Goby Fish
These are the most favorite subjects for underwater photography that are found here at the Sabang Wrecks Puerto Galera diving site.
Swimming to the west side about 30 meters you will find a two-engine vessel that was also sunk to create marine habitat. Due to water disturbance in the past, wooden parts are scattered about on the ocean floor.
Steel-Hull Sailboat
A quick swim toward the north is still part of the Sabang Wrecks dive site. You'll see a steel-hull sailboat sunk by one of the dive shops to create an additional artificial reef.
You can swim inside but be careful though, some sharp objects are sticking out overhead. Secure your hoses to make sure you don't get tangled up.
This sailboat is home for:
Wrasses
Cardinal Fishes
Butterfly Fish
Anthias
Unicorn Fish
Blennies (bottom dwellers)
During cold months, you'll find ornate ghost pipefish hovering along with the feather star near the mooring block.
Diving in the Shallows
Another awesome part of the Sabang Wrecks dive site is the shallow part. Here you'll find starfish lying about, a flying gurnard, robust pipefish, and banded coral shrimp are also very common here.
Sometimes you'll find turtles on the bottom-feeding and swimming gracefully while being cleaned by the remora. As part of the safety procedure, you must deploy a Submersible Marker Buoy (SMB) when you are in the shallow part to warn all the boats passing above you.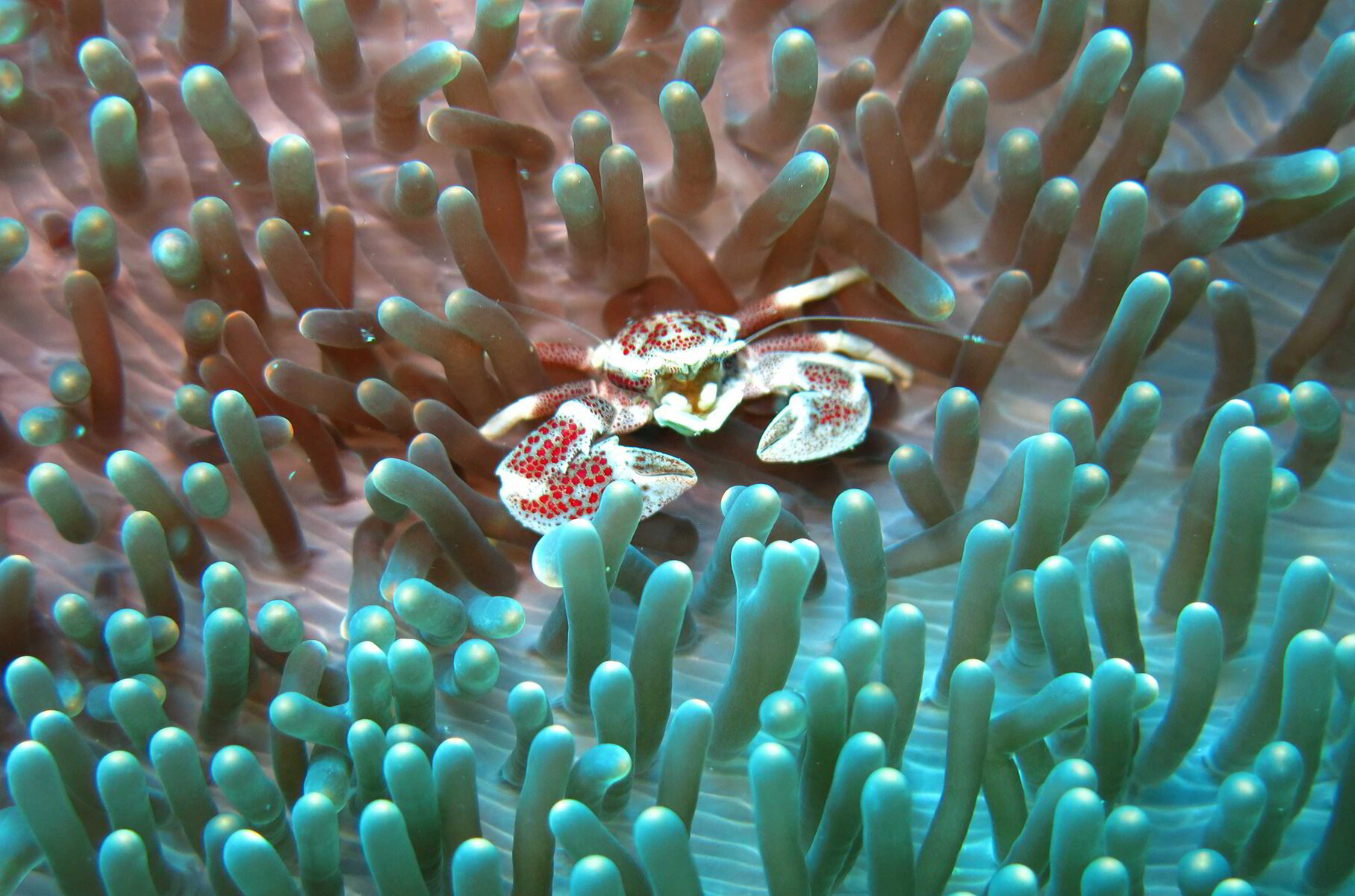 Night Diving in Puerto Galera Sabang Wrecks
Sabang Wrecks dive site is also a fantastic site for night diving. You'll encounter some:
Hermit crabs
Shrimp
Sea Slugs
Octopus
Squid
Lion Fish
Stargazer
Snake Eel
We highly recommend doing a night dive and if you're diving with BADLADZ Scuba Diving this is another dive option you can book with us.
Video of Sabang Wrecks Puerto Galera Diving site
We recorded a video of our previous dive in the famous Sabang Wrecks, check it out below.
This is just some of the information I can fit in this resource for Sabang Wrecks. But if you want to experience it first hand, I highly suggest that you come here to enjoy our dive sites in Puerto Galera in the Philippines.
What's awesome here in Puerto Galera is there's a lot of dive sites to choose from. Sabang Wrecks is just one of the many sites found here for you to enjoy while staying here in Puerto Galera at BADLADZ Beach & Dive resort.
Dive With BADLADZ Scuba Diving
Come and visit us at BADLADZ Beach & Dive Resort or BADLADZ Staycation Condos. We have a lot of available packages and deals for you to take advantage of year-round. We have our beachfront resort with a pool, beachfront garden and a full-service spa extension from our spa in Sabang called Pampered Spa.
Book with us today and we'll show you all the best scuba diving spots here in one of the most beautiful bays in the world.
Cheers,
Sean
Editors Note: This post about Sabang Wrecks was originally posted on January 6, 2017.