There's a lot of things to do if you come to visit Puerto Galera Philippines. One of the most popular that you should not miss is the Puerto Galera Island Hopping which most of the guests who stay with us here always enjoy during their stay. It's a great opportunity to get some much-needed vitamin SEA.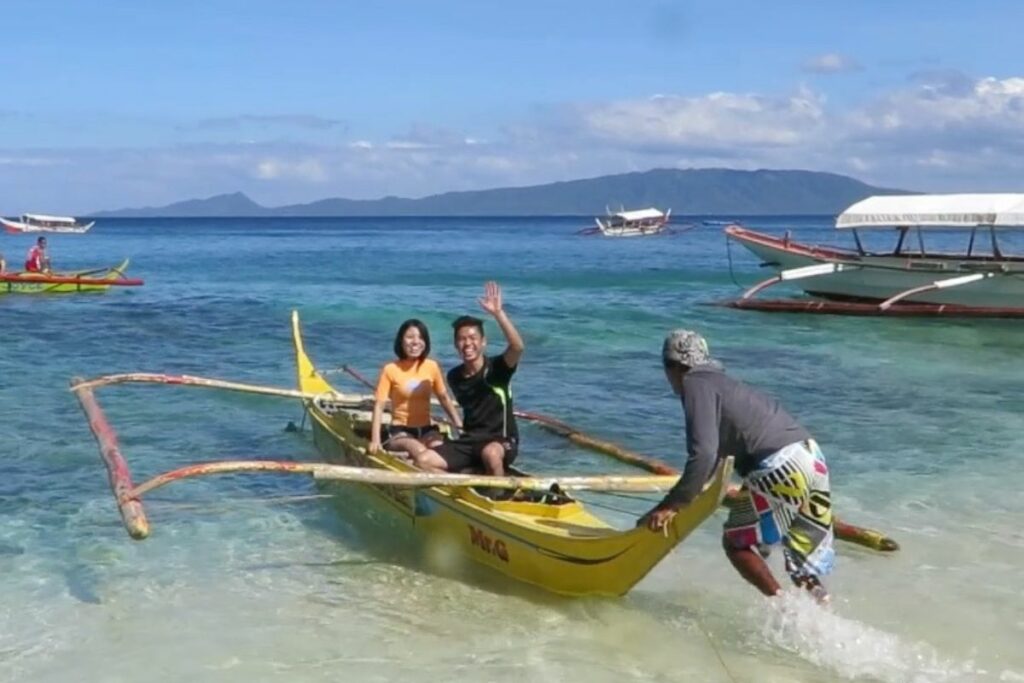 Puerto Galera Island Hopping
While you are in Puerto Galera on vacation or even just for a weekend getaway, you can always try Puerto Galera Island Hopping. By doing so you will fully enjoy some of the best tourist destinations around the islands here and the freshness of its crystal clear waters in several different locations during your stay.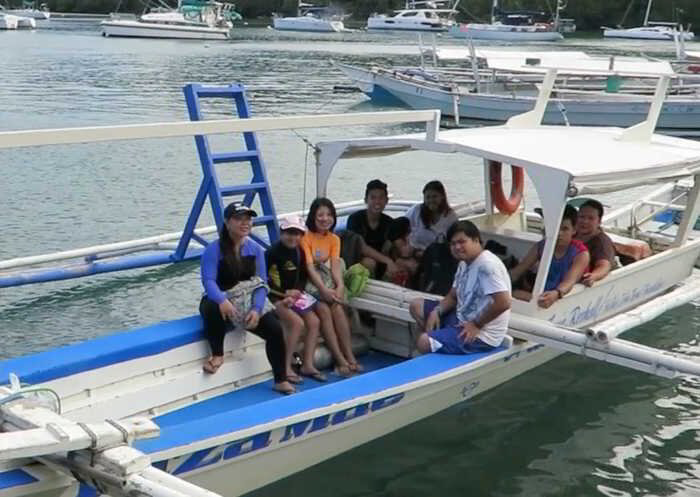 The first thing you need to do before you go island hopping is to prepare all the food and drinks that you need because there is no store on the islands. If you're staying at one of the BADLADZ Adventure Resorts locations you can coordinate with our staff to get all the food you need for your trip. Otherwise, there are markets in Puerto Galera you can go buy your supplies for all of your Puerto Galera activities and island hopping needs.
The second thing you'll need to do is to charter a boat. To charter a boat you can go either to Sabang Pier, Muelle Pier, or White Beach however nowadays it is best to check ahead of time as it may be more difficult finding a charter boat in places other than Muelle which is the most common of the three.
At these locations, there are sometimes boatmen holding laminated pictures of Puerto Galera island hopping destinations that will offer you their boat however again as I mentioned above it is best to check with White Beach and Sabang beach as these tours have been getting less and less attention as Muelle is becoming the go-to spot for this type of activity.
Charter boats can cost you around 1,500PHP which should be good for eight people. The boat will take you to most of the popular island destinations around Puerto Galera.
Island Hopping Destinations
Puerto Galera island hopping will give you the opportunity to see these awesome destinations:
Boquete Island
San Antonio Island
Haligi Beach
Bayanan Beach
Boquete Island
Boquete Island is one of the most popular destinations for island hopping in Puerto Galera. Here you will also find the "Sand Bar" connected to Boquete Island. It has its own beauty that you should not miss and is a very popular tourist attraction among many who visit the island of Mindoro. Watch the video below to see what it is all about.
As for the locals, they say, Boquete island is awesome when it's low tide as you will be able to see two beach fronts in one. At the east is Puerto Galera Bay where Muelle Pier is located and to the other side is the Balatero Cove offering a unique perspective to the tiny strip of beachfront.
This is a perfect place for Windsurfing and other water activities if you're looking for a bit of adventure during your stay. You will also find a quiet little beach rarely visited by anyone and possibly a few goats watching over you on the side of the rocky hills behind the beach.
San Antonio Island
Another destination for Puerto Galera island hopping is San Antonio Island where you will see Long Beach.
The locals call this place Long Beach because of the long stretch of white sand found in this area. This is the perfect tourist attraction in Puerto Galera for those who want a secluded spot making it more likely you'll have the beach to yourself, especially during the low season.
There are no resorts in Long Beach so if you are looking for a place to stay, you can stay at BADLADZ and we can help you arrange your day trip to Long Beach which is less than a 20-minute boat ride away.
Haligi Beach
Haligi Beach is a beautiful small beach with creamy white sand and crystal clear waters. The beach is perfect for swimming and snorkeling in any direction you like.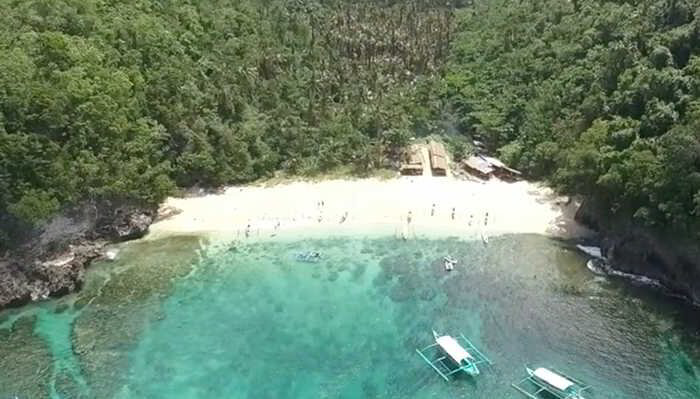 There are a couple of cottages you can rent on this island where you can have your picnic with your friends and families while enjoying the beautiful scenery of Haligi Beach and what feels like your very own private beach away from the larger tourist crowds found elsewhere.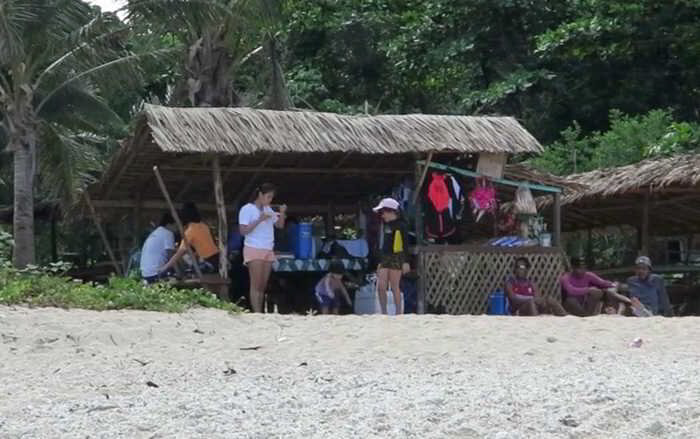 Bayanan Beach
Another cool destination is Bayanan Beach. Same as Long Beach, Bayanan Beach is also popular because of its long stretch of white sand beach. This beach is away from some of the more crowded beaches and is also a perfect place for you to relax, get some vitamin D from the sun and enjoy the calmness of the ocean waters.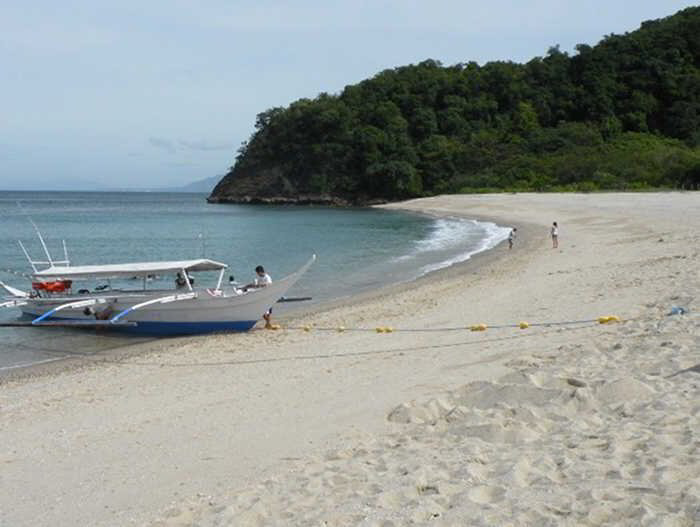 These are the most popular island-hopping spots found here in Puerto Galera and some of our guest's favorite destinations while enjoying their holidays here in Puerto Galera.
Puerto Galera Island Hopping Video
In celebration of two of our hard-working staff at BADLADZ Adventure Resorts, we celebrated their birthday and went out island hopping. I decided to take a video of it for you to see what's waiting for you if you try Puerto Galera Island Hopping on your next holiday.
Enjoy!
Island Hopping From BADLADZ
Going island hopping is so much fun and perfect for a celebration or even just for a normal day that you just wanna have fun.
If you are in Puerto Galera come and stay with us at either BADLADZ Beach & Dive Resort or BADLADZ Staycation Condos and we will help you organize your Puerto Galera Island Hopping trip. If you have any questions or would like any more help with planning your next holiday vacation in paradise feel free to contact us, and we look forward to seeing you here for a great island hopping time in a tropical paradise.
It's definitely a must-do experience here in Puerto Galera Philippines.
Cheers,
Sean
Editors Note: This blog post was originally published March 13, 2017, and has been updated with revised and additional content.