Do you have an interest in learning about several Philippines business opportunities? Wondering about the ins and outs of starting a business in the Philippines?
Here are some more questions…
Do you fancy yourself a businessman? Master of the Universe?
Have you been running businesses in the Western world for a number of years?
Do you think you could run a business in the Philippines?
Sadly, plenty of people who have answered "yes" to the above questions have failed miserably in the Philippines.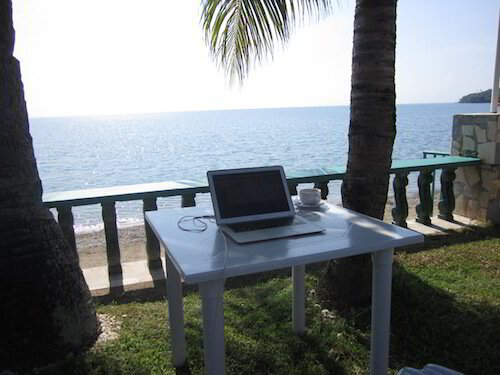 Western Business vs Business in the Philippines
A lot of smart, driven people come here seeking riches in the various Philippines business opportunities. While there are rich foreigners in the Philippines, the bankrupt, washed-up foreigner is much more common.
If you are going to get involved with Philippines business opportunities, you have to be smart. Not only that, you have to watch your back.
In Western countries, there are all sorts of rules and regulations that go a long way to ensuring everyone behaves properly. In the Philippines, that certainly doesn't apply.
Oh, sure, they have rules and regulations, but if you think that when you have a problem, that the rules will be enforced, you are very naive.
You see, the Philippines is a third-world country. Yes, they speak English and yes, there is a lot of money to be made. However, rules or regulations apply only occasionally. In some cases, everyone breaks the rules but then one day, they are randomly enforced and businesses lose huge sums of money to get back within the rules. This just happened in Puerto Galera starting in July 2019 when all the government agencies got a kick in the butt from President Duterte & suddenly started enforcing all the rules they had been ignoring for 40 years. They got slowed down by the covid lockdowns but will be back at it soon.
You've heard about lawyers in the Philippines. More often than not, court cases are solved with cash-in-hand rather than any "evidence". And if cash doesn't resolve it, the court cases drag out to ridiculous amounts of time. Either way, if you're looking for lawyers, you want the biggest, badest kids on the block.
What we're saying is don't be stupid. Don't come to the Philippines and expect it to be easy.
It's not.
Philippines Business Opportunities as a Foreigner
There will be problems. Only the most driven and determined succeed.
You'll need to jump through a bunch of hoops. You'll need to play the game differently from how you would in the West.
A foreigner can't technically own a business in the Philippines, however, there are a number of LEGAL ways around this restriction. See some of my other blogs on this subject.
As a foreigner, you will also be unable to vote, own property, become a policeman or carry firearms.
Fortunately, the Philippines speaks English and they use it for all their legal documents. This means that law cases and business dealings are done in English.
However, do your research! No excuses!
You have to follow a very narrow and important list of rules.
There are tons of shuttered resorts in the Philippines. Lots of success stories but also a lot of failed dreams seeking various Philippines business opportunities.
Why Most People Fail at Business in the Philippines
In this video below, I take you on tour to a number of failed resorts in Puerto Galera and explain why they've failed.
If you're going in, go in with eyes WIDE OPEN, and learn from their mistakes!
People always ask me…
Language Used in Business in the Philippines?
The nice thing about here is that all business, law, education, government everything is in English. You're not dealing with a foreign language. Even the local language, Tagalog, shares the same alphabet with us.
You can look up the word in the dictionary, but as I say, the most important things are all in English so NO EXCUSES ! DO THE RESEARCH YOURSELF !
Business Interviews in the Philippines
Below is a series I did when I was interviewing business owners here in the Philippines about the various Philippine business opportunities as an ex-pat.
Extreme Sports Business Model
Today's interview is with Herman. He's been here in the Philippines for 9 1/2 years and has experience with operating multiple different businesses, ventures, and partnerships.
Watch the video to learn about failed ventures, things to watch out for when considering business partners, and the keys to making a business work in the Philippines.
You'll also hear advice on what kind of money you'll need to get an operation going here, as well as buying and selling businesses in the Philippines. Stick around to the end of the video to watch some of the fun to be at Herman's place
Herman's Business – http://www.extremesportsphilippines.com/puertogalera/
Kite Surfing Business Opportunity
Are you looking for a beachfront business opportunity in the Philippines? There are so many options to choose from here most don't know where to start.
You may notice that many business opportunities in the Philippines are in the tourism industry.
You're absolutely right! Many of the opportunities here will be in the high tourist areas and may involve fun, food, or a place to stay.
This interview is no different.
Interview of About the Tourism Industry
We catch up with Ollie, owner of Isla Kite Surfing. Watch the interview below to hear his tips on catering to the tourism industry.
Ollie's Kite Surfing School – www.islakitesurfing.com
Treasure Hunting Philippines Business Opportunities
Ever thought about Treasure Hunting? I bet you have…especially when you were a kid. The Goonies have us excited to do it. Maybe you're a reader and "The Gold Bug" by Edgar Allan Poe got your interest.
Whatever it was, treasure hunting is exciting for all kinds of reasons. The adventure, the excitement and of course the possible riches!!
There are so many places for treasure hunting, so you will definitely need to do your research.
We even had some treasures here in Puerto Galera at one time. The Nuestra Senora de la Vida was a Spanish galleon that sank in 1620 near Puerto Galera.
It was discovered in the late seventies just off Verde Island on the southern side and heavily salvaged in the '70s and '80s.
Interview of a Treasure Hunting Business in the Philippines
In this interview, we catch up with Brian Hoeman, a professional treasure hunter. Wouldn't that look cool on a set of business cards?
Check out the video to see how he makes his living and how you could potentially follow in his footsteps.
Are you looking to go treasure hunting? How about just wreck diving? Come out to Puerto Galera and join us on some excellent diving in the PG area.
Internet Business – Dan Andrews
In this interview, we talk with Dan Andrews, a successful internet entrepreneur that had been in SE Asia for the last five years at the time of this interview. During that time, he made his way with eCommerce websites, a blog, and a publishing business. Listen to hear advice on what's possible in the Philippines.
UPDATE – Dan is still Rock n Roll online and has expanded tremendously during the worldwide covid shutdown on his Private forum for Internet Entrepreneurs. You can apply but not everyone is accepted. https://www.tropicalmba.com/join-the-dynamite-circle/
Dan's Website – Tropical MBA
Outsourcing Business Philippines [2013]
There are more business opportunities here in the Philippines than simply starting a beach resort or opening a restaurant. Many possible business opportunities are available through the internet and employing locals for international tasks. Take some advice from Joe Magnotti, owner of Empire Flippers (Formerly Adsense Flippers at the time of this interview) in this interview.
UPDATE – Joe got out of outsourcing and into website sales. He & Justin are really doing an Awesome job and still based in the Philippines. You can see his site here for buying, selling websites. It is a great resource for LEGIT websites. https://empireflippers.com/marketplace/
Joe's Business – http://empireflippers.com
Dive Shop Business in the Philippines
Next, we're going to talk about some other Philippines business opportunities. In this interview, we've got Victor, a successful resort, dive shop, and bar owner in a prime location on Boracay beach. Watch below to hear his advice for aspiring business owners coming to the Philippines.
UPDATE – Victor sold out of his business when the entire island of Boracay was suddenly closed for 6 months because of "Health Reason" in April 2018. I think it was really just a big land grab orchestrated by people in power.
Victor's Dive Shop – http://www.victorydiving.com
Cheers!
Sean