Tagalog is the main language spoken in the Philippines. In this article, you'll learn Tagalog free.
One of the great things about the Philippines is that most people speak English. While the Philippines isn't exactly on the tourist trail, English is very popular. All legal documents are written in English and children are taught English in school.
While it might not be literary quality, it makes the Philippines an easy country to get around in.
This is in stark contrast to countries like Thailand where, despite being fairly developed, speak little English.
But back to the Philippines… Yes, most people speak English. Even local fishermen who don't work in the tourist trade are likely to be able to have a basic conversation in English.
Despite the English, if you want to build instant rapport with the locals, speak Tagalog.
How?
I'm glad you asked.
Here are some useful phrases to learn Tagalog. Write these down and bring them with you when you come. You will be a hit with the locals.
Beautiful day = Magandang araw (this is how they often say hello)
Good morning = Magandang umaga
Good evening = Magandang gabi
I love you = Mahal kita
This is delicious / This feels good = sarap nito
Take care = Ingat ka
I don't understand = Hindi ko naiintindihan
What's your name? = Anong pangalan mo?
Traveling = naglalakbay
Money = pera
Bank = bangko
Don't bother me! = Huwag mo akong istorbohin!
How much is the fare? = Magkano ang pasahe?
I'm not stupid = Hindi ako tanga.
I want to have my money changed = Gusto kong magpapalit ng pera.
Thief! = Magnanakaw!
Help! = Saklolo!
I want a kiss = Gusto ko ng kiss.
I like you. = Gusto kita.
Do you like me? = Gusto mo ba ako?
You have a crush on me, don't you? = May gusto ka sa akin, no?
How much? = Magkano?
Please write = Pakisulat.
Bathroom = banyo
Thank you = Salamat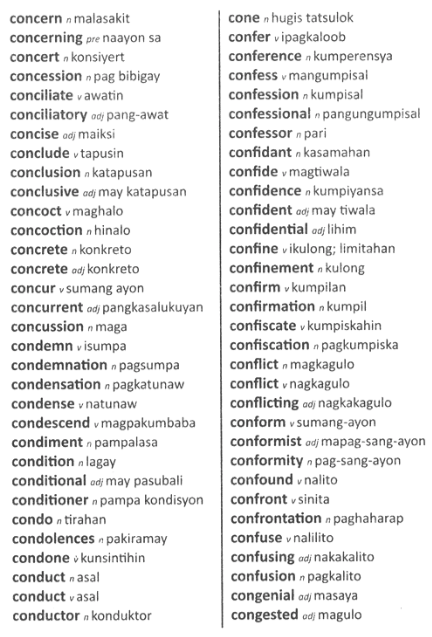 Pretty cool, eh?
You can nod your head for "yes" and shake your head for "no" also.
The word "Tagalog" refers to the Tagalog People of the Philippines. The Tagalogs live in Manila and the surrounding areas, however, people speak Tagalog even as far away as Puerto Galera, 4 hours from Manila and on an entirely different island.
Tagalog is the basis of the Filipino language, but according to some, Tagalog is NOT the Filipino language. In fact, educated Filipinos often feel the need to make a distinction between the Tagalog language and the Filipino language. However, they are both very similar, so there is no need to worry about it when you come to the Philippines.
Learn some of the words above and you'll be rockin'. To learn more, go to http://tagaloglang.com/.
Cheers,
Sean