Are you looking to arrange group scuba diving in Puerto Galera Philippines?
Here at BADLADZ Scuba Diving, we specialize in organizing group diving trips. We can tailor our group support to make it fit your group's size and needs. Whether you are a group leader, a company, or a group of friends looking to have a memorable holiday, we can arrange a fantastic trip for you.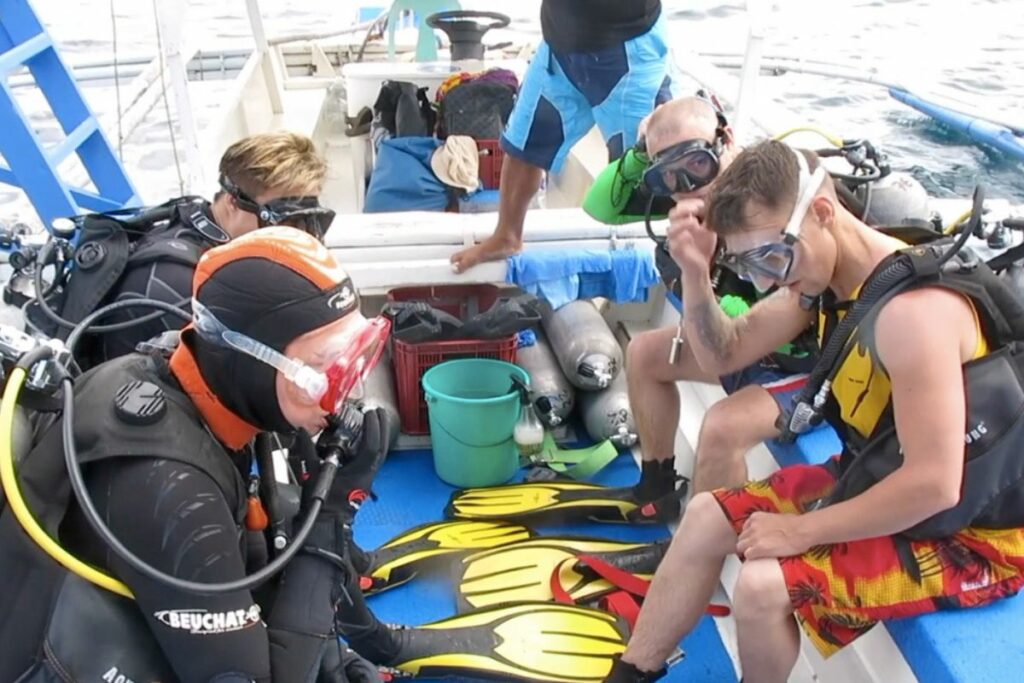 We can take care of everything once you land at Manila airport all the way to Puerto Galera. If needed, we will arrange to pick you up in private air-conditioned vans and bring you to Berberabe Beach. The van trip is around 2 hours.
Once you arrive at Berberabe Beach you will have a private boat waiting for you to take your group directly to BADLADZ Beach & Dive Resort or BADLADZ Staycation Condos depending on where you booked your group accommodations. The crossing is about 1 hour.
Scuba Diving in Puerto Galera Philippines
The diving in Puerto Galera is one of the best not only in the Philippines but the entire world.
Our main dive sites are in the Sabang area only 20 minutes away by boat where there are some amazing dive sites for us to show you.
There are deep dive, wreck, drift, wall and macro dives available.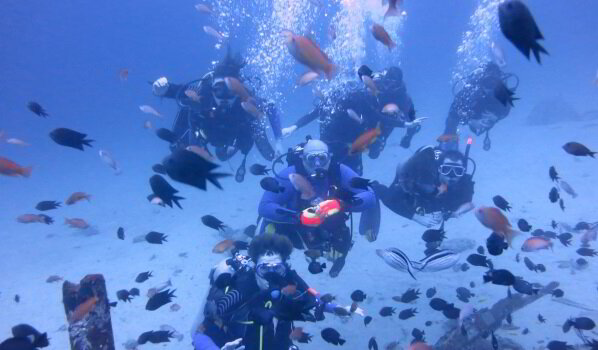 We also have some great macro dive sites inside Muelle Bay. Muelle Bay was voted "one of the most beautiful bays in the world". Its natural beauty is breathtaking and a great opportunity to get some great photo's on your way out to the dive sites.
Group Scuba Diving in Puerto Galera with BADLADZ
All of the dive sites are within a 20-minute boat ride from BADLADZ Beach & Dive Resort which makes getting 4 dives in per day very easy.
We normally start our diving day meeting up at the dive resort at 8.30am. Your dive guides and boat crew will set up and carry all your diving gear to the boats for you.
No need for you to lift a finger, you just need to relax and get ready to enjoy your morning dives.
The boats will leave at 9 am for 2 dives and we arrive back for lunch at 12.30pm. We then head back out for 2 more dives in the afternoon. If you just want to do 1-afternoon dive this is also not a problem.
Unlike a lot of diving centers in the Philippines, we keep the number of divers down to 8 per boat for safety and general enjoyment during your trip. This makes it easier for all divers to be able to see the wonderful marine life we have here in Puerto Galera.
BADLADZ Dive Shop
All of our diving equipment is brand new Aqua Lung BCD's and Apex balanced regulators. There is no need to bring your own diving gear if you want to keep your luggage to a minimum.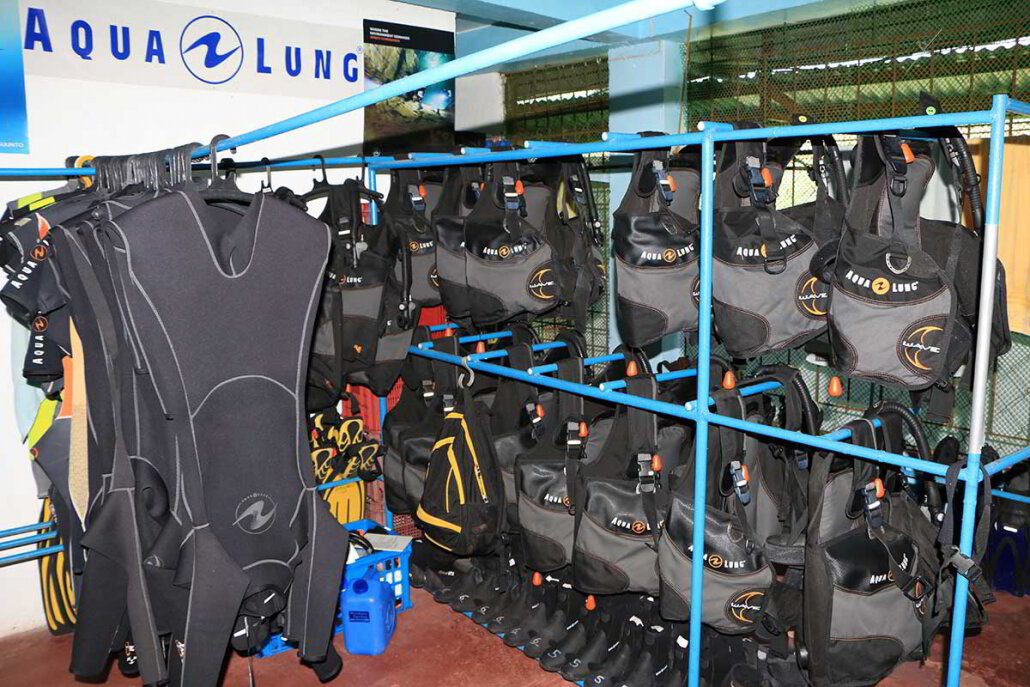 Here at BADLADZ Beach & Dive Resort have the following recognition and credentials:
We are a PADI Dive Resort
An Aqua Lung Partner Diving Center
Green Fins Top 10 in the World Environmentally Friendly Dive Company
These are major stamps of approval from 3rd party companies in the industry and shows we have the appropriate credentials, best equipment available and support the environment.
Verde Island
On one of your diving days, we can take you out for 2 dives at Verde Island. Verde is the center of the center of marine biodiversity. There are more different species of fish and corals per square meter than anywhere else in the world.
This is an advanced dive site so Advanced Open Water diver level is the minimum requirement.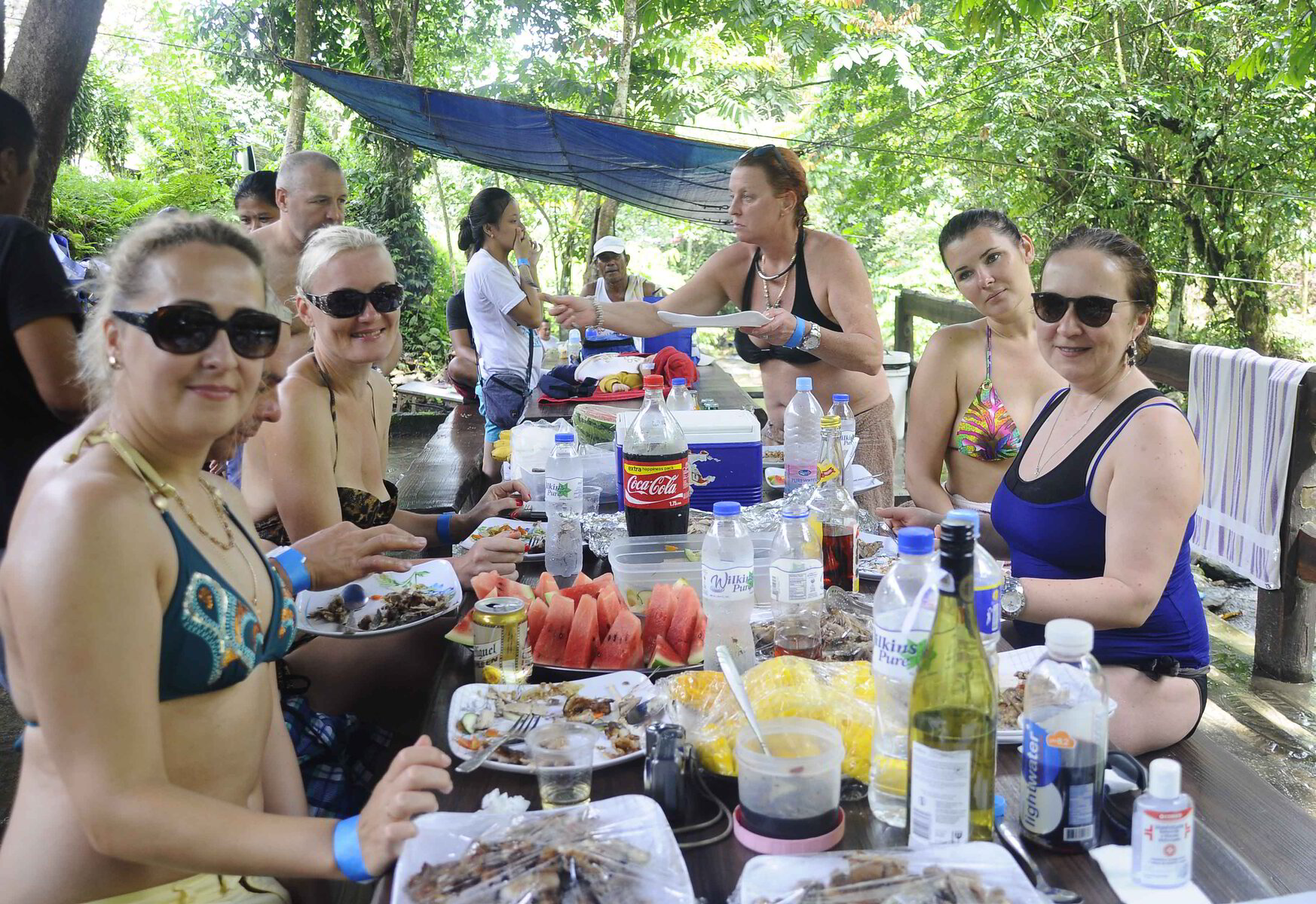 After your dives, we will take you over to the island itself for a delicious fresh cooked BBQ. It's a fantastic day out and a must to include in your trip.
PADI Dive Courses in the Philippines
We don't just offer fun dives for qualified divers, we also offer PADI dive course in the group diving package. So if you have a diver in your group that wants to step up to Advanced Open Water level we can make this part of your package.
The Advanced course can be completed in 2 days. There are 5 adventure dives to complete and a knowledge review for each dive.
We can also offer the PADI Open Water Course to any non-divers looking to get certified. The Open Water course takes 4 half days to complete.
There are 5 confined water sessions and 4 open water dives to achieve to get your license. There is also some study and a final exam. Our Diving Center team is here to help you pass the exam every step of the way.
Non-Diving Things to Do in Puerto Galera
We also offer island tours on non-diving days. One of the best trips is taking an air-conditioned van down to Infinity Farm. This is about a 1 and a half hour trip from Puerto Galera.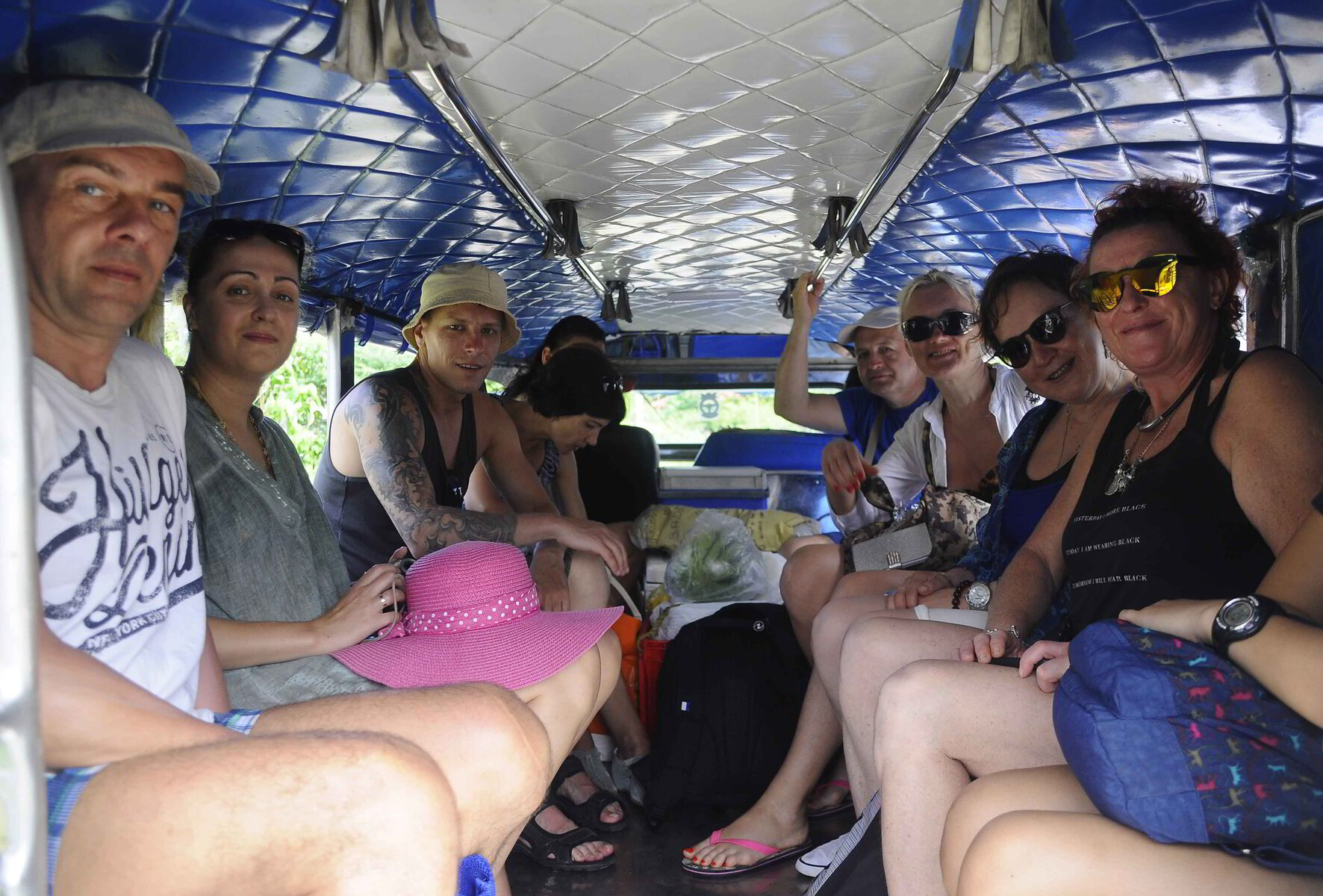 There are beautiful waterfalls and a fast flowing river to play and relax in. We also provide all the food and drinks for the trip. It's the perfect way to spend a day in paradise.
Video of Group Diving in Puerto Galera with BADLADZ
I have here a video of our recent group trip in Puerto Galera Philippines. See how they enjoyed and had fun with us, click the video below. Enjoy!
Are You a Group Travel Organizer?
Group leaders are free of charge for all diving and accommodation. The more people in your group the more discounts we can offer. You can then choose where this discount goes.
So whether you want to make a side business and get a group together or just get a great deal for your friends, contact us here at BADLADZ and let us help you arrange a super fun group scuba trip in Puerto Galera.
Click here to go to our BADLADZ Scubadiving page and scroll to the bottom to fill out the diving inquiry form. We will respond within 24 hours.
Cheers,
Sean