In the US, you have to go to Sea World to see a dolphin. But at Badladz Resort, you can just go to the water and play with the dolphins. Bring your kids along and they'll have something to brag about to all their friends back home.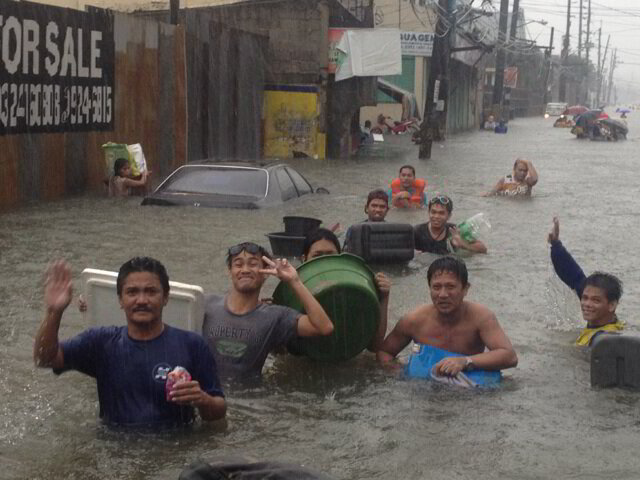 But one of the strangest things about the Philippines is not that the dolphins and sharks are friendly. If you try to go around the entire country, you'll notice that even though the locals may speak different languages and have different customs, they are very friendly and they greet everyone with a smile (especially foreigners). The fabled hospitality of the Filipino people isn't an exaggeration. In fact, it's an understatement.
Talk to Anyone
If you don't believe me, check out all these YouTube videos of foreigners talking about the Philippines. Some guy even took a walk around the poorer parts of the country with a camera while talking to every person he met. The city was actually flooded at the time, and you'd think that the people would be surely after such a horrible event. Yet the people were actually smiling and all too eager to pose for the camera, and life went on.
That's typical of every Filipino, actually. People open their doors to others all the time, and if you are their guest then you'll get the best of what they have to offer. You'll be fed right and even if they're poor they'll give up the best bed in their home.
Smiling People
This is one of the best traits of the Filipino people. Even after a tragedy, they can still find something to smile about. And this country has seen doozies when it comes to calamities. They mourn on a regular basis, as they have earthquakes and volcano eruptions and dozens of typhoons on a yearly basis. They grieve for their lost loved ones, and then they go on with their lives. Soon after, they'll find some way to focus on the good things they have and they'll be smiling in no time.
In Badladz Resort, that's the same philosophy that reigns here. The staff are all Filipinos, but there's enough of a Western influence (courtesy of this good-looking white dude) so that you can get a touch of the familiar from back home. But all in all, it's all good. When they say the locals are friendly, they really mean it here.
So if you are tired of the surly waiters of France or the rather ferocious demeanor of African predators, come on over to the Philippines, and to Badladz in particular. Just about everyone will be happy to see you, and it will seem like everyone's mission will be to make sure you have a good time.
Cheers,
Sean