Have you ever been to the Alma Jane Wreck Dive Site in Puerto Galera? Well, it's never too late to discover this amazing dive site here in Puerto Galera Philippines. Not only can we help you find it here on the island of Mindoro, but BADLADZ Dive Resort can also take you there. Read more as we give you all the information you need on why divers from all over the world continue coming back to this amazing dive spot year after year.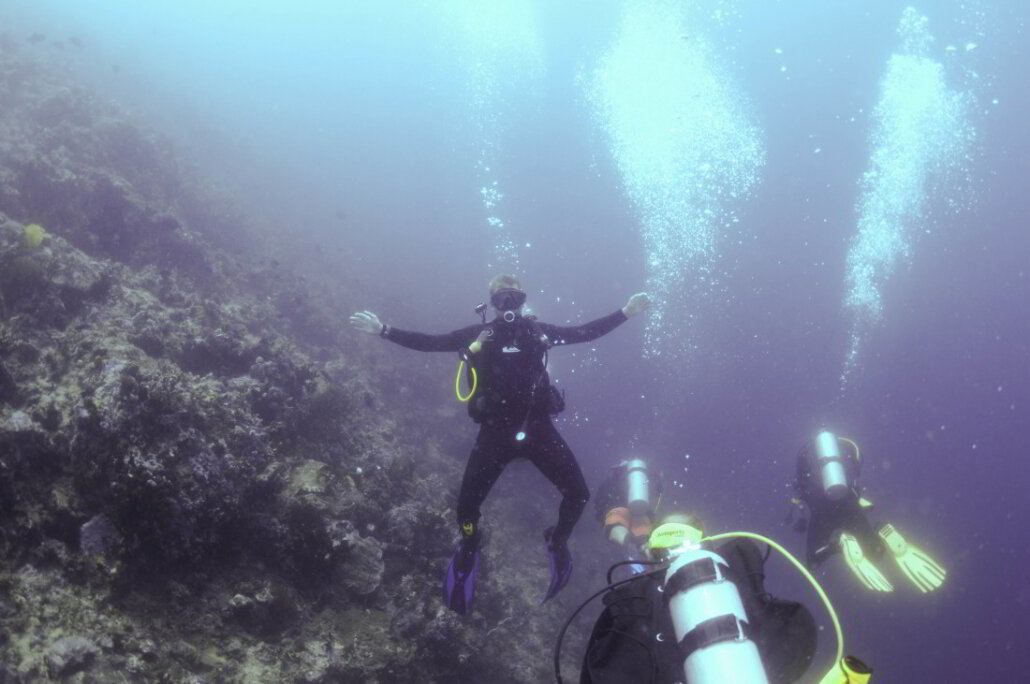 There is nothing that can compare to the feeling of dropping straight down into the blue waters below with an unnerving sense of not knowing which way is up and which way is down. Knowing that the Alma Jane wreck dive site lies 30m below makes it even better!
MV Alma Jane Express
The MV Alma Jane Express is a 60 ton, 32-meter steel-hulled cargo ship built in Japan in 1966. It was deliberately sunk off of Small La Laguna Beach at 30 meters off the shore of Puerto Galera in March 2003, creating the ultimate wreck diving site.
Sitting upright on the sandy bottom, this dive site is ideal for dive training from Nitrox, Deep Dive and Wreck diving and of course for fun dives but is also great for those looking to get their PADI certification done while staying here on the island. BADLADZ Dive shop can also help you if you are planning to get your PADI advanced underwater diving certification while staying here in a tropical paradise.
Alma Jane Wreck Dive Site
As years passed the Alma Jane Wreck became a large host to an abundant variety of marine life and coral including some of the amazing sea life you will see in the pictures below. The sheer size and depth or this dive site make it the perfect location for all skill levels of divers looking to finish or start their underwater certifications.
The upper deck of the ship sits at 22m. Here you can swim around the top structure where a school of batfish, snapper, sweetlips, emperor fish are commonly seen. They shelter in an open steel grid structure and make an arresting sight.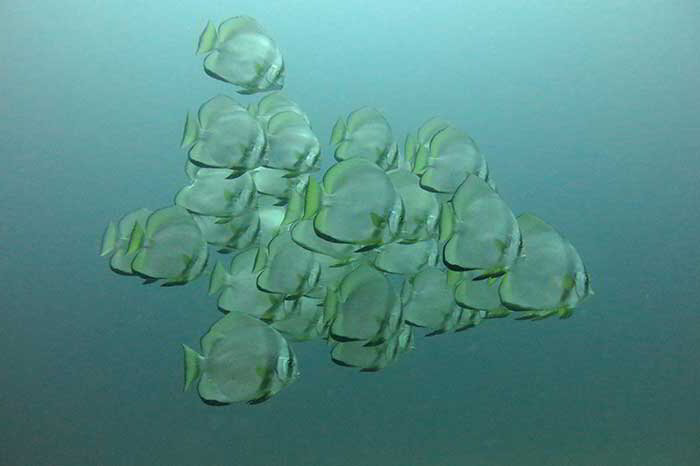 The upper deck itself has hard and soft corals that encrust it, so look closely and you will find a great deal of macro life. Also, keep an eye out for the colorful and always happy blenny peeping out of his home.
If there's a mild current it is best to start your swim along the port side toward the stern and make your way around the starboard side.
Going Inside the Bow
Alma Jane Wreck has a big hole on her bow where you can swim inside and out near the stern. Having a good habit of buoyancy is always a great idea so you don't tangle up on the sharp object on the edges. Be careful as you swim, as there are metal scaffolds on the upper deck with an edge that comes to a point. Always be cautious and aware of your surroundings when venturing into any underwater wreck diving site and be careful as to the risks you are taking while doing so.
What's great about this Puerto Galera diving site is occasionally you will find some octopus, cuttlefish or moray eels hiding underneath the lower curve of the hull. Diving at the bottom of the Alma Jane Wreck dive site also gives you an amazing view of the silhouette of the ship, especially the bow.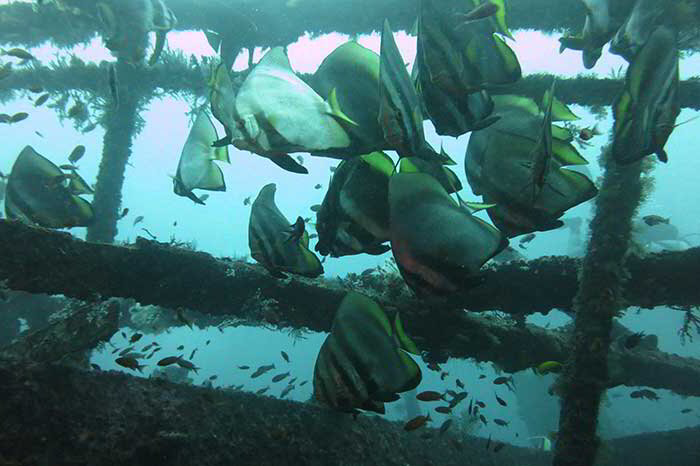 Towards the bow, it will reveal a swim through that will let you experience entering the wreck safely and enjoy the inner perspective of the ship. You can enter both the wheelhouse and the cargo holds below deck. You will find thick schools of fish as well such as goldies, banded shrimp and cleaner shrimp hiding in the cargo hold.
Scouting the bottom terrain will reveal some nudi's, stonefish, mantis shrimp, and hermit crabs giving you an array of opportunities to see so many different types of fish at this amazing Puerto Galera Diving site
Scuba Diving with the BADLADZ Scuba Diving
The Alma Jane Wreck dive site is one of the most popular dives in Puerto Galera. It is definitely a favorite among the BADLADZ Scuba Diving dive staff! The skill level for this dive is ADVANCED.
A perfect opportunity to do your PADI Advanced open water certification at BADLADZ Scuba Diving in Puerto Galera. It is excellent for deep and wreck penetration dive training.
The Alma Jane Wreck dive site is also perfect for underwater photography, mixing wide angle, wreck & macro life in one dive.
When deco is approximately 12 minutes away we often head towards the reefs on the coastline of Puerto Galera. On the way, you will see a 10-meter hull that was sunk last year along with the skeletal remains of the small wooden wreck has the name of St. Christopher, more than 20 years old.
It is extremely interesting to note the progression of time by the difference in the animal, fish and coral life.
Video of Alma Jane Wreck Dive Site in Puerto Galera
Down here is the video of the last time when one of our guests was taken to the Alma Jane Wreck. Watch the abundant marine life that grows around the Alma Jane Wreck. Enjoy!
Well there you go, that is the Alma Jane Wreck dive site in Puerto Galera. If you want to see and experience it first hand, check the available deals for you here and book you dive now at BADLADZ Scuba Diving.
Relax with us!
After your dive you can stay and rest quietly at the BADLADZ Staycation Condos or you can also stay at BADLADZ Beach & Dive Resort (below). Have some delicious food at our international restaurant and grab a beer at the bar.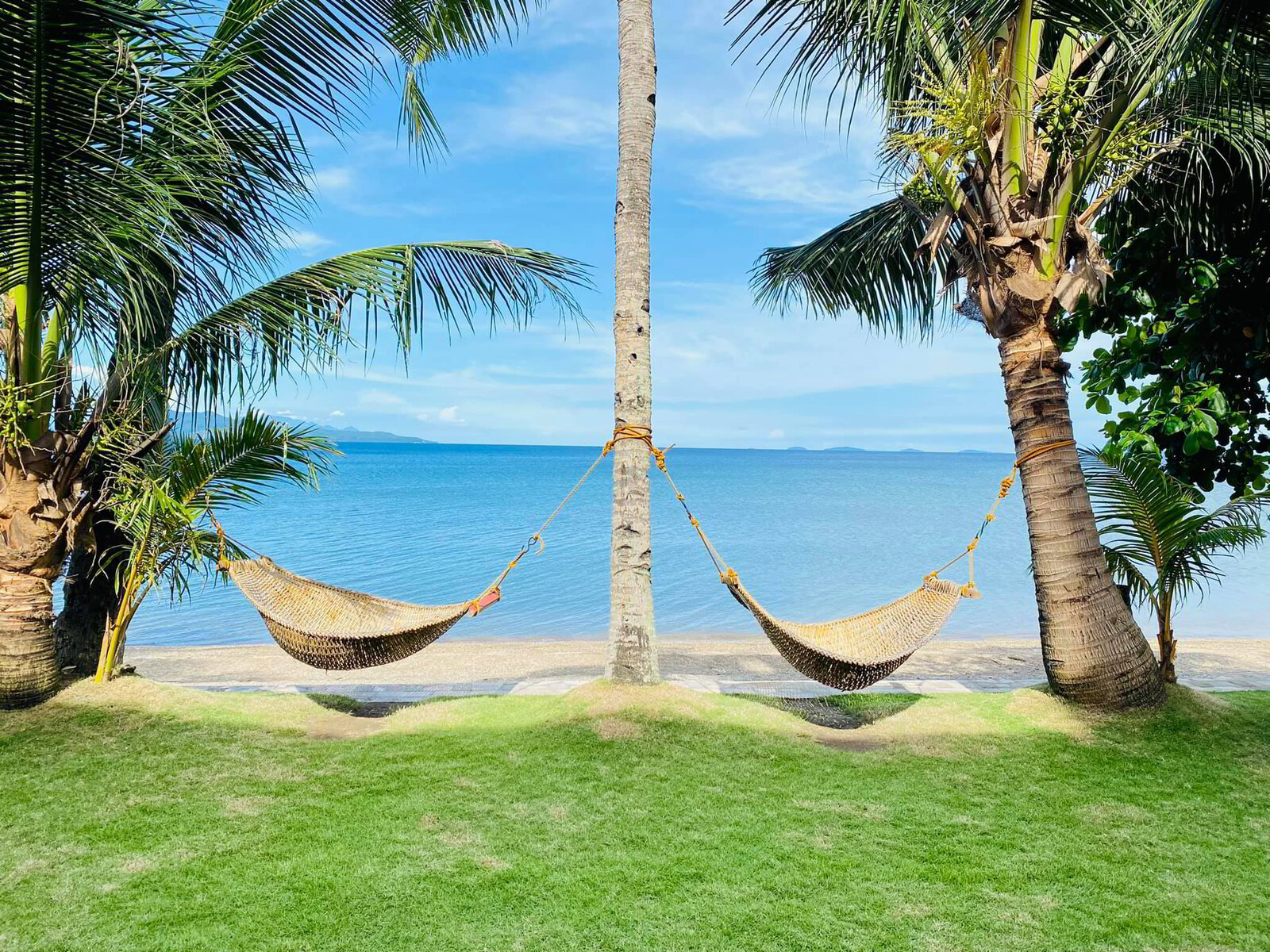 Lay down on one of the hammocks with the front beach view and enjoy the beautiful sunset. Now that's a great way to spend your vacation. If you would like more information on how you can come experience this amazing Puerto Galera diving site yourself or would like assistance in planning your next holiday vacation here in Puerto Galera, contact us here at any one of our BADLADZ Adventure Resorts and we will be more than happy to assist you with any scheduling or planning you may need. Hope to see you soon here in paradise on the tropical island of Mindoro here in the Philippines!
Cheers,
Sean