BADLADZ Dive Resort has been a Green Fins member for a couple of years now. This year we won another award from them. It's always a great feeling to be recognized and get an award for being one of the best of what we do. Here I will talk about how we got this award and what we do to deserve it.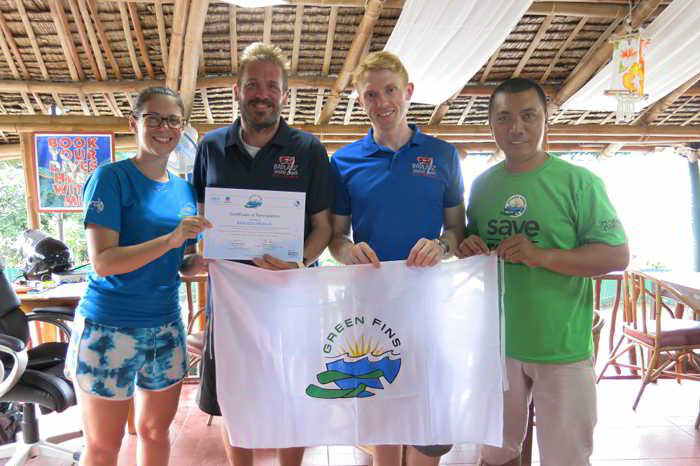 The Most Beautiful Bay in the World
Puerto Galera is known for its beautiful bay. In fact, it was voted as the most beautiful bay in the world back in 2005. It was also known to be the center of biodiversity in the world surpassing even the Great Barrier Reef.
To keep it as beautiful as it is, here at BADLADZ our mission to keep our bay clean. We conduct ocean clean-up operations together with our friends from the Philippines Coast Guard and the Philippines Bantay Dagat. We are working to do our part to keep this bay awesome for everybody that wants to come and visit Puerto Galera.
Ocean Clean Up with BADLADZ Video
Below is a short video of our recent ocean clean up.
Clean Up in Puerto Galera Bay
We are working in three areas:
on the shoreline
the protected mangrove forest
the bottom of the old shipyard in Dalaruan
After our clean up what we gathered surprised us.
In just one day we found;
990 food wrappers
candy wrappers
chips wrappers
262 plastic bottle caps
54 straws
215 plastic bottles
958 grocery bags
26 slippers
50 meters of electrical wire
We all bagged it up and brought it back to BADLADZ Dive Resort near Muelle Pier with our sorting team waiting for it. It filled a total of 13 sacks and weighed almost 77 kilos of junk. that we took all from the bay.
Green Fins Member
Being a Green fins member you are always given at least 3 suggestions on how to lower your impact on the environment. One of these is to do more beach clean up. In 2016 we were very proud to be awarded for the first time top 10 dive shop statues for Green fins members.
Because of the hard work from the staff we also now have the Green fins member award again in 2017.
No More Straws
One thing suggested to us was to stop using plastic straws in the restaurant altogether. We had already brought in the "skip the straw" policy which we received great feedback from our diving guests and restaurant customers alike. We have now stopped using plastic straws and replaced them with reusable metal straws.
The environment is extremely important to us, we want to take care of it so we can continue to show our guests the amazing life we have here for many more years to come. All of the instructors and Dive Masters we have here, their job is also their hobby so they want wants best for the environment.
It Starts With Proper Scuba Diving Training and Guiding
This is a great start as students and normal fun divers look up to their instructor or divemaster, so if they don't care why would the student? It is our policy no matter what level of diver that we teach to remind them not only about having good buoyancy but also about preserving marine life and not touching the reef or fish.
Involve the Community
When we conducted the beach clean up it was great to have some local kids involved and the look on their faces when they see all the rubbish we collected especially all the candy wrappers. Teaching the kids at a young age not to just chuck the candy wrappers on the floor and forget about it. I know there are a few kids here now that do think about what they are doing now and hopefully, they will pass this on to their friends and classmates.
If you want to go scuba diving with an environmentally conscious dive company in Puerto Galera and practice diving habits that preserve and keep our environment clean, come and visit us here in BADLADZ Scuba Diving.
Cheers,
Sean