In June 2012, the first official Tropical MBA conference kicked off.
Dan and Ian from the Tropical MBA, plus their team, arrived on early to prepare for the first classes.
What the Heck is the Tropical MBA?
The Tropical MBA Summer Classes were for entrepreneurs who want to escape the cubicle, build a business and live the life of their dreams.
So in June 2012, the conference officially kicked off, with 15 guys arriving with the suitcases and laptops for two weeks of hardcore business-building. This isn't about setting up a bar in South East Asia… this is about setting up a business from your laptop so you can live anywhere.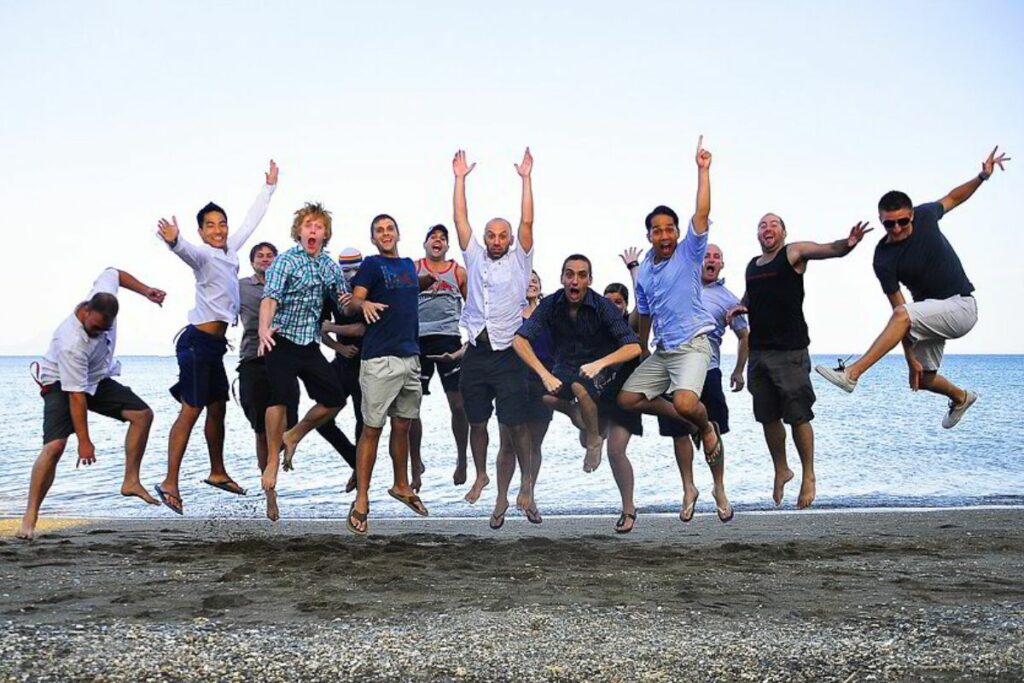 Imagine Having Location Independence
Wouldn't it feel great? You could live anywhere in the world. You could take off at a moment's notice to a remote corner of the globe for a few months trekking through the jungle. Life would take on a new level of excitement.
This is exactly what Tim Ferriss refers to in the 4-Hour Work Week.
You CAN live anywhere and run a business from your laptop.
That's what these guys are here to learn.
Dan and Ian built a million-dollar business and told everyone about it with their blog and podcast. Now they're helping other people to do the same.
For the opening night, everyone gathered at the Badladz Beach Resort. With a massive buffet meal prepared and endless rounds of ice-cold beer, everyone had a great time. After the party, everyone jumped on motorcycles and made their way to Sabang, the local nightlife district with an assortment of bars and restaurants.
But since the opening night, everyone has been pure-business. It's all about building the business to escape the cubicle. There are some very interesting projects that people are working on. Most are based on selling something online. There is at least one where the owner is offering to buy certain products from you to save you the trouble.
It's a very exciting place to be and over the next 2 weeks, it's going to be very interesting to see how everything develops.
We jacked up the WiFi connection so internet speeds are higher than other resorts and restaurants in the area.
The conference lasted until the end of June.
What Lead to the Tropical MBA Summer Classes?
In 2010, Dan decided to break away from the old script and offer other people the chance to do the same.
To get the ball rolling, he began by offering internships throughout South East Asia. Interns were given positions with a variety of different businesses in a variety of different locations.
Interns were given the opportunity to work with successful business dudes and learn about what it takes to succeed at the location independence game. Along with the work, they often received a small monthly salary and living arrangements.
Sure, all of them got paid less than they might have earned in any Western city, who wouldn't? Especially when your office looks like this…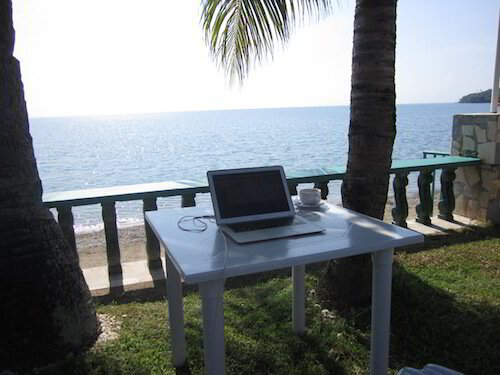 With the relatively low cost of living, South East Asia provided the perfect location to cut expenses and focus 100% on building a successful business.
Internships
Intern #1 was Sean Ogle, the popular lifestyle design blogger from Location 180.
Since then, 9 internships have been offered to people from all over the world.
It has also been the inspiration for a number of other entrepreneurs taking interns of their own.
Two examples include Chris Ducker, the outsourcing pro, and the Empire Flippers, the… well… website selling pros.
The Tropical MBA internships usually attract tons of applications. It seems that people are eager for the opportunity to break out of their jobs and become location, independent entrepreneurs.
In the last few years, an entire business has grown out of the Tropical MBA, including a paid community for location independent entrepreneurs, private SEO services, and a top-rated iTunes podcast.
As with all journeys, Dan eventually found himself asking…
What's Next?
With the popularity of the internships and the growing location-independent community, it seemed like a natural evolution to offer a Tropical MBA Summer Class.
In June, the first Tropical MBA Summer Class kicked off.
12 eager guys and gals that are passionate about creating a location independent lifestyle for themselves knuckle-down and learn how to create a successful business.
While Dan was satisfied with his blog and podcast, he began to think,
Wouldn't it be fantastic to get a passionate group of entrepreneurs in a room together and do something great?
And with that, the Tropical MBA Summer Class was born.
Tropical MBA Summer Classes
Along with world-class business advice from Dan and his team, all attendees will stay for two weeks in the Philippines at Badladz Beach Resort.
BADLADZ Beach Resort is in Puerto Galera, a small town in the Philippines. It is a popular tourist spot and attracts people from all over the world. The big draws are scuba diving and the nightlife.
During the two-week Summer Class, there will be numerous brainstorming sessions. Also, a lot of midday swims to cool off (the Philippines is HOT!) and of course, plenty of hustle.
After two weeks, people will leave with a fully-fledged business idea and they'll hit the ground running in their quest for location independence.
In August, just one month later, it will be time for round 2…
The internet has created a radical shift in the workplace. You no longer have to work from an office.
You can literally live and work anywhere in the world. On the beach. In the mountains. At a cafe.
This isn't just for backpackers and people willing to earn tiny wages for the opportunity to travel. If you've got a bit of grit and determination, you could put together a million-dollar business using nothing but your laptop.
The World is Your Oyster
It is an age of unprecedented freedom.
Will you let it pass you by or will you get in on the action and ride this wave to the top?
If you're trying to break out from the old script, check out Dan's blog and podcast.
Cheers,
Sean