Before you book your trip to Puerto Galera, there are a few things you need to know… These things are very important and they can be the difference between the holiday of your dreams and a total nightmare…
With that in mind, this post is about 3 things you need to know if you want to have the holiday of your dreams without the hassle of having to worry about certain things you may have overlooked or perhaps never thought to take into consideration before your trip here.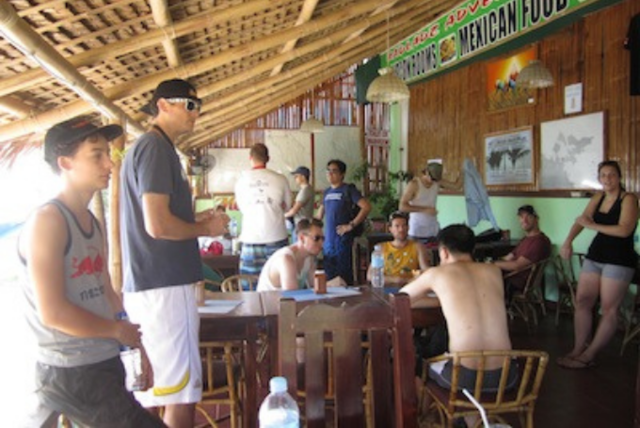 In a recent post about common travel mistakes, I described a number of mistakes people make before traveling overseas and especially in the southeast Asian regions of the world. Common mistakes like over-packing, showing off, and trying to do too much can ruin an otherwise great holiday. If you haven't read that post, take a look. You'll enjoy it.
Today's post is a little different. It's not so much about mistakes and other issues you may run into as it is about simple things that you should consider before coming to the Philippines. There are many things that differentiate the Philippines from many other southeast Asian countries such as Thailand and Malaysia for example. Many of these will become apparent to you when you arrive in the country but at that point, it may be too late to take these accounts into consideration especially if you have already made your bookings and itinerary with no chance of canceling or getting a refund. Consider these things *before* you book your holiday. I'll explain why in a moment.
And now, for number 1…
1. Consider the noise
Some people opt for staying in the middle of the tourist areas in Puerto Galera. This is a bad idea. Why? Because the tourist areas are very noisy. There are clubs, bars, and restaurants that stay open well into the early hours of the morning. In some hotels, you can even hear the thumping of a dance beat next door which can be quite disturbing when your main goal is to sleep after a long day out in the draining sun.
Imagine trying to sleep with all the hustle-and-bustle of the tourist areas right outside your window.
Fortunately, both BADLADZ resorts are a short distance outside the main tourist areas making it the ideal location for a peaceful and quiet get away from the over-saturated areas such as white beach and Sabang. The Adventure resort is quiet and relaxing, however, you will hear the occasional motorcycle in the morning. The beach resort is the ultimate in relaxation… the property itself is away from the main road, so you will rarely wake up to motorcycles. One of the best things about both BADLADZ resorts is that there are no dance clubs or bars immediately next door. This means you can relax and sleep in the evening without any late-night disturbances keeping you in at all sorts of hours in the night.
During the day, the resorts are both serene… the perfect place to sit by the water and relax.
2. Prices
If you have never traveled to a developing country before, it is very important that you understand this point as this can be a determining factor on whether your holiday will go smoothly or will end with a severe headache which is not the goal here either.
When you come to the Philippines, some people will see you as a walking ATM. They will take every opportunity to squeeze as much money out of you as possible offering random services, items for sale, and even the opportunity to take you places as a hired escort. However, you will also find people that treat you as a normal human being… in fact, they will treat you with world-class kindness and hospitality in many cases. With that in mind, pay attention whenever money is involved.
For example, sometimes tourists will be charged 120 pesos to catch a tricycle from BADLADZ Adventure Resort to BADLADZ Beach Resort when the local price is only 20 pesos. This is a very common occurrence here as this is an opportunity for the local trike drivers to cash in on an unsuspecting tourist who may not be familiar with the local prices for rides around the island. Another example is the fact that BADLADZ to Sabang should be no more than 100 pesos, yet tourists regularly pay more than that. It is always best practice to try and negotiate a lower price on most things in the Philippines which is very common for most third world countries anyway.
3. Visas
The current visa situation in the Philippines is fantastic due to the fact that it is fairly straightforward on what you can and cannot get away with. It is simple and easy. You don't even need to apply for a visa before coming to the Philippines in most cases making it extremely easy for most tourists coming from the western countries for holidays or longer periods of time. Simply arrive at the airport and you will be granted a 21-day tourist visa (Important: you will need an outbound ticket within the 21-day timeframe to get this visa).
If you are staying for longer than 21 days, you can renew at any local immigration office. The entire process takes less than 30 minutes and will cost you roughly around 60 us dollars for your first visa renewal, however, check with the Philippine immigration office website for a list of up-to-date fees and requirements to be certain. There is an immigration office just 10 minutes from BADLADZ Adventure Resorts making this task simple when staying with us here in Puerto Galera. You will need your passport, plus photocopies of the photo page and the page that the visa is stamped on. The cost depends on how long you are extending for. To give you an idea, a 60-day (two months) extension is usually no more than 3200 pesos.
That's it for today. 3 things you need to know before traveling to Puerto Galera in the Philippines.
If you want a quiet and relaxing hotel, book at BADLADZ today!
Cheers,
Sean