Water Falls in Oriental Mindoro
Oriental Mindoro is known for its abundant waterfalls and scenic, clean hiking & trekking trails. These natural tourist attractions draw both Local and International tourists to this beautiful province.
Here are some of the beautiful Waterfalls in Mindoro which are open for tourists.
Aninuan Falls
La Pantay Falls
Tamaraw Falls
Talipanan Falls
Tukuran Falls
Aras Cave and Falls
Talon Falls in Pola
Walang Langit Falls
Visiting these places is an adventure. You shouldn't miss experiencing these spectacular scenes and taking some time for relaxation. This scenery will immerse you in the natural beauty of Mindoro Province that you don't witness in many other places.
Today let's visit Walang Langit Falls in Gloria Oriental Mindoro.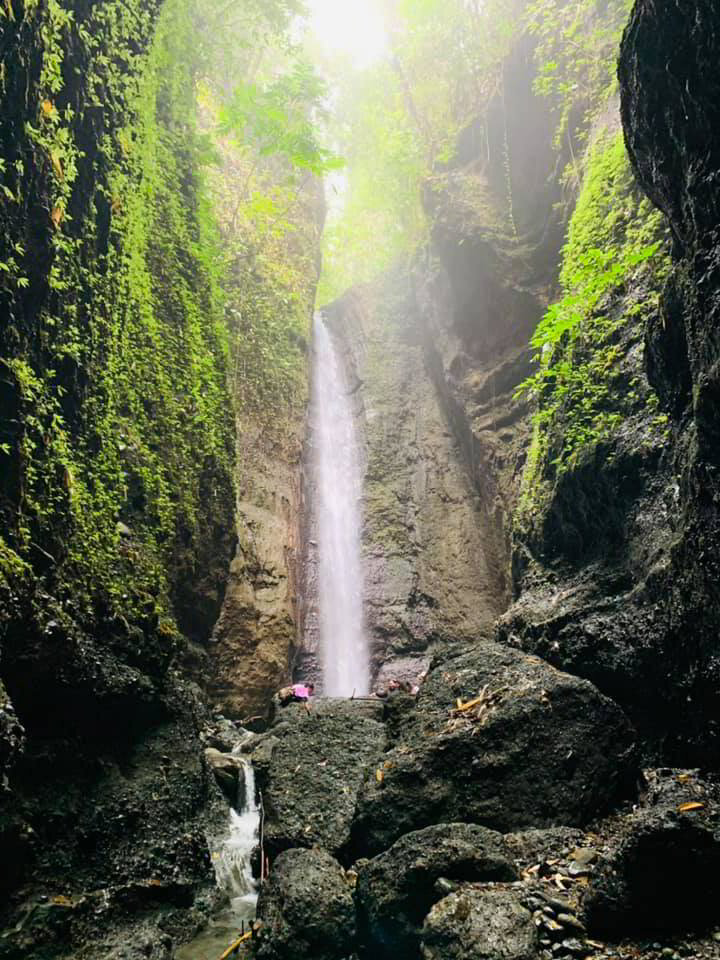 Walang Langit Falls Location
Walang Langit Falls is an awesome 30-meter waterfall found in Barangay Buong Lupa, Gloria, Oriental Mindoro, about 14 kilometers from the town proper. This place can be visited during a day trip from Puerto Galera…if you leave Very Early!
The name "Walang Langit" or "No Sky" came from one of the tourists who first discovered this place. At that time you could barely see a glimpse of the sky when you're standing at the falls because of the dense canopy of trees covering it from above.
The whole area is dim, cold and the feeling of having walked into a forgotten prehistoric time was eerie. You actually needed to bring a flashlight with you when going there.
Luckily now, the trees above have been thinned out and daylight brightens up the place.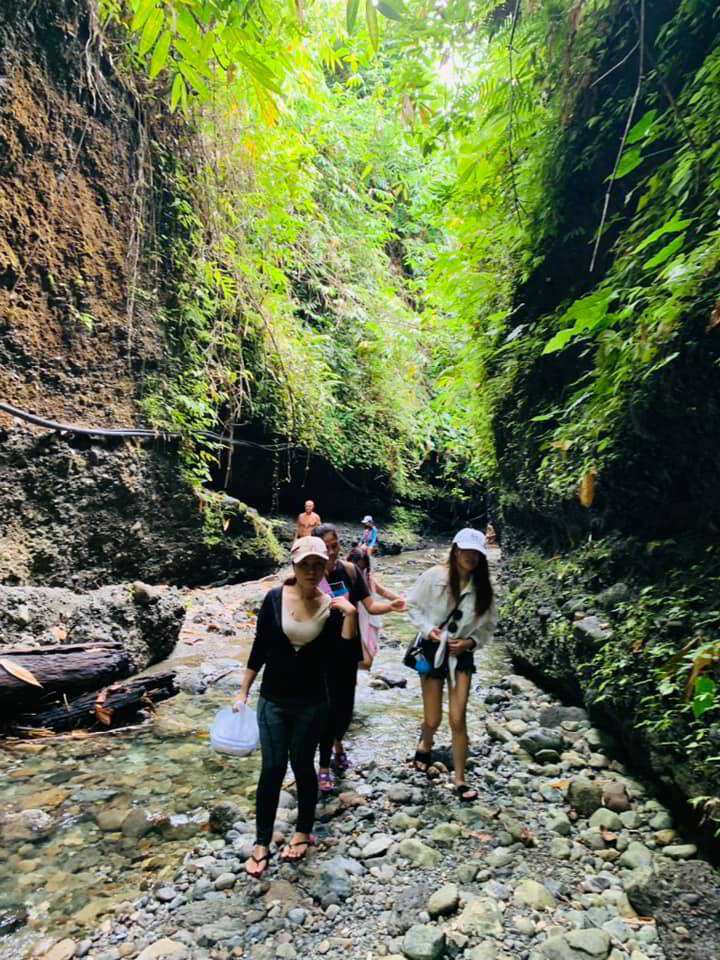 We came to see the magnificent scenery of Walang Langit Falls with the Fun and Adventurous girls of BADLADZ and to experience trekking through the jungle and swimming in the icy cold, clean mountain water.
Our Journey began from BADLADZ Beach and Dive Resort in Puerto Galera, Oriental Mindoro. It is only a 3-hour drive from Puerto Galera to Walepo Viewing Hills & Walang Langit Falls in Gloria Oriental Mindoro. Of course, this depends on how fast you drive. We enter Balete road crossing from the Nautical High-way in Gloria to track the way to Walang Langit Falls and stopover at Walepo Viewing Hills.
Walepo Viewing Hills
Walepo Viewing Hills is basically the entrance to the Walang Langit Falls trek where you can rest and take some pictures of the scenery.
The operators here have thoughtfully created some awesome props for picture taking with a beautiful scenic background. On the top, you'll see the downhill view and the trails that you track going up there.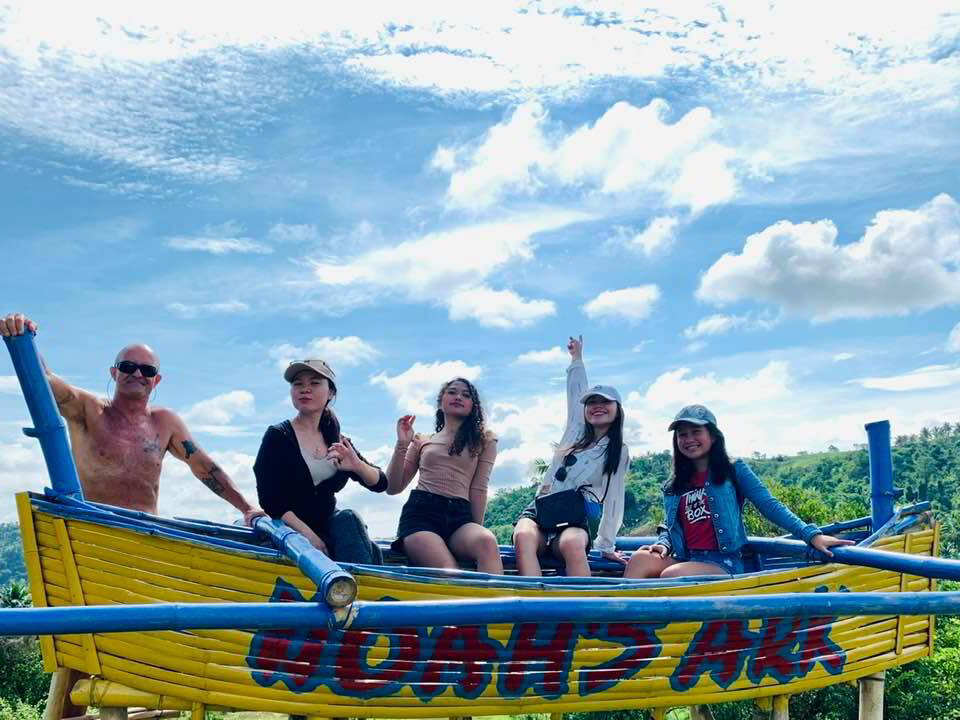 It's one of the best photo opportunities for your Facebook or Instagram post and you know how Filipinos hate taking pictures???? ! You'll just have to donate P20 pesos for their maintenance of the site.
From there also, you need to register your hike to Walang Langit falls and pay an entrance fee of P20 only. If you are not familiar with the Walang Langit Falls, there are available tour guides here for P200 who have a wealth of knowledge of the area and are happy to satisfy your curiosity.
Trek to Walang Langit Falls
The adventure going to Walang Langit Falls includes trekking on rolling grassy trails, following a clear river of shallow water, leaping on fallen tree trunks that block your path and traversing river rocks along the way. You will get your feet wet for sure and please be careful!
These mossy rocks can be very slippery. The trek starts out very open and bright but as you get closer to the Falls the rocks start to close in and you will pass through some very narrow and steep cave-like rock formations with hanging roots of trees.
The feeling of walking into some forgotten prehistoric land is palatable. It's about a 30-minute walk to reach the Falls.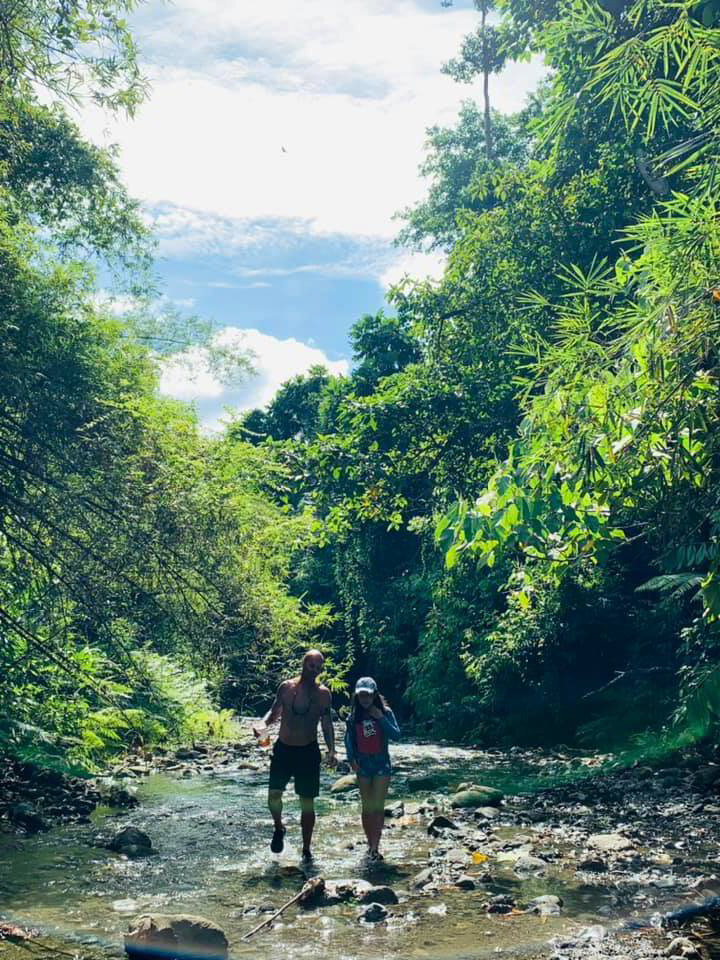 Trekking to Walang Langit Falls is a tiring and thrilling adventure in the jungle. The girls almost lost their energy walking and trekking and sometimes swimming but as we get closer they're excited as we hear the roaring sound of the waterfalls and feel the touch of drizzle on our bodies.
It feels like it's raining but it's only sprinkles of water from the falls.
It is called "Twin Falls" but there are actually three falls there. There are two diverse trails 10 minutes before reaching the main waterfalls. The left side is the way to the main waterfalls which is the one we go through, and the right side is the way going to the 2 other smaller waterfalls.
There is also a small cave ahead but caution is advised in entering this cave due to the presence of pythons. Remember, you are in the jungle!
Walang Langit Falls Experience
Walang Langit Falls is such a fun and exciting experience, the adventure going there is like walking inside the cracks of an earthquake. It seems like discovering a hidden paradise in the jungle that nobody ever knew about. Its icy-cold water refreshes your tired body as you swim.
Try indulging in a back massage experience underneath the falling water. Just be sure that you are strong enough to brace against the power of the falling water.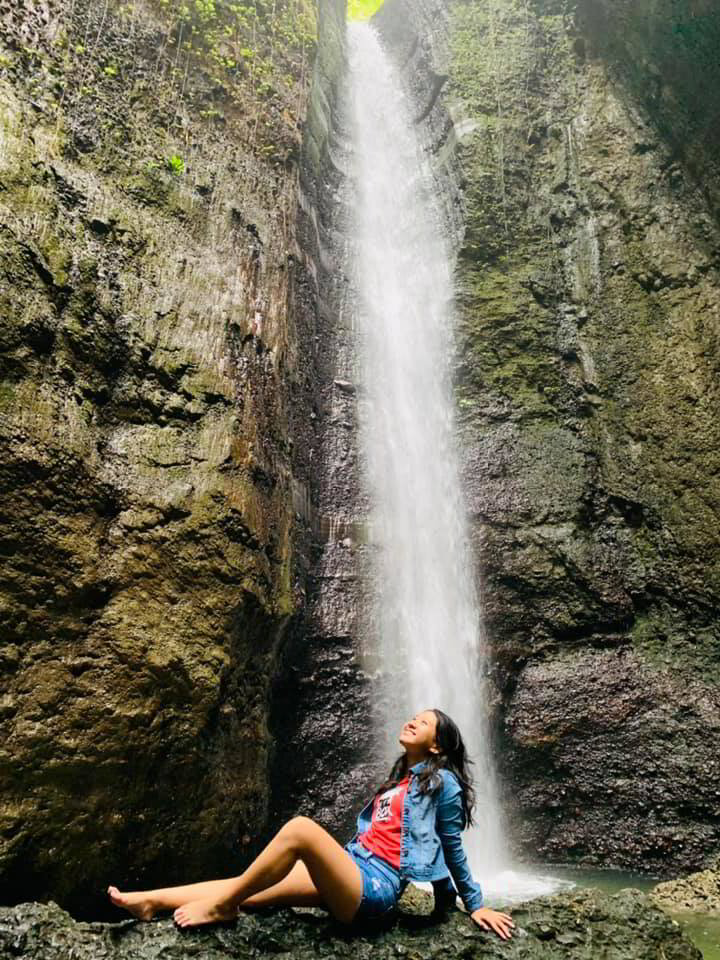 This place is a seriously awesome photo opportunity and makes for great group pictures, selfies, or whatever you like. Also, a great camping experience there bringing food and drinks with your friends or family.
But please, clean your mess before leaving to preserve the beauty of this wonderful place. A great place to relax far from the stress of your environment in the city.
We really enjoyed the experience of Walang Langit Falls and all the activities we had there. Its natural beauty will always be kept in our memories. The experience is worth sharing with others for their own experience too.
After this adventure, it's back to BADLADZ Beach and Dive Resort to share our experiences, get some rest from this tiring yet enjoyable experience…then Back to Work!
More Adventures In Mindoro
If you are looking for this kind of adventure and a perfect place to relax, come to BADLADZ and you will surely experience all of this. BADLADZ Beach and Dive Resort is the perfect place for your relaxation and adventure.
We have lovely Bermuda Grass lawn on the Beachfront, Private Swimming Pool, Full-service Pampered SPA, and clean and sanitized rooms to help you relax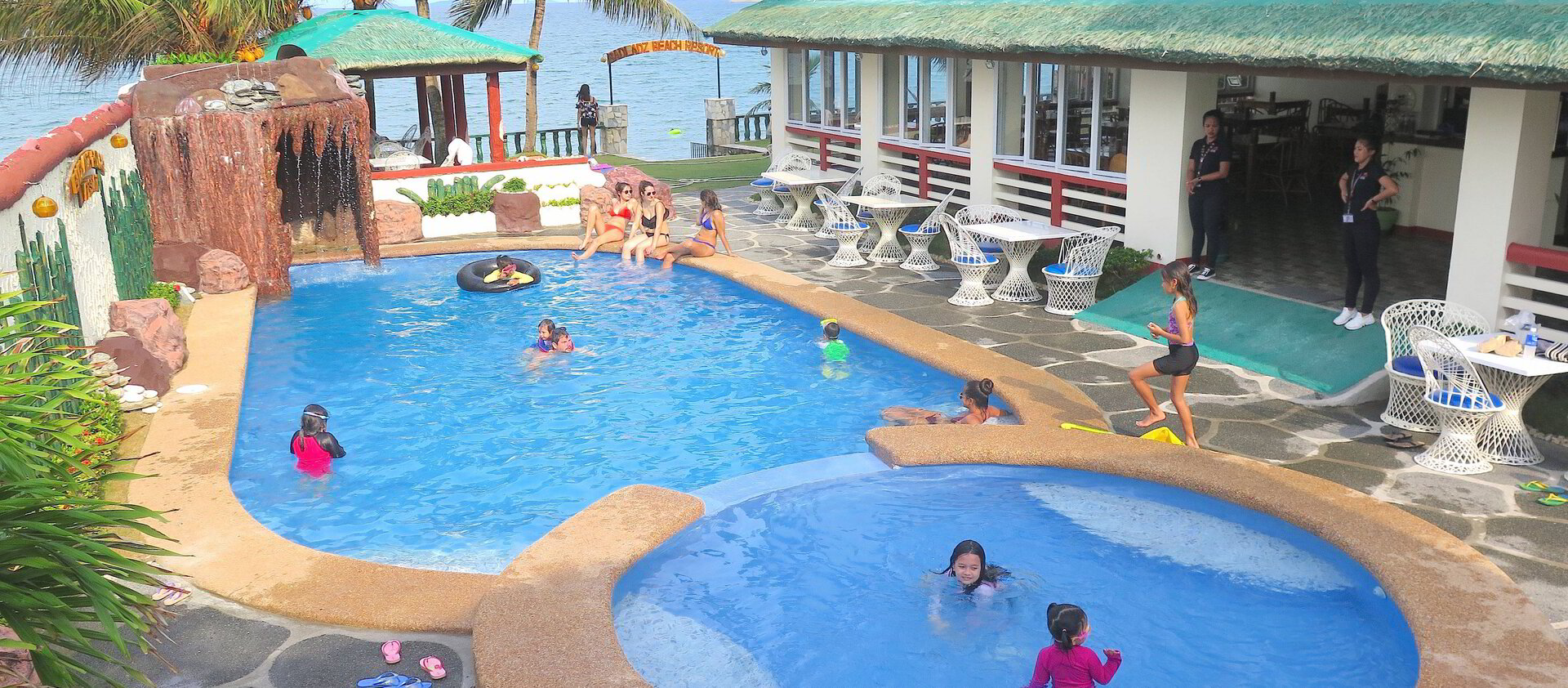 We also have an in-house restaurant with different kinds of delicious International, Filipino, and our specialty Mexican food dishes here…
You can also experience different water and land activities here like swimming, snorkeling, scuba diving, and island & inland tours. BADLADZ is also near other beautiful Falls like Aninuan Falls, Tukuran Falls, Talipanan Falls, and Tamaraw Falls which is a 15-minute drive only from here.
If want to visit different tourist spots in Mindoro like in Walang Langit Falls, we will be Happy to help you get there.
Walang Langit Falls Hiking Video
Watch the video below with our adventure to Walang Langit Falls with BADLADZ girls.
Cheers,
Sean