If you are looking forward to the experience of the magnificent Puerto Galera scuba diving, you're not alone.
In this page you will find that Puerto Galera is one of the best locations in the world for Puerto Galera Scuba Diving. We host divers who come to dive with BADLADZ from all corners of the globe.
Why Puerto Galera Diving?
If you're looking for a scuba diving education, BADLADZ offers some of the best Puerto Galera Scuba Diving courses available. Our Dive center teaches internationally recognized courses such as PADI. To kick off your scuba education, start with a Discover Scuba Diving Course– an adventure that will blow your mind.
All prices include the rental of diving equipment, instruction material, and boats. For a full explanation of all the packages we offer beyond PADI training, click here.
It boggles the mind how much diversity is along a relatively small stretch of coastline. Take a deep dive under the sea where the cliffs slope below and sea life flourishes. Puerto Galera scuba diving started years ago.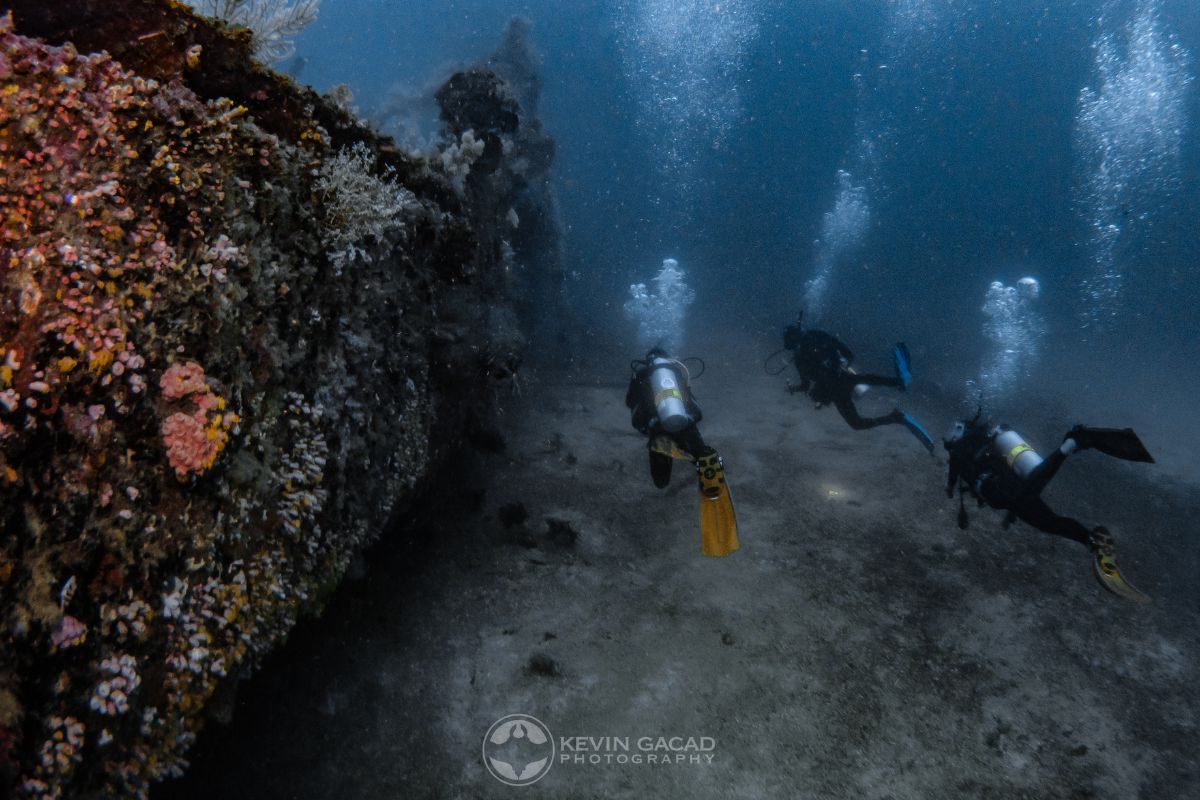 Back then, it was tougher. If you had come here back then, you would have had to carry your own equipment with you to the island! These days, this island paradise is overflowing with dive shops, most within a short distance to each other. Here at BADLADZ Beach and Dive Resort, we have an attached dive shop so if you stay here, Puerto Galera scuba diving is simplified with us.
Another thing people love about Puerto Galera is that they can come any time of the year to dive since our weather is warm year-round and we don't see the kinds of storms a lot of the other islands in the Philippines experience. Depending on the season, the Puerto Galera scuba diving water temperature ranges from 26 to 30 degrees Celsius.
Puerto Galera Diving Season?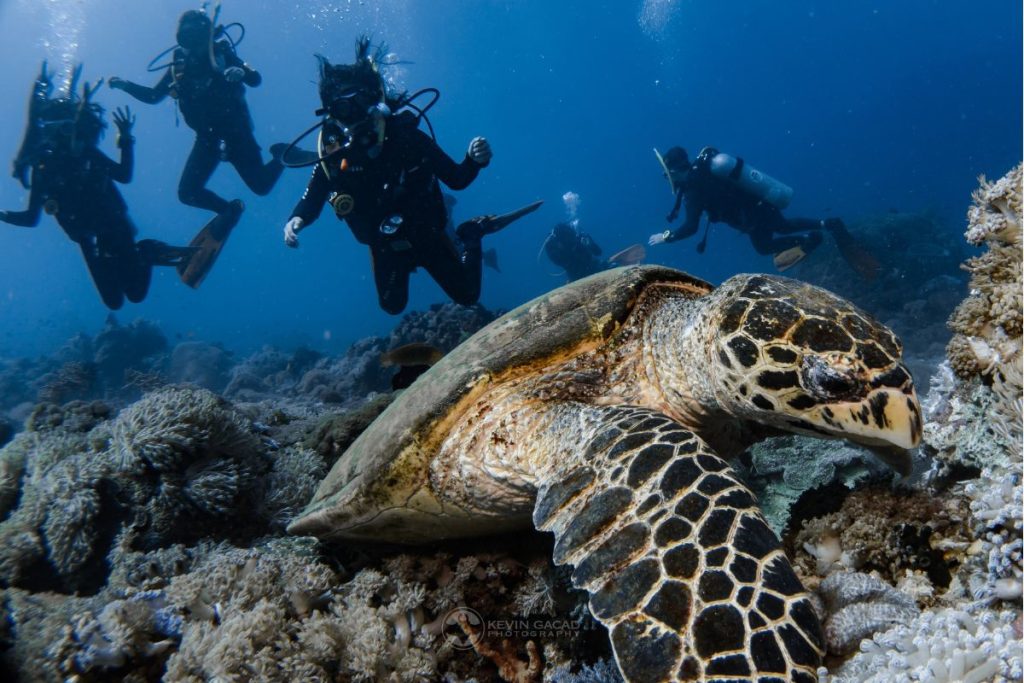 The high season runs from mid-December to the end of May while the low season starts at the end of May and runs through to mid-December. During the high season, the weather is better, however, visibility can be lower. During the low season, the weather in Puerto Galera receives occasional rain, wind, and the occasional typhoon. However, don't be put off.
Often, when it comes to Puerto Galera scuba diving, the best visibility is during the low season. One of the great things about Puerto Galera is that most of the dive spots are around 10 to 15 minutes from the dive center. Since they are close, you will be able to get a lot of value for your time while diving in Puerto Galera. We like to dive in the morning and the afternoon, but you could always do one or the other and enjoy the other half of the day as you like with other activities.
PADI in Puerto Galera Philippines
If you're looking for a scuba diving education, you'll be glad you came to dive in Puerto Galera. We teach internationally recognized courses from PADI. To kick off your Puerto Galera scuba diving education, start with a Discover Scuba Diving course – an adventure that will blow your mind. Whether you are a complete beginner and learning to dive, or experienced and looking to expand your qualifications, you'll have all that you need here.
There are countless options and opportunities for you to develop yourself as a diver. At BADLADZ, all the instructors are friendly, fun, and professional. If you book a room at BADLADZ, you'll have great accommodation and many opportunities to enjoy everything Puerto Galera has to offer.
Puerto Galera Scuba Diving Sites
There are over 40 great dive sites in Puerto Galera. Because of our great location, we are only a 20-minute ride from all the dive sites in Puerto Galera. Here are some of the most popular dive sites:
Hole In The Wall (18m/60′)
The Canyons (30m/100′)
Shark Cave (27m/90′)
Odie's Dingding (33m/110′)
Sabang Point (24m/80′ multilevel)
Monkey Wreck (42m/140′)
Manila Channel (18m/60′)
Coral Gardens (10m/30′)
Alma Jane Wreck (25m-30m/66′-100′)
The Hill (12m/40′)
Batangas Channel (15m/50′)
St. Christopher (24m/80′ multilevel)
Monkey Beach (18m/60′)
Ernie's Caves (27m/90′ multilevel)
Dungeon Wall (27m/90′ multilevel)
Wreck Point (15m/50′)
West Escarceo (30m/100′ multilevel)
The Atoll (33m/110′)
Pink Wall (12m/40′)
Sabang Junk (18m/60′)
Japanese Wreck (42m/140′)
Sinandigan Wall (40m/130′ multilevel)
Washing Machine (15m/50′), Verde
Drop Off (any depth, multilevel), Verde
Puerto Galera Scuba Diving
Puerto Galera has always been one of the most popular tourist spots in the Philippines, and one of the reasons for this is the great diving spots like nothing you've ever seen before. There is a treasure trove of at least 40 dive sites you can choose from. Picking the best diving spots in Puerto Galera can be a matter of debate, but some diving sites do tend to be popular more often when divers are eager to make a choice. Among the most popular choices are:
This diving site is invariably mentioned whenever the topic of best diving spots comes up, and for many advanced divers, it actually is the best. However, it's not a unanimous choice because it's only for advanced divers. Using Nitrox is truly and strongly recommended, and the currents here can be really strong.
Just about every kind of coral can be found all over the reef. The colors are amazing. What's more, the wide variety of fishes and other marine life can be breath-taking. They seem to be everywhere, and sometimes sharks will make an appearance. A single dive won't be enough to show you its entire splendor, and you'll really want to come back time and again.
Hole in the Wall Dive Site
This remarkable dive site is on Escarceo Point, and it's about 60 feet down. As you deep dive into illuminated water, you're surrounded by wondrous table corals that are as good as anywhere else. As you descend, you'll find the hole, which is about 5 feet wide.
It's a little hole in the middle of a huge rock, and that's where you swim through. You've got lots of sponges, fans, soft corals, along marine life like turtles and snappers. While the current can get strong, it's easy enough at slack high tide.
The Giant Clams is a fantastic site for beginners, at an average depth of 9 or 10 meters. Despite the shallow depth, there are lots to see, including marvelous coral that grows from the ocean floor.
Then there are the giant clams, some of them 60 years old, that are truly a sight to see. If you look carefully, you'll also find reef octopuses that can change color in the blink of an eye hiding under the rocks.
Three sunken boats can be dived here, and you can see a wide variety of fish here, including surgeonfish, batfish, and smaller damselfish. The deepest is about 70 feet down, and you can do all three wrecks in one dive.
Each wreck may seem like its own little town, and they're all crawling with marine animals. If you're lucky, your lights can attract the curiosity of small schools of baby squid.
Sinandigan Wall Dive Site
Do you like nudibranchs? There are a lot of them here, and more than a dozen different types may be found in just one dive. There's a truly diverse aquatic life here, with large numbers of fish and soft corals.
That's just 5 diving sites for you to explore. If you're trying to make your own list, you may want to visit all the diving sites in Puerto Galera to see which ones are truly the best for you.
Puerto Galera Bay - A Perfect Habitat
The beautiful bay of Puerto Galera provides the perfect habitat for both creatures. The nutrient-rich bay provides an ideal environment where both the mimic and wonder-puss thrive. The fine sandy bottom enables the octopus to hide, leaving only its eye stalks above the sand. From this hiding place, they are not only safer from potential predators but are also then able to survey the surrounding area for prey. Puerto Galera Bay is full of potential food sources for them and yet another reason why many divers say they love Puerto Galera compared to other places.
Many people spend large amounts of money and time to go all the way to Indonesia or Australia, in hopes of spotting the mimic. Here in Puerto Galera Bay, the Philippines, just 3 hours from Manila, and you have an even better chance at a fraction of the price. Puerto Galera Bay is a unique microcosm, that provides the ideal habitat for both the mimic and wonder-puss.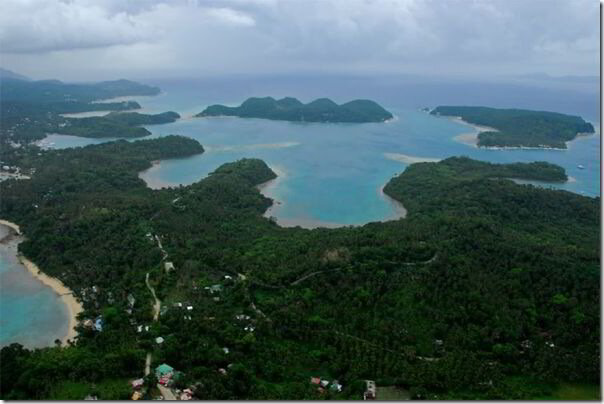 Visiting BADLADZ Beach and Dive Resort in Puerto Galera greatly increases your chances to see both the elusive mimic octopus and the wonderful octopus. Both are listed as fascinating species, which means that they are classified as rare.
We have had a successful rate of spotting either the mimic or wonder-puss in the 2 best dive sites in the area. One of our favorite things to do is take as many pictures as we can to determine if the octopus seen was indeed a mimic or whether it was a wunderpus. There are often heated debates about which one we have seen. We discuss eye stalk size, markings (whether the stripes on the arms go all the way down to the suckers (wunderpus) or whether there is a defined white stripe near the suckers (mimic), behavior, movement, and size.
To help us with our classification of Puerto Galera's marine life here is some more information about these wonderful creatures and the best of what we've found.
Marine Life in Puerto Galera
Meet Bob the biggest Sea Turtle in Puerto Galera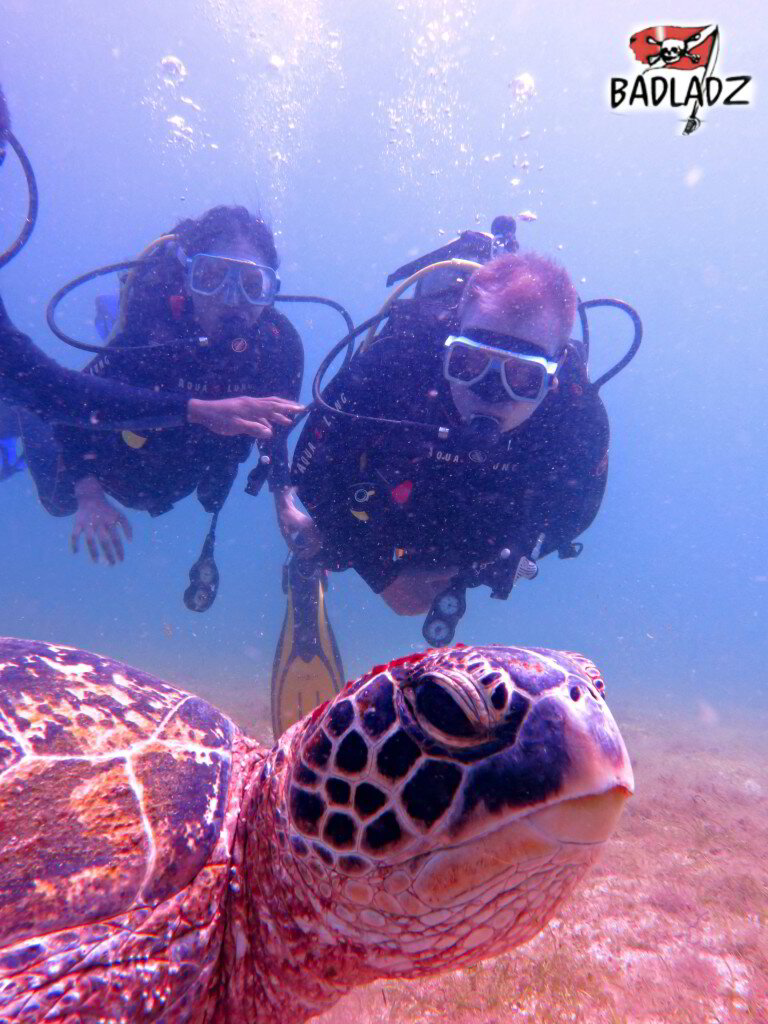 This right here is Bob, Bob is our resident Green turtle that lives here pretty much year-round. Everybody loves to meet him since he is such a large figure sitting under the water.
95% of the time we go to visit him, he is there and what is even better is that you don't need to be a trained diver to see him since he likes to stay in shallow water. In just a few hours our experienced friendly instructors can show you the basics and can have you under the water meeting Bob in no time.
It is hard to know exactly how old Bob is but he is around 60 years+, we can tell this from his size, Bob is a huge green turtle probably safe to say the biggest around by a good amount, everyone that see's him is amazed at his size, he is well over 6 feet long, 4 feet wide and sits around 2 feet high. How do we know Bob is a he? The easy way to tell is by his tail, males have long pointed tails and the females have shorter, stubbier tales.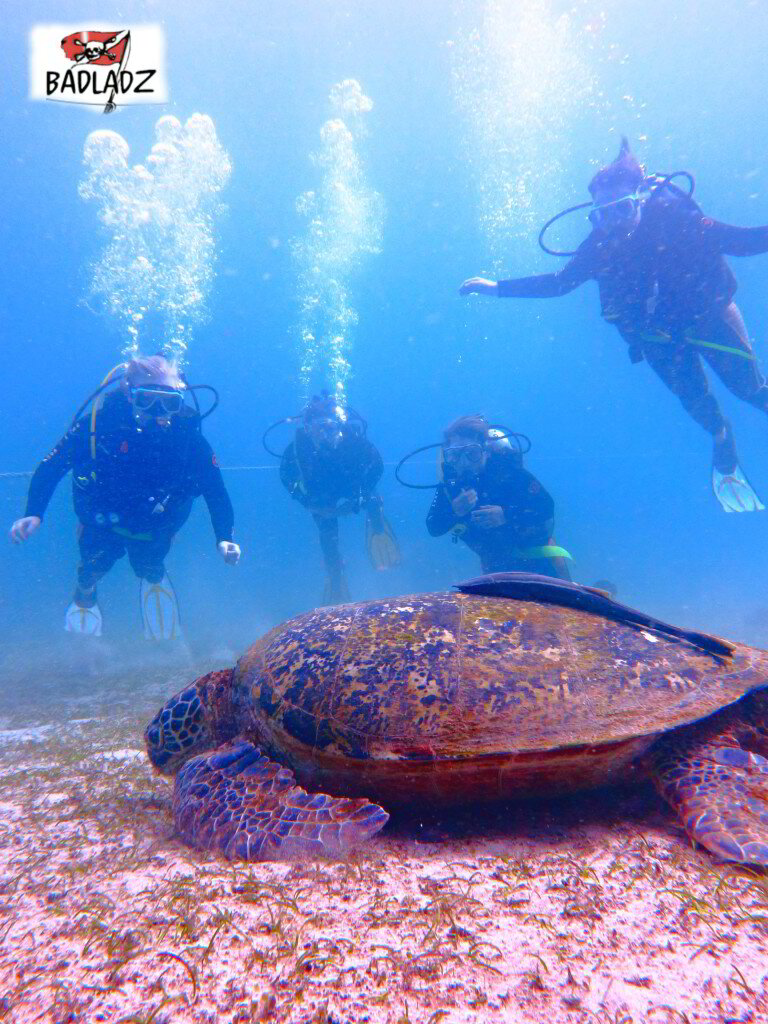 They are called green sea turtles, not because of the color of their shells but the color of their flesh. They don't actually eat fish instead they consume mostly just seagrass. This seagrass causes their flesh to take on a heavy green color. At the time Europeans first started exploring the globe they encountered green turtles in what is now the Caribbean. Stories go that there were so many turtles they would constantly hear the shells knocking and banging against the wooden hulls as they sailed close to shore, this was an easy source of food for these early explorers and this is where the green flesh was first discovered.
Luckily this doesn't happen around here 😉usually, we only need a few minutes to find Bob when we go Puerto Galera diving, and as you can tell from the photos he is very friendly and is very willing to pose for a selfie. We always say when approaching a big turtle like this to come from the side so they can see you coming and not directly from the front which doesn't give them much room to escape, we have found if you come from the sides then you can observe them for a lot longer. If you want to see Bob come visit us when you book your next Puerto Galera Vacation.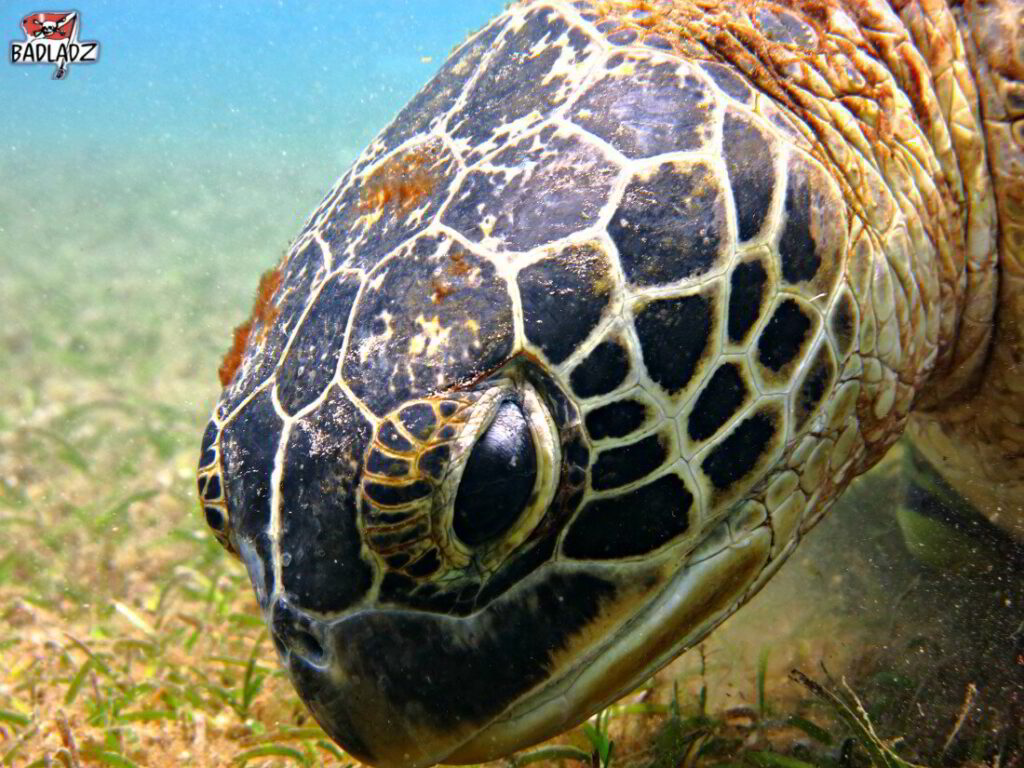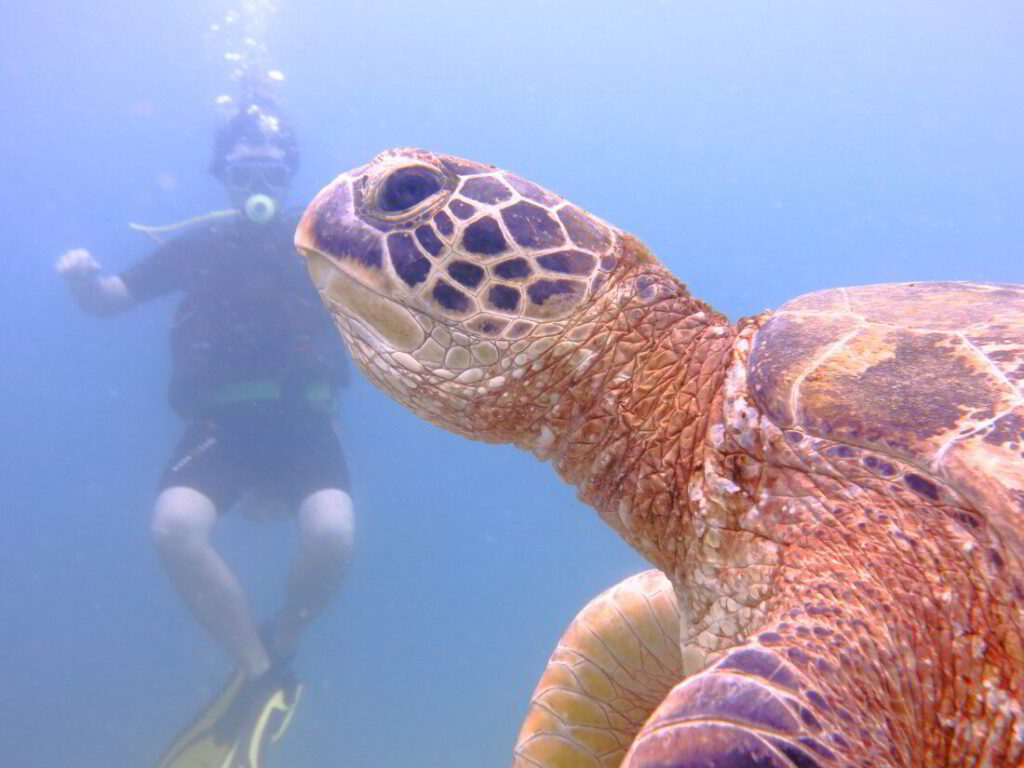 Frog Fish in the Philippines
Frogfish come in many colors and sizes. Making the frogfish a favorite find among divers and photographers alike. Here diving in Puerto Galera we have spotted many different frogfish. From purple, yellow, black red and even purple giant frogfish.
In Puerto Galera Bay you will find rich breeding grounds and therefore the option to spot baby frogfish. We have also been so lucky to find the clown frogfish, and the amazing hairy frogfish, and other rare species like this octopus!
Sponge Bob - The Friendliest Frog Fish in Puerto Galera
The frogfish propels himself using his arms and legs and inhaling water through his mouth. These frogfish in the Philippines may look funny but the frogfish is actually a fierce predator! He can expand his mouth 12 times its original size and then devour his prey in Milli-seconds! Often eating prey twice its own size! It literally waits patiently and then sucks in its unsuspecting prey. It really is a sight to see when you're diving.
They are beautiful fish we get to enjoy here when we go diving in Puerto Galera and something our World-class Dive center would love for you to come to enjoy as well.
Hairy Frogfish in Puerto Galera
When a frogfish does strike it does it within 6 / 1,000 of a second, if you are not sure how fast that is, it is so fast you probably won't even see it with naked eyes. Often you will only see the tail of the poor fish poking out of the frogfish mouth trying to get away. Since the frogfish lacks proper teeth they swallow their prey whole trapping them inside their huge expanding stomachs. Frogfish like this one here can eat an animal the same size as itself.
Octopus Mototi in Puerto Galera Philippines
Another really rare animal when you go Puerto Galera diving is an Octopus Mototi even rarer than a blue ring octopus, one of the most dangerous animals in the world, when approached or annoyed they will display 2 bright iridescent blue rings on either side of their mantle to warn predators to stay away, this one here had just finished breakfast so wasn't that bothered at me taking photos.
Be Careful of the Octopus Mototi
The poison this octopus has is similar to the poison found in pufferfish and poison tree frogs that is 1,200 times more toxic than cyanide. The poison is found inside the saliva glands behind its brain and when it bites the saliva will mix into the wound, however, you probably won't even feel the bite since its beak is so small. This can make it difficult for rescue personnel to determine the reason for a patient's illness. Experiments on rabbits indicated that a single adult blue-ringed octopus weighing only 25g had enough venom to fatally paralyze 10 large humans.
Some victims have reported being conscious but unable to move or speak and victims have reported still being able to see rescuers give them CPR, they may even appear clinically dead since the heart can beat so slow as a result of the venom with pupils fixed and dilated, In fact, there is some question if the octopus even needs to bite to envenomate a human.
It has also been viewed in the wild that the octopus is so venomous that it can paralyze its prey without even biting it, merely releasing its saliva into the surrounding water.
There's no known antidote for this venom. The only known treatment is hours of heart massage and artificial respiration until the poison has worked its way out of your system, this treatment may need to last for 24 hours depending on the amount of venom. Another good reason to always be careful of your buoyancy and make sure your body is off the bottom.
The Amazing Mimic Octopus and the Wunderpus!
Puerto Galera diving in the bay is diving heaven in the beautiful country The Republic of The Philippines. It is one of the top Puerto Galera scuba diving destinations in the country. This epicenter of biodiversity hosts 40 different diving sites. However, the best-kept secret here is Puerto Galera bay itself.
Based on observation, the mimic octopus may decide which animal to impersonate depending on local predators. For example, when the octopus was being attacked by damselfish, the octopus was observed to appear as a banded sea snake, a damselfish predator. The octopus impersonates the snake by turning black and yellow, burying six of its arms, and waving its other two arms in opposite directions.
How the Mimic Lives and Survives
The mimic octopus lives exclusively in nutrient-rich estuarine bays. It uses a jet of water through its funnel to glide over the sand while searching for prey, typically small fish, crabs, and worms. It also is prey to other species. Like other octopuses, the mimic octopus' soft body is made of nutritious muscle, without spine or armor, and not obviously poisonous, making it desirable prey for large, deep water carnivores, such as barracuda and small sharks.
Often unable to escape such predators, its mimicry of different poisonous creatures serves as its best defense. Mimicry also allows it to prey upon animals that would ordinarily flee an octopus; it can imitate a crab as an apparent mate, only to devour its deceived suitor.
Unlike the vast majority of octopuses, it regularly traverses tunnels and burrows in the seafloor to search for food and to conceal itself from predators. It can often be seen surveying its surroundings from one of these burrows, with only its eyes and head sticking out of the hole.
The mimic octopus often feeds by covering an area of sand under a disc of webs. Then it uses the tips of its fine arms to flush small animals into its suckers. It can probe its arms deep into burrows or holes to search for prey which it can then pass to its mouth.
The Difference Between the Mimic Octopus and Wunderpus
The mimic octopus is often confused with the wonderpus, another recently discovered species. Wunderpus can be distinguished by the pattern of strong, fixed white markings on its body.
This is an awesome sea creature to see when you go Puerto Galera diving with BADLADZ.
The wunderpus can be identified by its distinctive color patterns. It has well-defined white spots on the mantle and bars on the arms. They lack a white border at the base of the suckers that is the trait of the mimic. It also has taller eye stalks and lacks a clear white v on the back. These are some of the traits that distinguish it from the mimic, which has poorly-defined dark and white markings on the mantle, and a bright white line along the base of the suckers.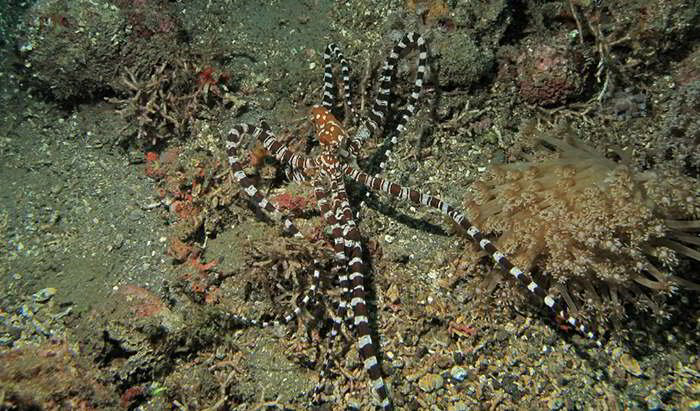 Using the classification table we can see that the mimic (below) has a clear white "V" at the back of the mantle. The white areas tend to connect in a pattern compared to the Wunderpus. It has defined white "islands" that tend not to connect. The Wunderpus also lacks the clear white "V" that is always on the mimic.
A useful hint from BADLADZ Scuba Diving: It can be difficult to identify which species you are looking at underwater. Picture Identification after the dive is much easier. Looking for the white "V" on the mantle is the easiest way to Identify which creature you are looking at during the dive.
The mimic has shorter stalks, a brown horizontal stripe through the eye, while the wunderpus has longer eyestalks and a vertical brown stripe near the eye. You can also see the reddish-brown area underneath the eye of the mimic that is in the Identification table from Berkley. It seems also from these pictures that The wunderpus has blunt-tipped papillae of the top of the eyestalks, whereas the mimics papillae are pointed. They also differ in length and design.
The mimic has a clear defined stripe on the outer part of the legs. This is because the suckers remain white. The dark stripe on the leg does not go down all the way down to the sucker. Whereas on the wunderpus you will not see a clear, defined stripe. The dark stripe goes all the way down to the sucker.
A useful tip from BADLADZ Scuba Diving: Using the white stripe or lack of one as a primary means of identifying which species you are looking for can be very misleading. Often the positioning or contorting of the legs on the mimic can hide the white stripe leading one to think one has found a wunderpus. It is, therefore, better to use all the above methods combined to make a correct identification.
Often the mimic will disguise itself beyond recognition. Hence the name. Below you will see a mimic Octopus that at first glance does not look like any of the previous pictures. this photograph demonstrates why the mimic earned its name. The above left shows the mimic imitating a flounder by using it's sharpness and able to change colors and patterns quickly.
Secret Bay: Marco Marine Life Photography when Puerto Galera Diving
Secret Bay is one of my favorite dive sites when I go to Puerto Galera diving. Heck, it is my favorite dive site in the Philippines! It is the king of muck dives, the creme de la creme of small critter hunting. The elation of finding the weird and wonderful miniatures in what looks like a barren landscape is the best feeling ever.
We usually drop down on the small Banca boat wreck in Puerto Galera Bay where there is always great sea life. Lionfish, moray, and often stingrays are common to see. Juvenile sweetlips also love to hang out on the wreck. Then it is off into the sand where the wonders lie hidden. And hidden they are! If it were not for our team's eagle eyes most people would just swim by blissfully ignorant.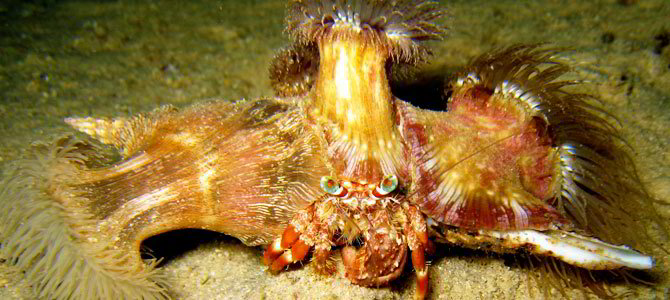 Since it is my favorite site, I do have an impressive list of what I have seen there. Seahorses, too many to count, snake eel, frog-fish, boxer shrimp to name some. The stars of the show that make me want to do the underwater happy dance were the baby frogfish, (in the photo). It is the size of my thumbnail and is so beautiful I want to burst!
Then when I thought it could not get any better along come the TWO!! (not one) mimic octopus or wonderpuss. (The jury is still out on which is which.) Halleluiah – the holy grail has been found!! And boy did they perform – they slid along the sand all legs trailing behind. They changed color, dug themselves into the sand. It was an amazing show!! When we finally surfaced I think I must have looked like the Cheshire cat.
If you're coming to dive with a group, just contact us, and we'll be happy to offer you a discount on your room.
More Puerto Galera Diving Resources
Below you will find more Puerto Galera diving resources: